There will be no dramatic season finale this season where a shootout will determine whether or not the Flyers will make the postseason. There's no doubt to whether or not the Flyers will open the playoffs in the Wells Fargo Center or in hostile territory. And there aren't any potential matchups to analyze for when the final buzzer sounds after their 48th game – unless you're analyzing the odds of four lottery balls matching up in Philadelphia's favor.
The Philadelphia Flyers will officially be specators for the 2013 NHL playoffs.
Just one year after finishing the season with the 6th highest point total in the league, the Flyers currently have the 8th worst with 3 games left to play. That's quite the freefall.
The defense has been without veteran mainstays throughout the season, inducing frequent call-ups from Adirondack and an emergency trade for a veteran rearguard who was a healthy scratch more often than he dressed. The offense didn't get the contributions they expected from just about everyone, save Jakub Voracek. The sophomore slump had its grips on Sean Couturier, Brayden Schenn, and Matt Read. A glimpse at Ilya Bryzgalov's stats would be misleading; he's made far more spectacular saves than unspecatacular blunders.
In short, the season didn't go as management planned. What are Ed Snider and GM Paul Holmgren going to do to turn things around?
Hopefully, not too much.
There are typically teams you see in the postseason year after year, and the Flyers are usually one of them. However, so are the New Jersey Devils. Their playoff hopes are fading fast, despite a drubbing of a poor Florida Panthers team. The Detroit Red Wings are also fighting for their playoff lives.
If you're wondering what teams are sending these "usual suspects" to an extended summer, look no further than the bottom of the last year's standings. The 7 worst teams last year and their point totals were the Minnesota Wild (81), Anaheim Ducks (80), Toronto Maple Leafs (80), New York Islanders (79), Montreal Canadiens (78), Edmonton Oilers (74), and Columbus Blue Jackets (65).
Of those teams, only the Edmonton Oilers have been eliminated from contention. The Montreal Canadiens, Toronto Maple Leafs, and Anaheim Ducks have already locked up playoff berths. The Islanders are close to clinching. The Wild and the Blue Jackets are trying to fend off the Red Wings and Stars in the Western Conference, but I'm willing to bet at least one of them holds on.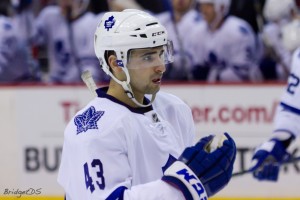 Look at these teams that have turned their fortunes around. Only Minnesota stands out as a team that's done it with additions of high priced talent, whether by free agency or trades. James van Riemsdyk has surely helped the Toronto Maple Leafs, but if I had to name one player as the impetus for their change of fortune, it wouldn't be him. I'd lean towards the play of Nazem Kadri.
The Islanders continue to be led by the stellar play of John Tavares, but were aided by the low-cost additions of Brad Boyes and Lubomir Visnovsky. P.K. Subban has played himself into Norris Trophy consideration for the Canadiens. Ryan Getzlaf bounced back from a down year to lead the Ducks back to the playoffs (and earn a huge contract extension in the process).
Last but not least, the Blue Jackets are in the hunt because of a low risk gamble on a familiar goalie – Sergei Bobrovsky – that only costed them a 2nd-round pick and a pair of 4th-round picks. The former Flyer goaltender has been the primary reason why the offensively challenged Blue Jackets have been competitive every game.
The common theme with these teams is development. Young players developed into solid players. Solid players developed into superstars. Bobrovsky developed into what the Flyers thought he would when they intially signed him.
Philadelphia isn't a sports city that's known for its patience, and Snider and Holmgren are known for throwing caution to the wind and going after the biggest fish in the offseason. It's a scary combination that could extend the Flyers' Cup-less streak to 39 years.
With all the injuries on the blue line – and no real consequences if they lose since they're already eliminated – young defensemen like Erik Gustafson, Oliver Lauridsen, and now Brandon Manning have had opportunities to assert themselves at the game's highest level. Marc-Andre Bourdon would have seen some time with the Flyers too, but he's been out all year with concussion issues.
The Flyers could just choose to use the best of the lot to fill out their (healthy) roster, but they'll surely be tempted to use one or both of their golden tickets amnesty buyouts. Doing that would free up the cap space necessary to sign an elite defenseman.
Ilya Bryzgalov and Danny Briere are the two names that are continuously brought up in amnesty conversations. Judging by their stats, they are both being overpaid with years left on their deals. Buying out one or both of their deals wouldn't be all that shocking, and I can understand the reasoning behind it.
I just don't want them to. Not yet.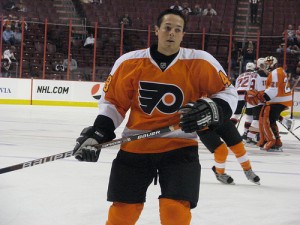 Danny Briere could have possibly been traded this season at the trade deadline if he was healthy – and given the team his permission. He wasn't playing great at the time of his injury, but he's a proven playoff performer and could have been traded for a moderate draft pick, or perhaps a few mid-rounders .
He attracts a different crowd of suitors in the offseason. Teams that are looking to hit the salary floor could be interested in Briere. He makes $3 million and $2 million the next two seasons, but carries a large cap hit of $6.5 million.  If the offers aren't there, then Briere's veteran presence would be welcomed back in the Flyers locker room. Plus, there's the off-chance that he comes back injury free and goes back to lighting the lamp on a regular basis.
Then there's the Bryzgalov-Mason debate. Mason has looked good in his few starts as a Flyer, but that's not reason enough to amnesty Bryz and run with him. Bryzgalov's play in net has been strong, but he's fallen victim to countless premier scoring chances resulting from defensemen being out of position and horrible turnovers. If anything, Bryzgalov has earned the chance to keep playing as a Flyer.
There's also the issue of pride. I don't think Flyers management is ready to wave the white flag and admit that they made a mistake when they handed him his mega-contract.
But the biggest reason to keep him is because they can't afford to let him go for nothing. What if Steve Mason returns to his Calder-winning form but goes down with a long-term injury? Ask Carolina how they enjoyed their Justin Peters-Dan Ellis tandem after they lost Cam Ward. They were leading the Southeast Division at one point (though that's not a lot to brag about in itself). Now they're beneath the Flyers in the standings.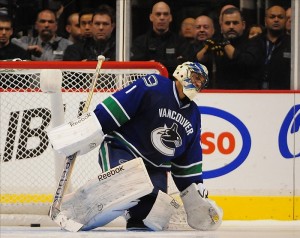 Corey Crawford and Ray Emery have co-existed in Chicago. Viktor Fasth and Jonas Hiller have shared starting duties. Everyone knows about the ongoing Cory Schneider-Roberto Luongo "problem" in Vancouver.
Having two goalies isn't a necessity as Henrik Lundqvist and Antti Niemi have proven. But you can find many playoff teams that have used two goaltenders effectively. However, none of the eliminated teams utilize a solid tandem – unless you would count Ryan Miller-Jhonas Enroth as "solid."
Neither Briere or Bryzgalov are so expendable that it would be worth it to get rid of them for nothing. But if one of them gets bought out, let's just hope it's because they need the cap space to sign the next Chris Pronger.