With just 21 games remaining, the Philadelphia Flyers are going to have to make every point count in a tight Metropolitan Division race.
Related: Rankings NHL Teams By Goaltending Tandems
Since the beginning of the season, the Flyers' goaltending needed to improve in order for the team to be successful. Down this final stretch, the play of goaltending tandem Carter Hart and Brian Elliott could determine whether or not the Flyers reach the postseason. How head coach Alain Vigneault decides to utilize his goalies will also play a role in helping lock down a playoff spot.
Season Review
Up to this point, Elliott and Hart have been decent on their own. However, when you consider what the two have accomplished together, they look much better.
They have started 59 games up to this point in the season, with Alex Lyon filling in the blanks. In 33 starts, Hart has been solid, posting a 2.54 goals-against average (GAA) and .908 save percentage (SV%), while Elliott holds a 2.90 GAA and .898 SV%. Obviously, neither have Vezina Trophy numbers, but they've managed to keep the Flyers in the playoff race.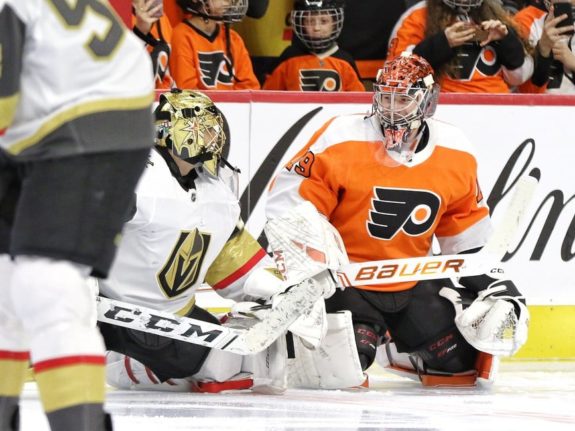 Regardless of the numbers, there is one major disparity between Hart and Elliott that will affect how the Flyers use their goaltenders in the final month and a half.
Hart At Home
Hopefully, the title gave away what's coming: Hart has been incredible at home this season. For whatever reason, he plays better at the Wells Fargo Center. Of his 18 wins, 15 were earned in South Philly.
Road games have undoubtedly been Hart's Achilles heel and have stood between him and a potential Vezina nomination. With a meager 3-10-1 road record accompanied by a 3.88 GAA and .855 SV%, it's been brutally difficult for the Flyers to confidently give their 21-year-old star starts on the road.
With only nine road games remaining, Philadelphia will have to make some tough decisions with the postseason in mind. Either they continue to hope and wait for Hart to succeed, or they let him defend home ice and look to their veteran on the road.
Brian Elliott
While Hart flourished at home, seasoned netminder Elliott took control on the road. His home and road splits aren't quite as dramatic as Hart's, but he's still earned 11 of his 15 wins in enemy territory.
As beneficial as Elliott's performances on the road have been, they don't tell the whole story. In many ways, at the age of 34 and in his 14th NHL season, the player they call "Moose", has been the team's quiet MVP.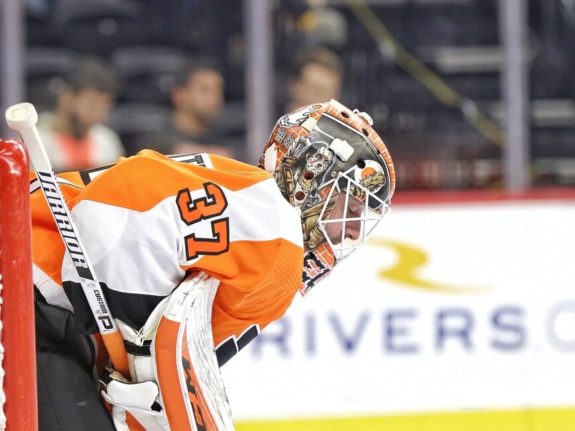 When Hart was sidelined with an abdominal injury, a four-week lapse between starts, a critical chunk of the Flyers' season was left in Elliot's hands (from 'Brian Elliott kept Flyers afloat while Carter Hart was sidelined; Joel Farabee close to returning,' Philadelphia Inquirer, 02/10/2020). During that stretch, Elliott was brilliant. Of the six games he started during Hart's time on IR, he won five. He's been consistently terrific in relief this season, making a case to earn some starts throughout the playoff push.
Playoff Push
The big question looming over the coaching staff is how to handle their goaltending tandem throughout the final 21 games. It'll depend largely on if or when the Flyers can lock down a playoff spot. In the meanwhile, they will have some difficult decisions to make on a game-by-game basis.
As nice as it would be to simply start Hart at home and Elliott on the road and expect every game to be a win, it's unrealistic. The Flyers will try and get Hart in for most of the remaining home games, but they can't expect a win every night. Luckily, there are 12 home games and nine road games remaining, which means they'll have Hart's statistical success on their side down the stretch.
The Flyers will likely be careful with how much they flip between Hart and Elliott down the stretch, even if they are exceptionally lucky to have such a solid tandem to rely on.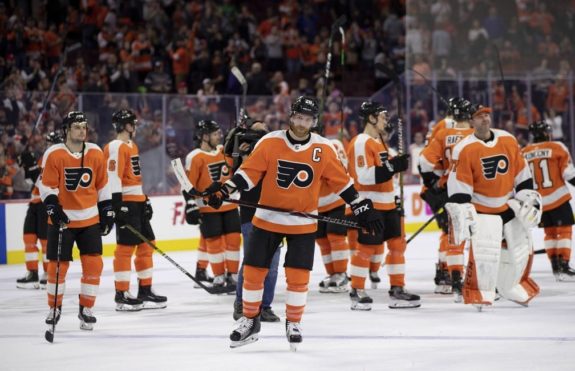 The Flyers' goaltending duo has been exceptional this season and exactly what the Flyers needed after a brutal season in net in 2018-19. If Hart and Elliot can keep things rolling and push their team back into the postseason, they could bring home the Jennings Trophy.
We'll have to wait and see if the Flyers can make their return to the playoffs in 2020. Depending on the success of their treasured goaltending tandem, the two could become a staple in the Flyers lineup for years to come.