They say laughter is the best medicine. For many of us hockey players though, the sport we love is the best medicine. Whether it's the endorphins, adrenaline, pure love of the game or all of the above, the sport of hockey gives participants an uncanny ability to block out everything else. The speed of the game doesn't allow for random unrelated thoughts. Unlike baseball and other sports, hockey's intensity and speed, even in a casual pick-up game level, allows its players to fully immerse themselves or "lose themselves" in the game. That temporary release from all other stresses and emotions is a big part of my attraction to what I consider the greatest game on our planet.
Hockey is All About that Quick Release
Work stress, social- or love-life stress, family stress, all ceases to exist when you're focused on lighting the lamp or making the perfect tape-to-tape saucer pass. Despite growing up in the warm (for hockey standards) climate of the San Francisco Bay Area, hockey was my preferred sport of choice. While I didn't actually learn to skate until my teenage years, I don't remember a time of my life without hockey. Along with my older brothers and friends in the neighborhood, I would play street hockey all year round. Those of us who didn't know how to skate would just play in tennis shoes. How did we get so into hockey growing up in California? Perhaps it was the Sharks being an expansion franchise the same year I was born (1991) or maybe it was Disney's The Mighty Ducks movies that came out in the 1990s (probably a combination of both). Either way, I am sure glad I fell in love with the sport.
As I grew up, playing hockey became my No. 1 release. After failing to make the football, baseball and soccer teams my freshman year of high school, I figured why not try club hockey? Unlike the other big-time sports, there was a beginner level for high school hockey. Even though I didn't know how to skate, I figured why not give real hockey a chance? A large number of the other kids in the division were also just learning how to push off, stop and do crossovers.
I ended up playing three years of high school roller hockey and one year of ice hockey. Practices and games were my escape from tough teachers and a disappointing social life. Only it wasn't until college where I realized how much playing hockey on a regular basis affected my overall happiness. It wasn't hard to tell that there was something missing during my freshman year at San Francisco State University. SFSU didn't have any type of hockey program, but after bumping into a fellow roller hockey player on campus, he and I decided to start a club team from scratch.
While starting a grass-roots sports club at a major university wasn't without struggles and drama, eventually the roller team we started grew into a full-fledged ice hockey program. We still didn't have a full-time coach or anywhere close to adequate funding, but my final semester we were able to compete in the Pacific Collegiate Hockey Association. We were a brand new hockey program but we were able to play full contact college hockey against schools like Stanford, UC Davis, Sacramento State, San Jose State and Santa Clara University. Our team struggled as a brand new program but it was incredibly rewarding on a personal level. Even though I knew I wasn't ever going to make the NHL like I had dreamed about as a kid, scoring a goal in a college hockey game felt absolutely amazing. There is nothing more awesome than feeling accomplished in the sport you love the most. Playing competitive games again after going an extended portion of my freshman year without any competitive outlet was tremendously uplifting. Mental health is something I have long been aware of, and playing hockey again helped boost my overall mood.
One of the reasons I have long been aware of mental health is because my mother suffers from bipolar disorder. At one point during my final semester of college, my mom's elevated manic state had her unaccounted for and it made me extremely worried. In her condition, she probably shouldn't have been driving. What if she had gotten in an accident? Would I ever see her again?
Fortunately, my mother was fine; she came home that day. Now it may sound selfish, but thankfully for me I had a game to play later that afternoon against Sacramento. We were crushed like 9-3, but at least it was a temporary distraction from worrying about my mom's condition. Without having games that bring brief mental breaks from life, certain stresses can be overwhelming.
Never Forget: Boogaard, Belak and Rypien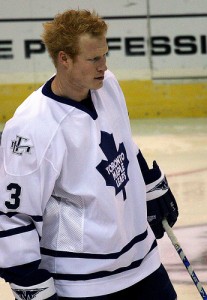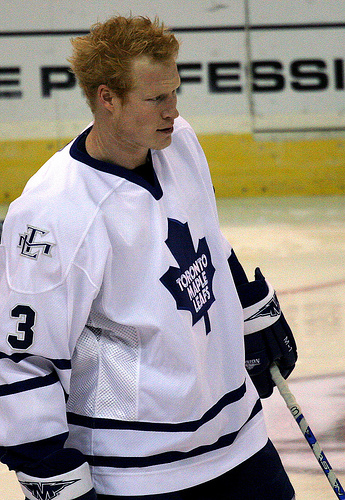 This idea of needing a temporary distraction reminds me of a sequence of NHL deaths that should never be forgotten. Four years ago, during the 2011 offseason, the hockey world lost three players in Derek Boogaard, Wade Belak and Rick Rypien. While only one of the three deaths was a confirmed suicide, all three had at some point battled depression. They all died in a four-month span during the hockey offseason. We know correlation doesn't always mean causation, but all of these deaths happening away from the competitive hockey season isn't something to ignore. While yours truly hasn't personally suffered from depression, part of my gut feeling is that these deaths might have partially been due to the players not having that normal distraction of the NHL schedule.
I know playing hockey is my best medicine, and perhaps it was also the best medicine for Boogaard, Belak and Rypien. It is possible that during the summer months, hockey players don't have the same structured support system. Without the usual game-day routine, players also don't have the same stress release that they get eight to nine months of the year. While more time away from the rink can be good for the body after a grueling season, the time away can also be a negative thing when it comes to mental health. Unfortunately, mental hurting is often far less obvious than the physical pain of a knee or shoulder injury. Recognizing various mental health symptoms is extremely difficult.
Therefore, the main goal of this column is to get readers to think about the hockey players in their lives and reach out to them. How are they doing this summer? Are they getting exercise? Staying in shape? Do they feel well? Maybe think about doing something special for the hockey player(s) in your lives during this time of year. Small gestures help. Just talking and being there help, too.
Andrew has been credentialed to cover the Sharks since 2010 and the 49ers since 2012. He graduated with his BA in Broadcast Electronic Communication Arts in 2013 from San Francisco State University.