Nick Leddy is one of those players on the New York Islanders you don't have to worry about. Quiet off the ice and always solid on it, he's eerily similar to former Islanders d-man, Kenny Jonsson. He always makes the smart play and turns it up when you need him to.
But like Johnson, Leddy hasn't had that "monster" season. Capable of playing with and against the best players in the league, Leddy is a player every team would love to have, but he hasn't proven he's elite just yet. Although just 25, Leddy hasn't cashed in on his first-round promise.
The big question is, although he's a guy that can play over 20 minutes a night, in any game situation, can he be the defenseman the Islanders are paying him to be offensively and if so, when?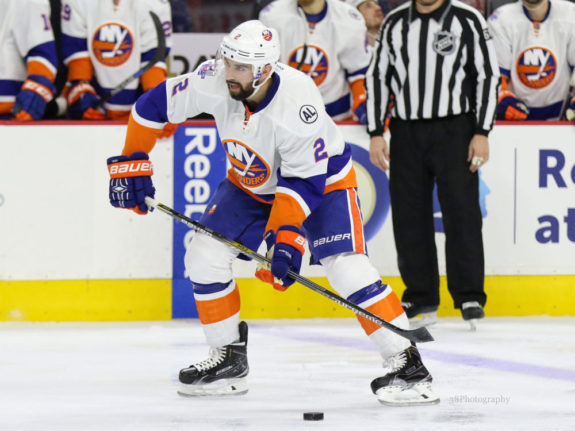 Last Season
Leddy began the 2015-16 season ice cold with just five points through his first 21 games and continued that way with just one goal through his first 41 appearances. It wasn't until a 13-points-in-16-games swing that began right before the All-Star Break that Leddy heated up. With 12 points over his last 24 games and an even-rating, Leddy ended up with a career-high 40 points. Add four more points in 11 playoff games and Leddy was the most effective defenseman on the Isles in the offensive zone in 2015-16.
Projection
With his skating ability alone, there's no reason why Leddy can't score anywhere from 50-60 points if used properly. That means he must continue to quarterback the power play and get more offensive zone time with John Tavares. It's just a matter of getting a few good bounces and him finding a level of consistency. That consistency is the same reason why players the likes of Erik Karlsson and Brent Burns put up the numbers Leddy doesn't.
Just as good a skater and comparable playmaking ability, Leddy has to prove he's a No. 1 defenseman in this league and not one-half of a top pair. With Ryan Pulock most likely on the roster this season, the youngster will get a nice chunk of playing time with the man-advantage. As a result, Leddy's PP numbers could suffer. For a guy that scored 19 of his 40 points on the power play, this should be Leddy's biggest objective — to be an integral part of the Islanders' first PP unit. Going 20 games with five points like he did last season just isn't an option for the Isles anymore. With Johnny Boychuk and Pulock's monster shots from the point and Islanders head coach Jack Capuano liking to have a fourth forward on the PP, Leddy may find himself the odd-man out if he isn't effective.
If Leddy cannot produce with the man advantage and battles consistency again this season, expect another 35-40 point season from him unless he gets hot early and forces the coach to keep him in games where the team needs offense.