There is nothing quite like the spectacle that unfolds when the horn sounds, marking the end of an NHL season. The winning team is filled with elation, throwing their gloves in the air and embracing each other in victory. The losing team, on the other hand, bows their heads in disappointment, as they know the opportunity to win the championship has slipped away.
Last night, at T-Mobile Arena in Game 5 of the Stanley Cup Final, it was the Washington Capitals who would experience the celebration. They had defeated the Vegas Golden Knights 4-3 en route to winning their first Stanley Cup in franchise history.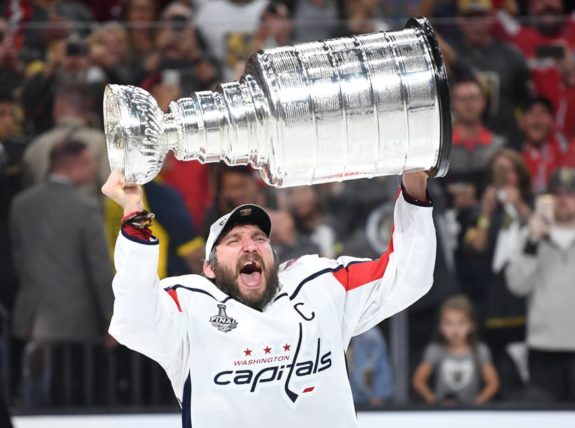 As the Caps' players were hugging each other, filled with overwhelming joy, the fans in T-Mobile Arena stood up and clapped for both teams. The Knights raised their sticks, thanking their fans for what has been a remarkable season. It was a classy gesture by the Vegas fan base, showing gratitude to a team that many thought would never get to this point.
Long Shot Odds for Short-Term Success
June 22, 2016, will forever be remembered as a day that changed Las Vegas. Known as a city with nonstop entertainment, gaming and playing with luck, this desert destination was never thought to be a sports town.
It was at the June 22nd NHL Board of Governors meeting that it was determined a new professional hockey team from Vegas would be joining the league.
It was no surprise that the Golden Knights weren't favoured to perform well in their inaugural season. Pegged at 500-1 odds to win the Stanley Cup, the first-time team selected a group of players who were looking for a chance to remake their careers after being left unprotected by their previous teams.
Normally, expansion teams in their first season just try to be competitive. Before the Knights, the expansion franchise with the best first regular-season record was the Florida Panthers in 1993-94, who finished a win shy of a .500 record (33-34-17).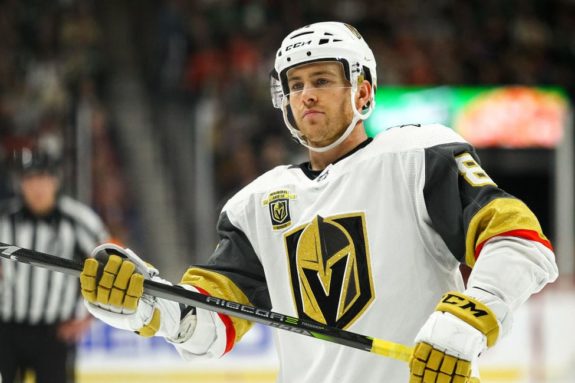 Vegas would set a new standard for expansion teams, finishing the regular season in first place in the Pacific Division with 51 wins and 109 points.
Not only did this smash the record set for expansion hockey teams, but also franchises in other professional sports. No MLB expansion team has exceeded 70 wins (set by the 1961 Los Angeles Angels). No inaugural NBA team has more wins than the 1967 Chicago Bulls with 33, and in the NFL, the rookie season of the Carolina Panthers saw them finish with seven victories. It is safe to say that the Golden Knights had the best debut season of any expansion team in sports.
More Than Just Hockey – It's Great Entertainment
Knights general manager George McPhee knew he needed to make his team different in order to stand out from the pack and generate instant success.
"We didn't want to be a doormat. We didn't want to be an embarrassment. We wanted this to work," said McPhee. "The league needed it to work. We needed it to work. This community needed it to work. This community's got this great identity as being an entertainment town, but it has another identity now, and it's great — it's a fantastic sports town."
Having a coach like Gerard Gallant at the helm, he instilled an identity that was built around taking care of the puck, playing with speed and forechecking relentlessly in the offensive zone.
As a result, we saw a team that played freely and with energy, wearing down opponents with speed and skill. The first line of Jonathan Marchessault, William Karlsson and Reilly Smith combined to generate 86 goals, 121 assists, and 207 points, as all of them transitioned from role players to rising stars.
But it was more than just the hockey on the ice that made this franchise inspiring. Practices are always open so that fans can interact with the players and cheer on their team. Top bands perform before the game, as seen with Panic! At the Disco and Imagine Dragons in the Stanley Cup Final. There have been countless celebrity sightings like Michael Buffer introducing the players and Gladys Knight singing "God Bless America."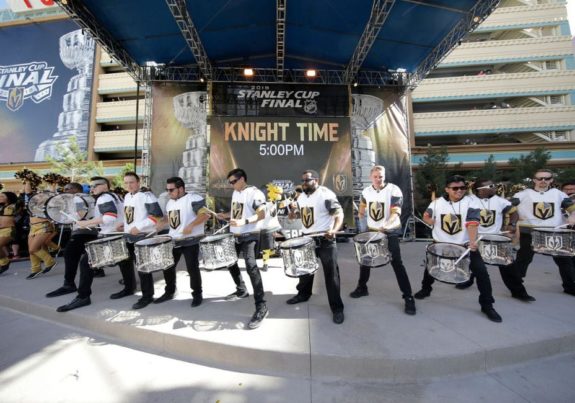 "We're in sports and entertainment," Caps coach Barry Trotz said after Game 5. "What Vegas has done is the gold standard. Them and Nashville, for me, are the top two teams when it comes to that. They get it. They're unique cities. Just be yourself."
From the pregame Game-of-Thrones-esque ceremony to constant music and dancing during game breaks, every contest at T-Mobile Arena is like a Cirque Du-Soleil act on steroids.
"It's like you're in a nightclub. It's like a party. Everybody dancing over there," stated Alex Ovechkin. "Are we in a hockey game or is this a pool party?"
Lack of Experience Proves Costly for Knights
All season, the Knights continued to prove the naysayers wrong. They made it to the playoffs. They won the first round in a sweep. They advanced to the Stanley Cup Final.
But after winning Game 1, the luck ran out for the rookie franchise, as they would go on to lose four straight games. The players' inexperience on this big stage demonstrated that they could not match up against the depth, talent, and experience of the Capitals.
For what was a critical component to their success all postseason, goaltending ended up being the Golden Knights' Achilles heel. Marc-Andre Fleury gave up 20 goals in five games; 16 were in those four straight losses.
The first line that had guided the team offensively went cold. Marchessault, Karlsson, and Smith combined for four goals and seven assists in five games, not creating the scoring opportunities necessary to match the offense of Washington.
The defensive woes and turnovers ended up being costly. The Capitals went 5-for-13 on the power play in the series. In Games 3 and 5, turnovers by Knights defensemen Shea Theodore and Luca Sbisa led to crucial goals by Devante Smith-Pelly and Lars Eller respectively.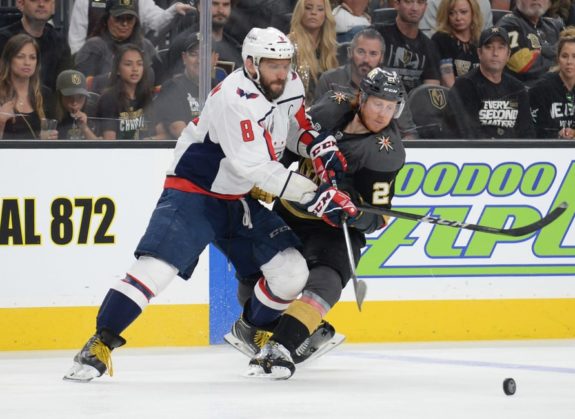 "[Washington] is a good team," Fleury said. "They have a good power play too. They were able to create space."
Golden Knights Future Looks Golden
Losing in the Stanley Cup Final is never easy. A team that works so hard to get to this late stage in the season, only to come up short, leaves a franchise like the Golden Knights empty and drained.
"We gave our heart out to this city, to this team this whole year," stated forward David Perron. "You never even expect to even have a chance at the Stanley Cup. We did."
While it was incredible to finally see Alex Ovechkin lift the Stanley Cup, we cannot undervalue the magnitude and impact of the Knights' first season. A down-and-out coach became a certain Jack Adams winner. An inaugural team filled with role players made it to the championship round for the first time in 50 years.
THANK YOU fans for being a part of this incredible inaugural season.

THANK YOU Vegas for welcoming us to our home. pic.twitter.com/dwjvke7Aqq

— Vegas Golden Knights (@GoldenKnights) June 8, 2018
If the inaugural season was any indication, it would be crazy not to put your money on the Golden Knights for the future.
"We had a great time this year," said Gerard Gallant. "We had an unbelievable home record. We had unbelievable fans. Every day was fun for us."