Note: It is highly recommended you read part one before you proceed.
Boston Bruins general manager Don Sweeney has been a very busy man so far this summer.
It was a tepid start to his tenure as Peter Chiarelli's successor. The club remained very quiet on all fronts. The salary cap was a concern. The roster needed some tweaking. Bruins fans made their feelings known as amateur GM's came out of the woodwork from far and wide.
Boston's offseason sprung to life in a few short hours on Friday, June 26. Hours before the NHL Draft was set to begin, Sweeney made up for lost time by dealing away restricted free-agent Dougie Hamilton and power forward Milan Lucic to Calgary and Los Angeles, respectively. He then proceeded to make three consecutive first-round picks at positions 13, 14, and 15. Although the return on Lucic was impressive, fans were left with a bitter taste in their mouths.
However, Sweeney was just getting started. In part two of our series, we grade three more of "Dealer Donny's" moves.
Re-Signing Adam McQuaid
Before we get to July 1, one of the moves that got lost in the shuffle on draft day was the new contract for injury-prone defenseman Adam McQuaid.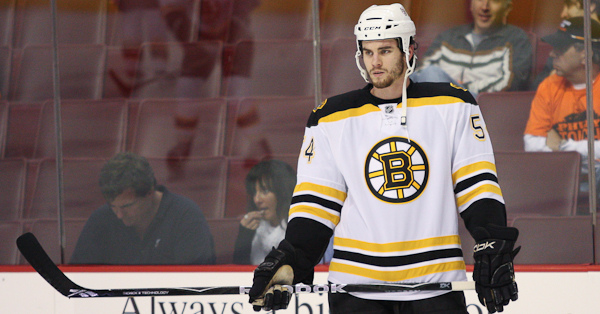 The 28-year-old free agent was signed to a four-year deal worth $11 million, which was curiously announced in between the Hamilton and Lucic trades. He recorded a goal and six assists in 63 games last season after playing in just 30 in 2013-14.
Injury problems have been a concern for McQuaid. The native of Prince Edward Island has missed 41% of games the past three seasons (87 of 212) with various injuries and is not a point producer, yet for next season he will be making just $650,000 less than Torey Krug, who recorded 12 goals and 39 points in 78 games last year.
Furthermore, McQuaid had the third-worst Corsi-For percentage (45.13) on the Bruins last season. Not good.
No matter which way you slice it, there is nothing that can defend this deal. Too much money for a player with too many red flags.
Grade: D
Martin Jones To San Jose
Martin Jones' stay in Boston lasted just over three days. The former backup to Jonathan Quick in Los Angeles was shipped off on June 30 to San Jose for the Sharks' first-round pick in 2016 and prospect Sean Kuraly.
#SJSharks acquire goaltender Martin Jones from @NHLBruins in exchange for 2016 1st round draft pick & unsigned draft selection Sean Kuraly.

— San Jose Sharks (@SanJoseSharks) June 30, 2015
Some thought (including myself) that Jones would be the backup to Tuukka Rask since the Bruins needed a backup goalie to spell the Finnish netminder on a more consistent basis.
Instead, Sweeney sent him back to the west coast and got a great return. Sharks' General Manager Doug Wilson was in the market for a young goaltender and turned to the Bruins for help. Boston reaped the benefits of San Jose's needs by acquiring a potential lottery pick in their first-rounder next summer and a promising prospect in Kuraly.
Here is a synopsis of what the Miami (OH) forward brings to the table, according to Hockey's Future.
"Kuraly is a two-way centerman. While his anemic offense dumbfounds scouts and coaches, his penalty-killing prowess and solid hockey I.Q. excite. The player uses his speed well, and creates opportunities on the rush; he has just not been able to capitalize on them."
In sum, Sweeney flipped an above-average backup goalie for a first-rounder and prospect who has a good chance to be a bottom-six forward in the League. Not a bad day at the office.
Grade: A-
Trading For Jimmy Hayes
The last trade (so far) in the Sweeney era enabled a homecoming for former Boston College product Jimmy Hayes.
https://twitter.com/andyhwang05/status/616378916543066112
The 6'6 forward was acquired by the Bruins for Reilly Smith and the contract of Marc Savard. Hayes recorded a career-high 19 goals and 35 points in 72 games with the Florida Panthers last season. The Dorchester, MA native spoke highly of the opportunity to don the hometown Black and Gold next season.
"This has been a dream come true for me to be able to come home to my hometown, my family and to be able to have this opportunity to win another championship for this city."
Chalk this trade in the win column for Sweeney. The Bruins cleared up close to $7.5 million in precious salary cap space by trading away Smith ($3.425 million) and Savard ($4.027 million) to a Florida team that was $2 million under the cap floor at the time. In return, they got a solid, young player in Hayes who is a lock to be a top-nine forward next year.
Grade: B+
Coming up in part three, my thoughts on Sweeney's free agent signings including Matt Beleskey, Ryan Spooner, Hayes, Brett Connolly, and Matt Irwin.