This past summer the Edmonton Oilers, led by General Manager Peter Chiarelli, looked to make a few changes. One or two of those changes — like Edmonton's need for a top-pair, right-handed defenseman — were public knowledge. Other moves — the suggestion that Edmonton needed to remove part of the losing culture in the dressing room — appeared to be more behind-the-curtain motivating maneuvers. In both cases, what followed, was a trade that shook the city of Edmonton for weeks.
The Oilers search for better overall team balance and a top-pair, minute-munching defenseman resulted in a trade that sent Taylor Hall to the New Jersey Devils for Adam Larsson. It was a blockbuster and one of three big NHL moves that afternoon.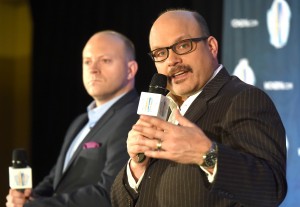 At the time of the trade, most Oilers fans were up in arms. How could a manager, already known for trading top-tier draft selections before their prime, trade away arguably Edmonton's best player (Hall)? So too, how could he do so for an unproven defenseman (Larsson)?
Larsson had the potential to be a top-pair blueliner, but Hall had proven to be one the NHL's top-five left wingers. It was a one-for-one deal with no draft picks or throw-ins involved. Devils GM, Ray Shero, took a stand and asked for Hall. Chiarelli said ok and called it the price of doing business. It was a trade Chiarelli knew he'd take heat for and he did.
The moment the trade was consummated, and for weeks afterward, fans talked about the one-for-one swap like it was the end of the Oilers. They talked so much, that trades like Shea Weber for P.K. Subban were small potatoes compared to what was going on in "Oil Country". Polls were conducted, media weighed in and almost everyone had an opinion. Most of those opinions seemed to match the feeling that the Oilers got taken to the woodshed.
Why Fans Hated the Trade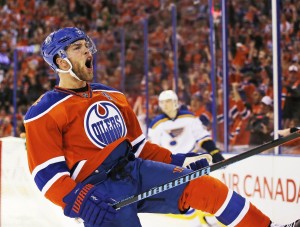 For the most part, fans were so against the trade because it meant the loss of a proven talent for an unknown. Hall was, up until Connor McDavid, the best player Edmonton had drafted in a decade and he was also a perennial scorer. Hall had four 50-plus point seasons including four 20-plus goal seasons. In 2013-14, he's also managed 80 points and the last Oiler to do that was Doug Weight in 2000-01.
Larsson, on the other hand, had a high draft pedigree, but outside of bouncing between the pros and the minors, had one good season in New Jersey. It was a season few Oilers fans even knew about considering very few Oilers fans kept up with the goings-on in New Jersey. Larsson represented a million questions, while Hall meant saying goodbye to a sure thing.
The appearance that Larsson was a backup plan didn't help matters much. It was public knowledge that the Oilers were in on conversations regarding P.K. Subban. What fans didn't know, was that Chiarelli ultimately decided to pull out of those trade talks due to fear that Subban's salary per year would interfere with Edmonton's ability to keep a competitive team together with McDavid's eventually salary requirements.
Of course, and as the old saying goes, "the team that loses the best player in the deal, typically loses the trade." That's a phrase that has been part of hockey culture for years and is typically true. In this case, Hall was clearly the better player of the two.
22 Games Later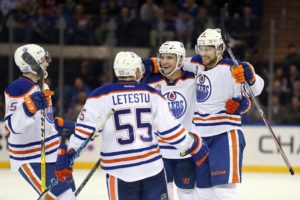 The Oilers are now more than a quarter of the way into the 2016-17 season. I'm sure if you took another poll, most would honestly tell you that it wasn't expected that the Oilers would be 12-8-2 and leading the way in the Pacific Division. While the team is still making mistakes that are costing them games, they are clearly not the same team that played last season and in seasons past. They are more balanced, they are grittier, they are bigger and they are a better defensive team. Some of that credit should go to Adam Larsson.
Clearly, the leader of the Oilers is Connor McDavid. In any given game, he's not only the best player for Edmonton, but he's the best player on the ice. The Oilers also knew that in losing Hall, Milan Lucic was coming in. Lucic isn't as dynamic as Hall, but he has 15 points in 22 games and has found a home with McDavid as his left-winger.
Meanwhile, there's a strong debate about who has been the catalyst behind Edmonton's improved defense. The two biggest thanks should go to Oscar Klefbom and Larsson, who also happen to be a defensive pairing.
Where Larsson specifically comes into play is the fact that's he's come exactly as advertised. He's a strong stay-at-home defenseman, playing against the opposition's toughest offensive weapons and he's holding his own. What's coming as a surprise to a lot of Oilers fans, is Larsson's ability to play a little nasty. There is a snarl to his game that has come in handy and he's growing on Oilers fans.
Offensively, Larsson isn't a dynamo, but he's not offensive dead weight either. He's now got two goals and five points in 22 games. He's on pace for the same offense he had last year in New Jersey and he's finding a groove to which a few more points here and there shouldn't be unexpected. It would be surprising if he didn't outdo last season's numbers.
Re-examining the Trade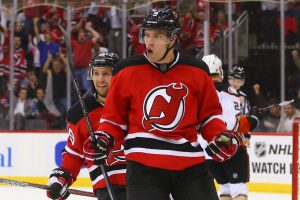 Hall is currently injured in New Jersey, so perhaps it's not completely fair to ask at this stage who won the trade. That said, the appearance that Edmonton accomplished what they set out to do is there. Edmonton is a more cohesive unit. There isn't talk of imbalance in the room and there's definitely better balance on the ice.
Larsson is what Chiarelli said he'd be. He's an un-sexy defenseman who gets the job done. He can play big minutes, he's meshed well with his partner Klefbom and he's made the blue line more stable. He's not a flashy player, but he's reliable.
Meanwhile, New Jersey has gotten exactly what they'd expected out of Hall. Despite his injury, he's third in team scoring with 12 points in 14 games. He's got five goals, is the Devil's top power play player and he shoots the puck a lot. In fact, with fewer games on his season resume, he still leads the team in shots on net (by a large margin).
If you were the Oilers, would you do the trade again? Did the Oilers still get fleeced? Is Larsson better than you might have expected? Perhaps, some of the more vocal majority against the trade when it happened, have started to change their minds a little.