Strike up the band. Crank out the Brass Bonanza. Break out the green sweaters. I have an idea that's just crazy enough to work. It should fetch the NHL a lot of green as well. It's time to bring back the Hartford Whalers. Just for one day.
This would more than put the throwback into those NHL Winter Classic throwback sweaters. Given how the NHL still hocks its fair share of Whalers gear, along with numerous other defunct teams, the league would make a tenfold killing on swag for this one. With the Carolina Hurricanes drawing the second lowest attendance, at 11,823, I can't see how they wouldn't be on board with a potential "home game," wherein they rake in some serious dough.
Exploring the possibilities, there are multitude of venues that could make this work. Most obvious would be a Fenway Park face-off with the Boston Bruins. A more "neutral" site and one that hasn't been used yet, could have the "Whalers" play the B's at Gillette Stadium, in Foxborough, MA. After all, the New England Patriots were once rumored to move to Hartford, once upon a time.
RT @TpkeVillan: 18 NHL seasons. 3 w/ a winning record. 1 playoff series win. 04/12/86 (one of best nights of my life) http://t.co/pf7yVNitcv

— Hartford Whalers (@WhalersPlates) December 11, 2014
One could even make the case for a matchup against the New York Rangers or New York Islanders at Yankee Stadium or a new place like Citi Field. Perhaps a game at MetLife Stadium against the New Jersey Devils or the Blueshirts or Isles.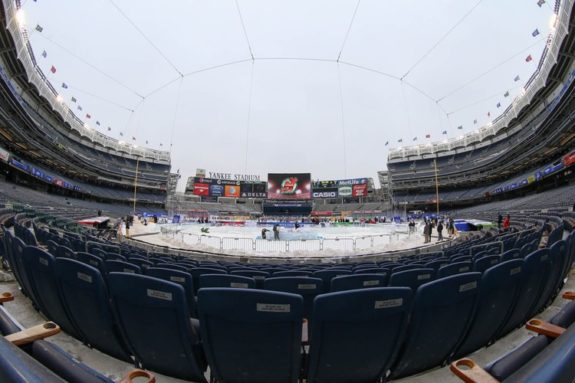 It would be a surreal scene, fans loaded up with Whalers hats, sweaters, scarves, jackets, etc. An homage to the green, white and blue, for fans longing for the Whalers and countless more that have only stories Ron Francis, Gordie Howe, Mark Howe, Dave Keon, Mike Rogers, John McKenzie, Rick Ley, Ray Ferraro, Pat Verbeek and of course Kevin Dineen.
Some thoughts from Hall of Famer Brian Kilrea on Gordie Howe as told to TSN's @tsnjamesduthie http://t.co/29Tt5mlriB pic.twitter.com/t7T7lh7wHB

— Hartford Whalers (@WhalersPlates) November 19, 2014
If you'll also recall, Hartford does have some experience at this outdoor game event, at the AHL level. The Hartford Wolf Pack, then named the Connecticut Whale, played the 2011 AHL Outdoor Classic or "Whale Bowl," at Rentschler Field in East Hartford, where they fell in a 5-4 shootout at the hands of the Providence Bruins.
So while the NHL attempts to get creative and look for new teams for a Winter Classic, why not try and think outside the box by picking an old one? The odds are slim that the NHL will return to Hartford on a regular basis, so why not bring back the Whalers for a day?
RT @Jay_Behan: @Buccigross This is an original. Not some retro remake. #Whalers pic.twitter.com/sZQ3TnAlSb

— Hartford Whalers (@WhalersPlates) December 7, 2014
If that doesn't come to fruition, I suppose they could try this…
https://twitter.com/jstar1973/status/544928270660009984
.
Michael Gwizdala covers the New York Islanders for The Hockey Writers. Michael is also an Associate Producer at WNYT NewsChannel 13. Additionally, Michael was once a Media Relations intern for the AHL Albany River Rats. Michael is a graduate of The College of Saint Rose in Albany, NY.