Not since Dwayne Roloson helped propel them to a Stanley Cup Final appearance in 2006 have the Oilers been able to look at goaltending as a position of strength. At the time this was written, Edmonton found themselves in second place in the Western Conference with a 9-4-1 record. Their strong start can be attributed in part to the play of goalie Cam Talbot, who has kept them in many a game. With more than a full NHL season under his belt as a starter, can Talbot be viewed as a top-tier number one goalie in the NHL?
The Ghosts of Goalies Past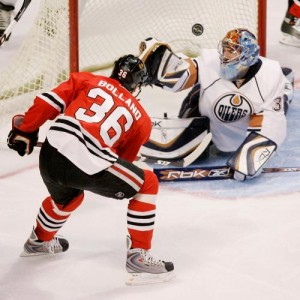 Oilers goaltending is a soft spot for the Edmonton faithful (along with their win/loss record, recent playoffs appearances, and drafting track record). We all know how important the goaltending position is for hockey teams, and it's one the Oilers have failed to address on a consistent basis. Roloson came back in the 2006-07 season, but it appeared his magic had worn off. Other goalies on the depth chart that year included Devan Dubnyk, Ty Conklin and Jeff Drouin-Deslauriers.
The next few seasons saw names such as Mathieu Garon, Jussi Markkanen, Dany Sabourin, Martin Gerber, Nikolai Khabibulin, Yann Danis, Ilya Bryzgalov, Jason LaBarbera, Viktor Fasth, Richard Bachman, Ben Scrivens and Anders Nilsson. In fact, since the 2006-07 season, the Oilers have had 17 different goaltenders appear in at least one game. That's a lot over a 10-year span. With those numbers, and those names, it's no wonder the Oilers have struggled so mightily.
They attempted to use perennial back-ups or guys past their prime to try and get the job done, but clearly, it wasn't the best route. When the Oilers traded for Cam Talbot at the 2015 draft, it came with mixed reviews. Some felt it was a lot to give up for a guy with so little experience. Others felt the prospect of finally having a legitimate starter was too good to pass up. The question-marks around Talbot was that, for one, he had only played in 59 career games at the age of 27. Secondly, all of those appearances came behind a strong New York Rangers team.
Plus, the mindset of a back-up is completely different than that of a starter. We've seen many great back-ups fail at becoming a starter because they didn't have the mental make-up for it. That was always the risk with Talbot. What if his ceiling was to be a really solid number two guy? The Oilers felt that he was worth taking a chance on, and so far, you can't say that they were wrong.
How Does Talbot Compare to Others?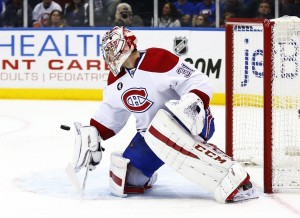 The benchmark for goaltending at the moment begins and ends with Carey Price. Somehow, the Montreal Canadiens keep winning games despite icing too many third and fourth liners along with low-level defencemen on a nightly basis. Price is that good. He affects the whole mindset of the team. Every goalie will be compared to him. His numbers this season, as expected, have been stellar. The Habs have allowed 30 goals, good enough for fifth overall, and keep in mind that 10 of those goals came in one game in which Price didn't play.
Price currently sits second in save percentage, and third in goals against average. The Canadiens are dead last in shots against, they've allowed a league-high 447. Getting out-shot is part of the Habs game, and having Price bail them out is why they've been able to sustain such a remarkable record. To their credit, they've scored plenty of goals as well, the fifth most in the league. But with any other goalie in net, they couldn't possibly allow that many shots and keep winning. That's how good Price is.
The Oilers conversely, are right in the middle of the pack, ranking 15th in goals against, and 19th in shots allowed. Talbot ranks 24th in goals against average and 16th in save percentage. Those numbers don't jump off the page, but Talbot has eight of the Oilers' nine wins, including two shutouts. When judging solely on team success, Talbot has been great. His eight are tied with Price for most in the league.
There is only one Carey Price in the world, which means that every other team has to get by without the best goalie in the league. The jury is still out when deciding if good goalies are a product of strong defence in front of them or their own skill. Talbot's numbers last season weren't that different from his numbers so far this season, the biggest difference is that the team is having overall success.
(All stats recorded as of November 10th, 2016 5pm EST. Numbers courtesy of NHL.com and Sporting Charts)
Is Cam Talbot the Answer?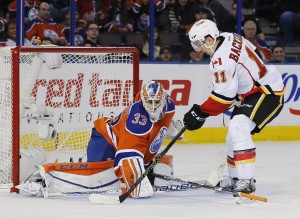 Although Talbot is in his second full season as a number one goalie, it still feels as though it's too early to make an accurate assessment. The team was terrible last season, not that it gives him a free pass, but a losing season is on everyone, not just the goalie. Talbot has shown flashes of brilliance this season. He's stolen games. He's stood on his head. The reality is, the Oilers need a goalie who can keep them in games and give them a chance to win. The days of back-breaking goals have to be over.
Many Oilers fans were concerned about his play after the team's brutal loss to the Sabres earlier this season. But Talbot's mind wasn't in it, and he has rebounded very well since then. Where would you rank Talbot right now among NHL starters? Top 10? Top-20? The best way for him to prove himself is to keep playing well and helping the Oilers win. There is so much doubt and trepidation when it comes to goaltending in Edmonton, so Talbot will just have to let his play do the talking.
From what we've seen so far, Talbot is a formidable starter in the NHL, and the team in front of him has confidence that he can get the job done. For the Oilers' sake, and for Talbot's sake, let's hope he keeps it up, lest he ends up on the list of disappointing Edmonton goalies along with the ones that have gone before him.