The Edmonton Oilers should consider trading Benoit Pouliot. Not because he's a bad player and not because he's played poorly to start the season — even though the second part of that sentence is accurate — and, definitely not because the winning goal against the Penguins came off his stick and cost the Oilers the game on Tuesday.
Watch: Oilers' Pouliot puts Penguins' game-winner into his own net: Benoit Pouliot's gaffe… https://t.co/7YOOILD1GN

— Dan Walter (@TradeviewHere) November 9, 2016
The Oilers should consider trading Pouliot because both in the short term and down the line, the Oilers will have better options available to them at a lesser price. When some of the injuries that rattled the Oilers start to the season begin to heal, the Oilers will have some serious decisions to make and the likely reality is, Pouliot becomes dispensable.
How the Decision Got a Bit Clearer
Pouliot has a proven track record of effective hockey, but so far this season, his play has been disappointing. He's taken some poor penalties at key times in important hockey games, he's not contributed as he should offensively and his chemistry with players like Ryan Nugent-Hopkins has been Corsi positive, but hasn't lived up to expectations. He's being paid $4 million per season for two more seasons after this one and that's a lot of money to invest in someone who isn't bringing his 'A' game on a regular basis.
Everyone in the NHL knows that Pouliot is better than what he's provided the Oilers so far this season, but Pouliot has just four points in 14 games. That's a .29 point per game pace and 23 points over the course of this season. It's a fraction of his production last season where he ended up with 36 points in 55 games. In fact, if things don't turn around for him, the Oilers may realistically have to look at him as an albatross contract.
Meanwhile…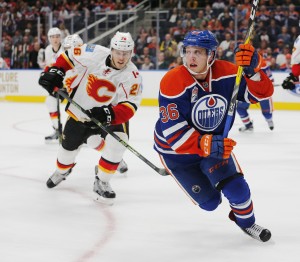 There are at least four Oilers forwards coming back into the fold. Some of those injuries may be only a matter of time and if room isn't made to accommodate their returns, you have four potentially valuable assets sitting, not being productive. The reality is, on this Oilers roster, some maneuvers and line juggling will need to be made. The most high profiled and high ticketed of those moves is clearly Pouliot.
Matt Hendricks, Iiro Pakarinen, Drake Caggiula and Zack Kassian were among those put out of game action early. None of those players would fetch the kind of return Pouliot might. Of those three, the one Edmonton should hold onto is Caggiula. Coincidentally, Caggiula has the ability to play left wing.
In terms of NHL proven depth, Pouliot trumps Caggiula. But, where Caggiula wins the day is his confidence, energy and skill, which while uncharted territory in the NHL, has showed well in some preseason action. Caggiula also draws penalties, where Pouliot has a tendency to take them and Caggiula offers these skills at a fraction of Pouliot's price.
The NHL Expansion Draft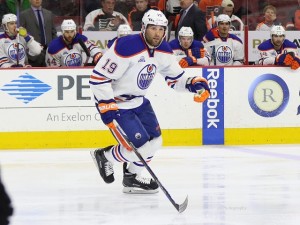 At one time, many considered Pouliot to be the automatic choice of a Las Vegas franchise that was going to select one player from every existing NHL team to build a roster. If that were true, Edmonton would likely lose Pouliot anyways.
Pouliot was, and despite the poor start to the season, is considered a two-way forward with goal scoring touch. He offers veteran experience, but isn't too old and he has the skill set to play up and down a line-up with skilled players as well as bottom-six talent. Simply put, despite a couple flaws, he's a well-rounded player.
Perhaps Pouliot still is the player that Las Vegas selects. This might be a good turn of events for Edmonton. Unfortunately, the way Pouliot has played the first 15 games of the season, it could also be a stretch to say Las Vegas wouldn't take a chance on a Tyler Pitlick, Patrick Maroon or Brandon Davidson. That would mean Edmonton is stuck with Pouliot's contract.
If I'm the Oilers, I consider protecting three defensemen, seven forwards and a goaltender. Those forwards are Jordan Eberle, Milan Lucic, Leon Draisaitl, Ryan Nugent-Hopkins, Patrick Maroon, and either one of Tyler Pitlick or Anton Lander. (it's amazing how 15 games can change your perspective of who to protect). I also hold onto Oscar Klefbom, Adam Larsson, Andrej Sekera and Cam Talbot.
The Oilers should have a back-up plan in place if it looks as though Pouliot won't get selected. If that means trading him first, just to be sure, it's a move Edmonton should highly consider.
It's About Timing
The reality is, Benoit Pouliot is on the outside looking in. He'd had to have an amazing final 65 games of the season to change that and if he does, he then becomes a valuable trade asset that may earn the Oilers their highest possible return at a time they can afford to move him.
I'm not suggesting dumping Pouliot for a bag of magic beans. Trading him right now would be doing that. That said, if I'm the Oilers, I might consider putting out the feelers to see just what's available from a team that is struggling. There are a lot of teams out there that could use a veteran winger. The New Jersey Devils, Vancouver Canucks and Toronto Maple Leafs are just a few that might have some interest.
If the opportunity exists and the time is right, making a move to move on from Benoit Pouliot may be the best coarse of action for the Oilers. There is no time like the present to start planning for that eventual move. Hopefully in that time, Pouliot starts to pick up his play and become a more attractive target.