Given the Toronto Maple Leafs' current state as a franchise, there is arguably no date over the course of a given year more important than the annual NHL Entry Draft. As a team in the midst of a full-fledged rebuild, the Leafs, and the potential success of their organization in the future is largely dependent on the addition of highly talented young players who can contribute consistently at the NHL level.
The most recent Draft addition, of course, was that of Auston Matthews, a potential franchise center-ice man who is expected to play a pivotal role in the team's future. Before Matthews, Mitch Marner, an incredibly talented winger who has drawn early comparisons to Chicago Blackhawks star Patrick Kane, was added to the mix. And, before Marner was drafted, there was William Nylander, a slippery playmaker who can command the puck on the ice.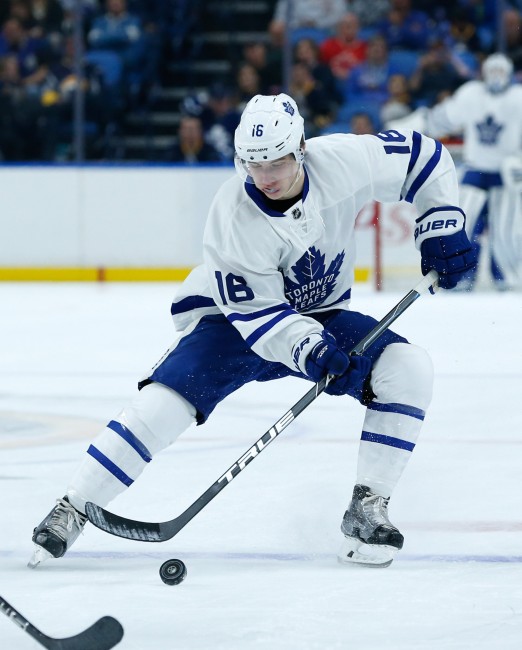 In Matthews, Marner, and Nylander, the Leafs have successfully added three major components to their roster, all of which will certainly be of incredible value to Toronto in the near and distant future. However, despite the Leafs' success in drafting these three notable players, the team must continue to address glaring deficiencies within their organization in coming years. In particular, the areas of both defense and goaltending require major attention.
While Andrew Nielsen, Travis Dermott, Rinat Valiev, and Victor Loov all retain the potential to become regular NHL defensemen, and the signing of Nikita Zaitsev is one which is already viewed in a positive light, it would bode well for the Leafs to add another defender of top-pairing potential.
Further, the Leafs' greatest issue of all could lie in goal. Of course, Frederick Andersen is signed through the 2020-21 season, yet, will the Leafs be ready as a team to compete for the Stanley Cup in a mere five years? With Garrett Sparks and Antoine Bibeau the organization's top two goaltending prospects, respectively, the Leafs would be smart to add a goaltending prospect of considerable upside in the coming years.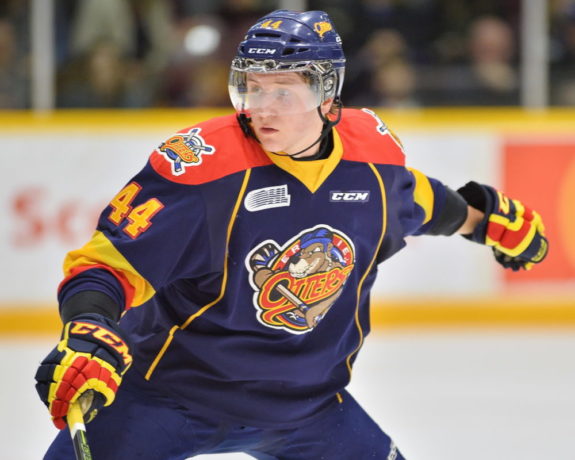 So, with all of this being said, it is quite clear that the Leafs remain far from their goal of icing a truly competitive NHL team. Naturally, young players must be given time to develop, however, there remain a number of key areas which must be supplemented if Toronto wishes to compete for the Stanley Cup.
As such, the coming 2017 NHL Entry Draft, scheduled to be held in Chicago on the 23-24th of June, will be of utmost importance to the Leafs. Fortunately for the Toronto, there is a wide variety of players available in this year's class, all of which ranging widely in terms of ability, skill, position, and potential.
The Forward Class
Firstly, let's take a gander at the 2017 forward class. Toronto has placed a large emphasis on drafting skilled forwards in recent years, highlighted by Matthews, Marner, and Nylander, as well as others such as Jeremy Bracco, J.J Piccinich, and Connor Brown. In addition, the Leafs have also added players of a similar skill set in various trades, most notably the acquisitions of Brendan Leipsic and Kasperi Kapanen.
So, whether or not the Leafs will focus strictly on adding additional skill up front early in the Draft quite obviously remains to be seen. However, given their vast quantity of quality forward prospects, one would have to imagine that drafting yet another talented forward with their first round pick, one that could easily fall in the top-five, could be out of the question. But, if Nolan Patrick is available, it goes without saying that Toronto would not hesitate to select him.
Here are arguably the top-five forwards ahead of the 2017 NHL Draft:
Player

Position

Team

Height
Weight

Nolan Patrick

Center

Brandon Wheat Kings

(WHL)

6'3"

195

Maxime Comtois

Left Wing

Victoriaville Tigres

(QMJHL)

6'2"

200

Gabriel Vilardi

Center

Windsor Spitfires

(OHL)

6'2"

190

Klim Kostin

Right Wing

Dynamo Moskva

(KHL)

6'3"

195

Owen Tippett

Right Wing

Mississauga Steelheads

(OHL)

6'2"

205
Of these five, Patrick is the consensus first overall selection in the 2017 NHL Entry Draft. Blessed with fantastic skating, shooting, and playmaking abilities, not to mention his intimidating size, Patrick is a complete package who projects to become a franchise center-ice man. Yet, he was hampered by injuries early in his draft year, an issue which could certainly damage his stock.
Prospect of Interest: Get to know Nolan Patrick, the prospect who's projected to go No. 1 at the 2017 NHL Draft. https://t.co/DypqaMA88G pic.twitter.com/bvD0uHdlWA

— Sportsnet (@Sportsnet) October 20, 2016
Elsewhere, Maxime Comtois struggled out of the gate, while Gabriel Vilardi soared and is producing at greater than a point per game pace. One interesting player of these five to watch, however, is Owen Tippett of the Mississauga Steelheads. Known for his elite shot, Tippett added 20 pounds of muscle in the 2016 off-season and has outplayed 2015 12th overall selection Micheal McLeod on a nightly basis. He could be a true sleeper pick hidden within the top forwards available.
The Defense Class
Next up is the 2017 defense class, where, although extremely thin in comparison to years passed, there are three standout defenders of top-pairing potential. As previously mentioned, the Leafs have done a great job in recent years of adding quality defensive prospects with picks in later rounds of the Draft. However, other than Morgan Rielly, of course, Toronto lacks an elite defenseman or defensive prospect who can anchor the blueline years to come.
Given this need, defense should be a major area of focus for the Leafs come the 2017 NHL Entry Draft, and fortunately for Toronto, their first round pick could lie in an excellent location to do so.
Here are the top-five defenders available to date:
| | | | | |
| --- | --- | --- | --- | --- |
| Player | Position | Team | Height | Weight |
| Timothy Liljegren | Defense | Rogle BK J20 (SuperElit) | 6' | 200 |
| Nicolas Hague | Defense | Mississauga Steelheads (OHL) | 6'6" | 215 |
| Callan Foote | Defense | Kelowna Rockets | 6'3" | 200 |
| Urho Vaakanainen | Defense | JYP (Liiga) | 6'1" | 190 |
| Dmitri Samorukov | Defense | Guelph Storm (OHL) | 6'2" | 180 |
Like Patrick in the forward class, Timothy Liljegren is the favorite to become the top defenseman selected in the 2017 NHL Entry Draft. A seemingly tireless skater who can quarterback a team's powerplay and excel in all situations, Liljegren has garnered early comparisons to Los Angeles Kings star defender Drew Doughty. With Patrick's injury to begin the season, Liljegren could, in fact, rise up the rankings and secure the first overall slot.
I'm already agonizing over my Future Watch top-10 for the 2017 draft. So many options after Nolan Patrick and Timothy Liljegren

— Ryan Kennedy (@THNRyanKennedy) February 22, 2016
Following Liljegren, there is a fairly significant drop-off in terms of defensive skill in the 2017 class. Nic Hague, a towering defender who plays alongside Tippett in Mississauga, could leap into the top-10 come the end of the season, and given his size and offensive abilities certainly has the talent to do so. Further, there is Callan Foote, the son of former NHL star Adam Foote who, like his father, has great size and defensive instincts. However, Foote is fortunate to carry greater offensive upside in his game in comparison to his father, an aspect which could, like Hague, push him into the top-10 overall.
Yet, following these three defenders, there is, as mentioned, a fairly decent drop off in terms of the skill of defensive prospects. Urho Vaakanainen and Dmitri Samorukov are both highly regarded, but will likely fall out of the range of the Leafs, and somewhere from 20-30th overall.
The Goaltending Class
Lastly, before we can officially determine who the Leafs should take with their first round pick, let's take a quick look at the goaltending class of 2017. Like in most years, there isn't one clear-cut goaltending prospect whose stock is notably higher than the rest, nor one who will be selected in the top-five overall. In Toronto, the Leafs' most recent goaltending selection was Joseph Woll, who, in 2016-17, is in his first season with Boston College. The 2016 third-round pick has great size and mobility, making him a serious contender to man the crease in the near future.
However, outside of Woll, the Leafs goaltending cupboard is relatively bare, meaning they would do well to add an additional netminder in the case that none of Woll, Bibeau or Sparks pan out.
Once again, here are, as of now, the top-five netminders available:
Player

Position

Team

Height

Weight

Ian Scott

Goaltender

Prince Albert Raiders

(WHL)

6'3"

170

Stuart Skinner

Goaltender

Lethbridge Hurricanes

(WHL)

6'3"

210

Jake Oettinger

Goaltender

Boston University

(NCAA)

6'4"

205

Michael DiPietro

Goaltender

Windsor Spitfires

(OHL)

6'

195

Ukko-Pekka Luukkonen

Goaltender

HPK U20

(Jr. A SM-liiga)

6'4"

190
As mentioned, there is no clear cut favorite to be selected first in the 2017 NHL Entry Draft. In fact, the selection order of these netminders will be decided by their play, or lack thereof, throughout the 2016-17 campaign.
However, at the moment, Jake Oettinger could possibly be the first goaltender chosen. He stands a massive 6'4″ tall and a whopping 205 pounds. A Freshman with Boston University in 2016-17, Oettinger got off to a fantastic start, and given his long history in the United States Development Program, should ease nicely into the NCAA. Outside of the NCAA, there is Michael DiPietro, who tends the crease for the Windsor Spitfires of the OHL. Of no relation to former New York Islanders goaltender Rick DiPietro, DiPietro has posted sparkling numbers throughout his junior career to date and is a highly flexible and athletic goaltender, much like Jonathan Quick of the Kings.
After U-17 World Challenge in Nov., heard great things about WDR G Michael DiPietro. Seeing why tonight. 2017 NHL draft eligible.

— Bob McKenzie (@TSNBobMcKenzie) January 30, 2016
In all, Ian Scott, Stuart Skinner, Oettinger, and DiPietro should all fall in the second round, while one or two of which could sneak in at the end of the first round.
Who Should the Leafs Select?
Well, having assessed the Leafs' organization as a whole, and in doing so identified both its strengths and weaknesses in comparison to the 2017 Draft class, it's time to make a definitive decision.
If the Leafs hold the first overall selection, they will surely select Patrick. Patrick, provided he can remain healthy, would provide the Leafs with a fantastic duo of elite center-ice men. Alongside Matthews, Patrick's role as either the first or second line centerman would enable Toronto to roll two outstanding offensive lines. Further, with size at center on both lines, the Leafs would be able to stack up against some of the league's top center-ice men who carry immense size in addition to skill, more so in the big and bad Western Conference.
However, the question which we truly need to answer is: if the Leafs hold a selection in the second to the fifth overall range, which player will they select?
Well, given their need for additional prospect depth both on defense and in goal, the only sensible choice for the Leafs, given their position in the Draft, would be to select Liljegren.
The undisputed top blueliner available, Liljegren, who has the ability to anchor the point on the powerplay, could become a workhorse defender for the Leafs, and, much like Doughty with the Kings, log major minutes in all situations. Of average size, Liljegren is an offensive defenseman who also plays a very steady, and smart, game in his own zone, and is well aware of his role on the ice in any given moment.
In fact, it is his vision and hockey sense which afford Liljegren the ability to hit teammates with incredible passes, fire the puck through tight shooting lanes, and carry the play in both zones on a nightly basis. Further, perhaps best defined by his sensational skating ability, Liljegren can skate the puck out of his own end, join the rush, and use his elite speed to create opportunities in both the defensive and offensive zones.
In Toronto, given time, Liljegren could blossom into a shut-down defender who carries a considerable offensive upside. Alongside Rielly, Liljegren would help to stabilize the Leafs' back end, and provide a heightened level of calm and composure within the roster. Further, given his experience playing in the Swedish Hockey League, Liljegren has knowledge of the professional game which should make his acclimation to the North American game a quick and efficient process.
In all, if available, and dependent on the selection order of the 2017 NHL Draft, the Leafs' best potential choice would be that of Liljegren. Having drawn comparisons to both Doughty, as well as Erik Karlsson, Liljegren could, and should, become an essential piece of Toronto's rebuilding puzzle in the near future.