Edmonton Oilers general manager Peter Chiarelli's transaction history is spotty at best. If you're lucky enough to be a part of Oilers Twitter then you're no doubt familiar with the daily debate regarding the Adam Larsson deal or the Ryan Strome trade. If it's not those deals it's the deal that sent a first and second-round pick to the Islanders for Griffin Reinhart or the signing of Milan Lucic that'll have the anti-Chiarelli crowd up in arms.
Personally, I like to point out the trades that brought the team players like Pat Maroon and Matt Hendricks, some of his free agent signings like Mikko Koskinen or Tobias Rieder, or how he's re-stocked the Oilers prospect cupboard since he joined the Oilers to the point to whereby next season it could very well be overflowing.
All of that might pale in comparison to who Chiarelli has brought in to replace Todd McLellan and I'm going to tell you why.
The city of Edmonton has gone a little bit spring-fevery over Ken Hitchcock. This is a man who grew up here, was a part of our community. Many many people interacted with Ken Hitchcock when he was selling skates at United Cycle and they followed his entire career. That's what's happening. Let me tell you, this town has so many friends of Hitchcock that the excitement level is borderline, I'm gonna say it's Beatlemania. That's the kind of excitement. He said the other day that he can fix stuff and now people have said he can fix everything.
That quote comes courtesy of the great Allan Mitchell aka Lowetide from his radio show yesterday morning.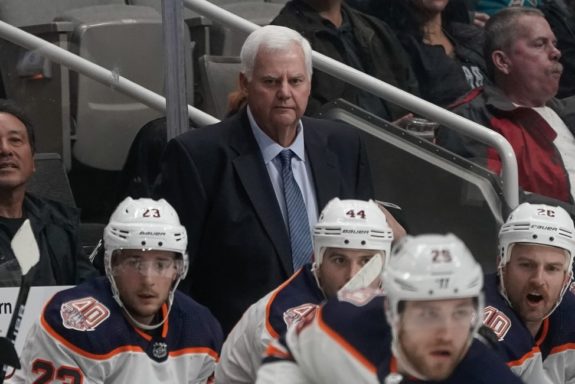 Hitchcock has a storied reputation and a few of the things he's most well-known for are,
Being a very hard coach to play for.
Immediate improvement on the defensive side of the puck.
His ongoing knowledge for the game of hockey.
Those aren't what I'd like to focus on, though. I do believe that the combination of multiple factors will result in the Oilers not only making the playoffs but winning the Pacific Division this season.
A Fan Revolt?
The hours leading up to the firing of McLellan I felt were very tense within the fanbase. There were rumors going around that he was going to be fired, and then he wasn't, and the temperature of the situation was white-hot. There was a lot of talk among the fanbase online that it should be Chiarelli being fired and not the coach (a sentiment that remains today). I wondered, once the Oilers came home from their road trip, if there'd be a fan revolt of some sort had the Oilers chosen not to make a coaching change because it was getting worse.
The California Road Trip
I believe that making the coaching change on the road saved the Oilers from a more serious backlash than had they done it at home in Edmonton. Connor McDavid and his crew don't return home until Tuesday, thus giving the fanbase just over a week to cope with the pain of losing McLellan.
It wasn't great for McLellan, mind you, but at least they didn't pull the same garbage that the Florida Panthers did on Gerard Gallant.
Grey Cup Week
This week the Grey Cup Festival is taking place in Edmonton, and what that means is that there is a good portion of the population NOT thinking about the Oilers, or they are thinking about them but their concern level isn't as high because they're having too much fun taking part in the festivities brought on by the Canadian Football League's championship game.
I reckon if there was nothing going on in Edmonton that there'd be a lot more fans picking apart the decision to fire McLellan instead of Chiarelli.
The Ken Hitchcock Story
The Hitchcock story is one that would even have a Calgary Flames fan getting some butterflies in their stomach.
A local lad, whose lifelong dream it was to coach the team he grew up watching, working at an Edmonton sporting goods store selling skates and using his free time to watch future Hockey Hall of Famer Clare Drake guide the juggernaut University of Alberta Golden Bears hockey team is the broad strokes version of it.
Ken Hitchcock's coaching path took from Midget AAA in Sherwood Park for 12 years to dominating the Western Hockey League with the Kamloops Blazers to assistant coach of the Philadelphia Flyers to Stanley Cup champion as head coach with the Dallas Stars. Stops in Columbus, Philadelphia, St.Louis, Dallas, and now Edmonton have followed.
But it's not even those accomplishments that are the most impressive part of his story. Hitchcock lost his parents when he was quite young and had to find his fatherly figures elsewhere, and according to Craig Custance's book, "Behind the Bench: Inside the Minds of Hockey's Greatest Coaches", that's when three men stood up and gave him the guidance he required to take the next steps in his life.
Drake poured into Hitchcock all his knowledge about hockey and systems and the details that go into winning. Wilf Brooks, his boss at the sporting goods store, taught him about leadership. Another friend, Chuck Geale, gave his life structure. They became his father figures.
Another thing that Custance's book mentions about Hitchcock is that he was quite troubled as a young man and that there were some that are simply amazed that he's alive today. The book is outstanding. I recommend it 100% if you get a chance to pick it up.
When you add up the possibility of a fan revolt, the timing of the California road trip, the distraction of the Grey Cup week, Hitchcock's amazing story and the history that he has with the Oilers during the late 90's when Edmonton and Dallas seemingly met each other in the playoffs; there's a massive powder keg of emotions sitting there.
Now, top all of that off with Hitchcock coming in and mesmerizing the journalists and the fans with his interviews and we may very well have the greatest move in Chiarelli's career as Edmonton Oilers GM.
Why you ask? The answer to that is misdirection.
You're all watching Hitchcock work his magic on the bench and in front of the cameras and microphones all the while forgetting about Chiarelli.
The hiring might also earn the Edmonton Oilers a spot in the playoffs too.
Hey there! My name is BLH and you might know me from such websites as Beer League Heroes or from Oilers Twitter. I'm a diehard Edmonton Oilers fan who lives in Taipei City, Taiwan! I'm originally from a small town outside of Edmonton called Camrose.
I write as a fan for the fans.
When you read my content you're not going to be getting vanilla. I'm going to give you a debateable thought-provoking point of view on the Oilers.