Last week, USA Hockey, in celebration of Hockey Across America, asked parents and players in their minor hockey systems to name their hockey heroes so that they might be put on the honor list of the organization.  The immediate answer that came to my mind was Keith Veltre and Dennis Ruppe, the hockey coaches at East Side High in Newark, NJ, who created a new program now called Hockey in Newark.

Hockey in Newark, the brainchild of these two Special Ed teachers who had the tenacity and the courage to commit to its start-up and whose effort on behalf of these kids knows no end, is a program in Newark's inner city that teaches underprivileged kids to skate and play hockey.  This year over one hundred fifty kids ranging in age from six to sixteen registered for the program and played in games every weekend at the Ironbound Rink, which is housed in the Newark Recreation Center.  The program started with Veltre and Ruppe using their charm and wit to cajole the City officials into giving them the ice time for free. Then through tireless solicitation they threw together enough equipment and hockey jerseys to put these kids on the ice, no easy feat.  Keith and Dennis, along with East Side High School Athletic Director Elizabeth Aranjo, magically created the new program without any outside funding and with minimal resources.  Let's look at its evolution.
Seven years ago, long before the Devils brought professional hockey to Newark, the Athletic Director at East Side, not wanting her existing hockey program to wither and die, called Veltre to see if he would have any interest in coaching the school's team.  At that time Veltre was engaged in a career change, moving from the business world back to academics.  After graduating from William Paterson College in Wayne, NJ Veltre had gone to work for the New York Daily News selling advertising, but had just decided to return to school for his teaching degree and saw coaching hockey as a way to help pay his way through school doing something he loved.
Arriving his first day on the job, he quickly realized that the program consisted of  " five kids and three pucks."  Of the ten kids who showed up to play only two had ever skated before.  Not wanting to keep all the fun for himself, Keith called Dennis, his ex-teammate on the William Paterson hockey team, and suggested he join him in Newark.  Together they laid out their program to the young athletes.  " You may not win one game this year BUT if you work hard you will learn to compete.  We want you to learn from each mistake you make, you will get better and some day you will be more skilled and you will win games.  Some day if you work hard enough and stay with the program, you will be as good as any other high school in New Jersey."  The kids bought into the coaches' concept and a program was born.
The first year they played twelve games and lost them all.  The following year they won one game. Then, at the end of season three, an established NJ high school team, Red Bank Regional, needed one more win to make the playoffs.  Having beaten the East Siders 4-0 ten days earlier, the team arrived in Newark with visions of a playoff berth dancing in their heads. The East Side kids had a different idea.  Summoning up every ounce of energy and talent they possessed the team scratched out a 3-2 victory to knock Red Bank out of further contention.  Keith and Dennis describe that game with obvious emotion, as if they had just won the Stanley Cup.  The East Side players got that extra shot of confidence a major upset can give.  They were now Hockey Players.
From year to year the team improved.  This year they have qualified for the NJHS playoffs for the first time.  Success comes one step at a time.  Veltre speaks with great pride about the kids from the original teams who show up in the stands cheering on their alma mater.  "That" he says "is what we worked so hard for."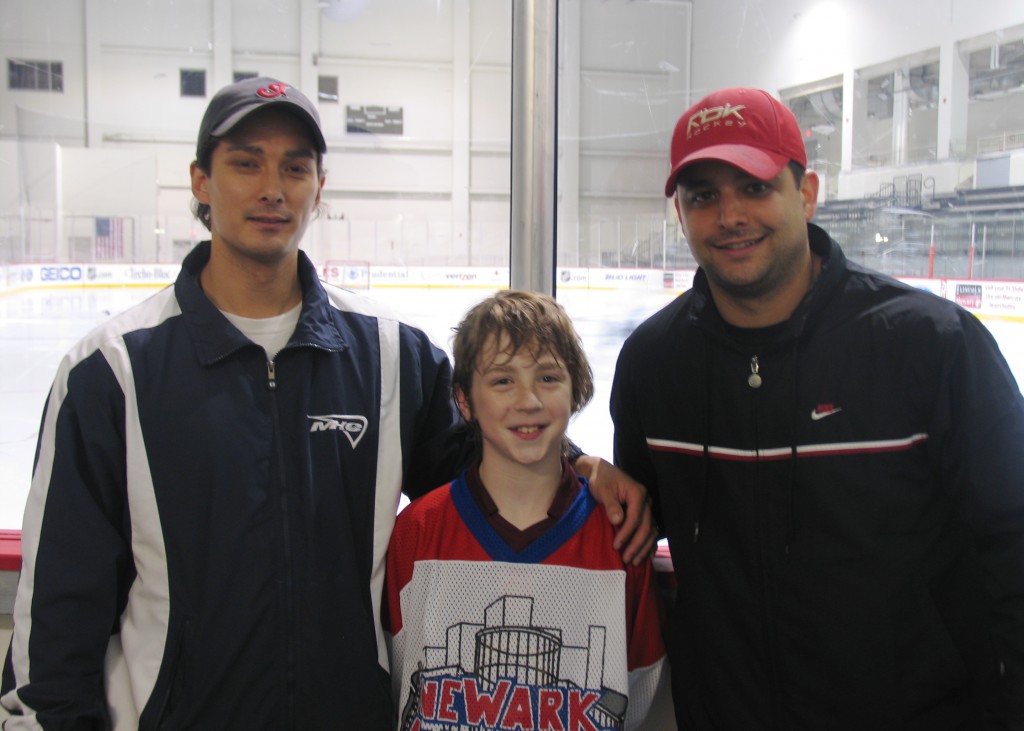 Three years ago, Veltre and Ruppe realized that, if they were to have continued success with the high school team, they would have to create a feeder system with kids at a younger age.  They started with the little brothers and friends of their own players.  They invited them to skate with the team at certain times of the week.  At a certain tipping point in time those kids became as enthusiastic and engaged as their older siblings.  The coaches took on the responsibility of organizing that group into a team, the Newark Americans. Now they were completely on their own to raise the money, secure the ice time, find the equipment, teach the kids and stay available to mentor all their charges.
It was at this point that Jeff Vanderbeek and Michael Gilfillan, whose move of the NHL Devils from East Rutherford to Newark had created such excitement in their city, reached out and invited the coaches to discuss the possible involvement of the Devils in the community program.  Needless to say, they were delighted to have found the prestigious backing of a pro team as well as newfound mentors in its owners. With their help the organization was incorporated as a not-for-profit charity so that money could be raised and proposals to the City of Newark made for a more permanent home at the Ironbound Rink.  Elizabeth Aranjo took on the enormous responsibility of registration, record keeping and general paper work while being actively involved as a liaison with the City itself.
The generosity of Vanderbeek, Gilfillan, and the Devils has firmly established Hockey in Newark as a positive force in the community.  With both East Side High and the Newark Americans getting practice time and game times at the AmeriHealth Pavilion, the power and prestige of playing hockey is totally evident in the attitudes of the young men and women in the program.  The program is expanding exponentially. Next year, more than two hundred kids are expected to be playing and that is not counting the two school teams already established at East Side.
There are many unsung heroes in amateur hockey: coaches, managers, organizers, schedule makers, committee members, parents who get up at five a.m. on Saturdays and Sundays to drive Jimmy to his practice.  In Hockey Across America we honor them all.
I would like to propose a new Award: the Doug Harvey award for the best of all time.
My personal choice on every level: Keith Veltre and Dennis Ruppe.
Images: Hockey in Newark