Analytics and advanced statistics have swept across the NHL over the past several years, but we've only begun to scratch its surface.
HockeyTech CEO and founder Stu Siegel has experienced the growing phase first hand, and knows well there is work left to be done.
Siegel was a managing partner/owner of the Florida Panthers from 2008 to 2012, and was amazed at the lack of data utilized in hockey related decision-making.
"We used the same information the NHL was putting out themselves." Siegel said when talking about player personnel decisions. He was expecting a more intricate process, but was shocked at the archaic nature of how decisions were made.
This inefficiency spurred Siegel to leave the Panthers in 2012 to buy several companies including RinkNet, ISS Hockey, HockeyTV, LeagueStat, and NEXT. He would combine all of these acquisitions under one umbrella — HockeyTech.
Launch of HockeyTech
"The challenge out there is information isn't available," Siegel said when talking about HockeyTech's role. "NHL information isn't always accurate. Our system allows for us to capture a lot of game events. We want to make it a bit easier."
HockeyTech currently works with every NHL team, including a partnership with the Las Vegas expansion franchise beginning next season.
The focal issue with the current state of hockey analytics is data is scarce and sometimes inaccurate – which is where HockeyTech enters the picture.
"You can have the smartest analytics people in the world, but if they don't have good data they are going to be limited." Siegel said. "Most of the statistics out there are helpful, but not accurate given the information we have. Many of the GMs I talk to are very weary of the data and its consistency."
Along with providing data for NHL teams to analyze, HockeyTech is working on the next step in hockey analysis – player tracking.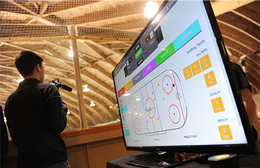 Player tracking involves manually entering ice time, shifts, zone entries, and other relevant statistics for players. The manual labor is tedious, and is often the source of inaccuracies in the data. HockeyTech is working to automate this process as well as provide data teams have never had at their disposal.
"We use a radio frequency ID system that we put on the players and is embedded into the puck so we can track the location of the players and pucks in real-time." Siegel said talking about their player tracking technology. "Some pieces are very algorithmic such as chips in pucks and players so we can develop puck possession data."
This technology will not only reduce stat inaccuracies, but also increase the supply of data requiring analysis. Although HockeyTech currently isn't a consultant to teams, Siegel believes they will need to assist in the process with all of the new data they will be generating.
"When we start gathering millions of data points in a game combined with thousands of games, we will need to help with that process." Siegel said.
A data set this vast will bring challenges – as well as present new ways to evaluate players.
"How do you define successful events? Our next step is to determine successful and unsuccessful events." Siegel said when talking about what to do with the vast amounts of data.
Chips on players and pucks could very well be the future of hockey analysis, but there's still work left to be done before this data becomes mainstream.
For now, Siegel remains focused on providing as much information as possible to each of the 31 NHL franchises — as well as numerous junior and minor league teams throughout the American Hockey League, Ontario Hockey League, ECHL, NCAA, etc.
"Our initiative is to track and organize visual data in the hockey world. We aren't coming up with the changes to the game. We don't give opinions, but we want to give all of the information. We want to give teams a competitive advantage."
—
For questions and comments: codyreiff@email.com