With his two goals last night, Jake Voracek was briefly tied for the league lead in points before Sidney Crosby added an assist in the Penguins' 4-1 win last night. In just 12 games this season, Voracek has already amassed 5 goals and 13 assists (tied for first in the NHL) for a total of 18 points, good for sole possession of second place in the NHL. He has been a force in the offensive zone, and his confidence is at an all-time high.
Some may just be noticing how good Voracek is now, but he's been steadily improving the past four years. In his first season on the Flyers, a friend remarked to me, "If Voracek was just a little bit better, he'd be so much better."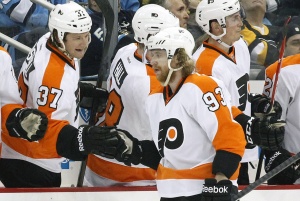 At face value, that makes no sense at all. But if you've watched Voracek grow as a player the past few years, you know exactly what he meant. Earlier in his career, Voracek displayed flashes of what he was capable of in the offensive zone, dangling on the perimeter and possessing the puck. He would make a few nice moves, but then make a low percentage pass, refuse to drive the net with the puck, or try to make one too many moves.
What my friend meant was that if he could just learn to finish off the plays that his skill created, he would be a star. A few years later, Voracek has learned to finish. So, what changed? Voracek had the chance to be teammates with his boyhood idol for a year in 2011-12.
Jaromir Jagr: Ultimate Teammate, Mentor, and Boyhood Idol
Growing up in Kladno, Czech Republic, Jake Voracek grew up idolizing Jaromir Jagr, who also grew up in Kladno. Voracek had a poster of Jagr hanging over his bed, and even had a mullet as a kid as an ode to Jagr's beautiful flow. When Voracek came to Columbus, he said it was his dream to play a game against Jagr. Just a week after being traded to the Flyers, Voracek learned that Jagr had signed in Philadelphia. His dream had come true, and then some.
In their time together in Philadelphia, Voracek learned a great deal from Jagr. Even in the playoffs after spending a whole season together, Paul Holmgren remarked on their relationship, "Having the opportunity to play with him now, it's pretty special. You can see when they're sitting together in the dressing room, Jakub's got these big, wide eyes, looking at him."
Voracek commuted to practice with Jagr, and was a sponge around him, learning at every corner. Voracek remarked,
"He's a future Hall of Famer, one of the best to ever play the game, and I try to learn as much as possible, seeing him every day. To be around him all year long and to watch what he does before the games, after games and during practice was something priceless."
Sean Couturier, a rookie at the time, said much of the same:
"Just looking at him every day and being with him every day, you learn a lot and you know why he's that good. He does all the little stuff off the ice that sometimes you don't really recognize—nutrition, training, the rest. You learn from those guys and it makes you a better player."
Voracek didn't just learn how to be a professional from Jagr, he learned how to play Jagr's style. When asked about Voracek, Jagr described him as "He's strong on his skates, and he can skate like a horse. That's his advantage, he's strong and fast." Sounds a lot like Jagr in his prime, doesn't it?
Both are extremely strong on their skates, are very difficult to knock off the puck, can shield the puck very well, and have tremendous vision. Jagr does not have the speed he once had, but in his prime, they look like very similar players. So similar that some began to call Voracek "Baby Jagr".
Even though they spent just one season together, the mark Jagr left on Voracek is indelible. In those playoffs, Voracek rattled off 10 points in 11 games, and hasn't looked back since.
Jake Voracek: Possession Machine
In the 2+ seasons since Voracek had the chance to play with Jagr, he has been one of the most productive offensive players in the league. He is 14th among all players in points since the beginning of the 2012-13 season, and 5th among all right wings in that span.
He exudes confidence as he works the puck around in the offensive zone with Claude Giroux, and has the finish and killer instinct that he was previously lacking. He greatly improved his shot, which was something RJ Umberger and other Blue Jackets used to make fun of him for because it was so weak. He also dropped 10 pounds and brought down his body fat to the single digits this summer. Some may claim Voracek is a product of Giroux, but their relationship is one of mutual benefits. Neither would be the player they are today without the other.
Jake Voracek led all Flyers players in Corsi-On in 2012-13 and 2013-14, and is a very close second to Wayne Simmonds this season. No matter what metric you use, it's clear that Voracek is an elite forward in the NHL today. Despite all of his success, Voracek still looks up to his boyhood idol. After the Flyers' 4-0 preseason win over the Devils, Voracek waited outside the Devils locker room to see Jagr and catch up, despite Jaromir being the last player out of the room.
I'm sure the smile on his face was just as big as the first time they played together.
Bill Schoeninger is a Philadelphia Flyers writer and current Boston University student studying business. Coming to THW from Hometown Hockey, Bill follows and writes about the Flyers, Boston University Terriers, and NHL Draft prospects. Follow him on twitter @BSchoeninger17