We're Not in 2004 Anymore…
Jump into your time machine and punch in the year 2004. Travel back to a time when the Flyers were one of the crown jewels of the Eastern Conference. Fresh off a 101 point season, they took the Tampa Bay Lightning to a game 7, but ultimately lost in what was arguably one of the best playoff series of the 2000's. Do yourself a quick favor and take a look at the roster. That team was stacked. Mark Recchi, John LeClair, Michael Handzus, Keith Primeau, Simon Gagne, Jeremy Roenick, Tony Amonte. Even Alexei Zhamnov, the playoff rental that put up 18 points in 20 games.
The Flyers lived the elite life in the NHL. They were rich, players wanted to play here, they could lure stars with any contract they wanted, and guess what? There was no limit to how much they could spend. The Flyers could afford to hand out nearly $22 million between Jeremy Roenick ($7.5 million), John LeClair ($9 million), and Mark Recchi ($5 million) that year.  Hand out a huge deal, if that guy doesn't work out, bury him on the 3rd or 4th line, or trade him away to a team that needed a quick fix. Nothing to sweat about when you have money.
Newsflash, those days are long gone. Hand out a huge contact to Andrew MacDonald and by all means you get a taste of your own medicine. You're stuck with him and his cap hit.
Hand out 2 or 3 bad contracts today, and guess what? You may have just hindered your team's playoff hopes for a sizable amount of time. Hand out a plethora of bad contracts? Now you're stuck up at the cap ceiling with no room and a team that is severely under producing. That's what happened to the Flyers.
The Flyers (mostly Paul Holmgren) have now created a team that has two elite superstars surrounded by a few good players, and a lot of mediocre players. TSN's Travis Yost recently wrote an outstanding article chronicling why Claude Giroux is easily among the best in the NHL, considering the talent he has to work with.
"The problem with the Flyers — perhaps true for them more than any other team pushing the thresholds of the hard salary cap — is that they don't have enough talent on the roster. A large reason why this is true is because the team made indefensible decision after indefensible decision over the past couple of years to bleed the cap dry, including a six-year, $30MM contract for already-healthy-scratched Andrew MacDonald (contract originally described as an "atrocity"), and trading a productive Scott Hartnell for a less productive R.J. Umberger ("trade is pretty clearly a loss for the Flyers"). So, too, does $22.5MM for an already-healthy-scratched centre ("Why would you spend precious remaining dollars on an aging center?") and trading James van Riemsdyk for Luke Schenn ("Luke Schenn was one of Toronto's worst defensemen last season"). These moves aren't hindsight-guessed – the links, from the blogosphere and beyond, were posted around the time of the moves.

Surprise! Extremely few of these worked out. And it's created a situation where the Flyers basically have nothing to offer outside of their top-line. I note that this top-line is fantastic – Jakub Voracek complements Claude Giroux so well, that it hardly even matters who the third player is in that group. However, the Flyers are nothing short of a lottery team when they come off of the ice"
I don't think anyone could have picked a better choice of words. The Flyers are now stuck with two superstars who are hitting their prime, and a supporting cast that is non-existent. That is a recipe for disaster.
It's important in today's NHL to relate cap hits to point production and play on the ice. The NHL now, more than ever is a business. If a GM puts all his eggs in the wrong basket, the team will lose, and there is nothing they can do about it. That's the spot the Flyers have found themselves in. They've played the game of business in today's NHL completely wrong. So just how bad is it? Let's take a look.
The Offense.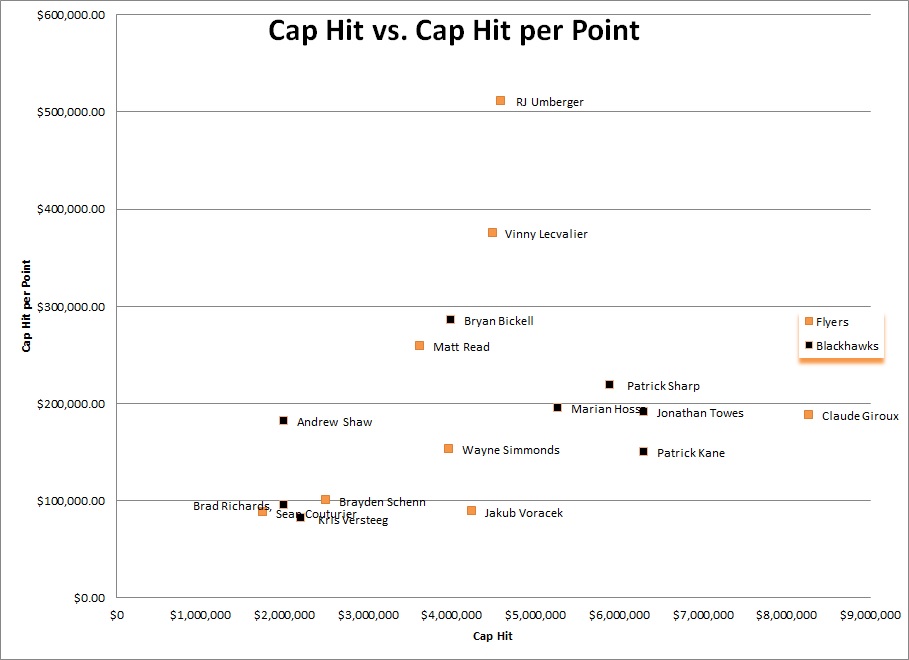 The graph above gives you a visual representation of each players cap hit plotted against how much each point costs against the cap. The lower a player is on the graph, the less their Cap hit is per point scored. You don't want to find yourself high up on the graph, especially inching toward the right.
The Blackhawks were used as a comparison because they are a team who has modeled how to succeed for years now. So it gives you a good idea of where teams would ideally want to be. The 7 highest-paid forwards from each team were plotted using stats only from the current season.
It doesn't take much to see the problem, although it's not as bad as people may expect. The Flyers have two sour apples on the graph in Lecavalier and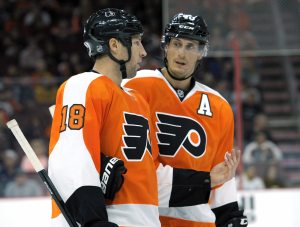 Umberger (don't let me underestimate how awful these contracts actually are), but spare those two, and the rest of the contracts among forwards are paying off pretty well. That's right, your Philadelphia Flyers are paying RJ Umberger more than a half-million per point. Nearly $150,000 more than the next closest contract disaster in Vinny Lecavalier.
That being said, it shows how much the Umberger and Lecavalier contracts are killing this team. That is $9 million-plus in cap space tied up in two players who quite frankly are doing nothing. The Flyers could easily have replaced those contracts with Jason Akeson or Taylor Leier, and I almost guarantee it would make a noticeable difference, for the better, while only using about $2 million in cap space.
That extra $7 million is the money that could go toward that stud defenseman that the Flyers desperately need. No defensemen available? That would surely be more than enough to land a top six forward. Something else they desperately need since the offense has been lost this season.
Take a look at the Blackhawks. Aside from Bryan Bickell, nearly every player produces relatively the same based on their cap hit. There is a total range of about $100,000. The Flyers on the other hand have a range of over $500,000. A few good contracts, a few low-paying contracts to players who aren't producing all that much, and three huge contracts to players that aren't producing at all. That is bad management.
It's only two contracts, but they are huge contracts, and there is minimal production coming out of them. So as you can see, on the offensive front, these are the two cancer contracts. If they somehow, someway were gotten rid of, the Flyers could breathe, but right now, it's not looking good.
The Defense.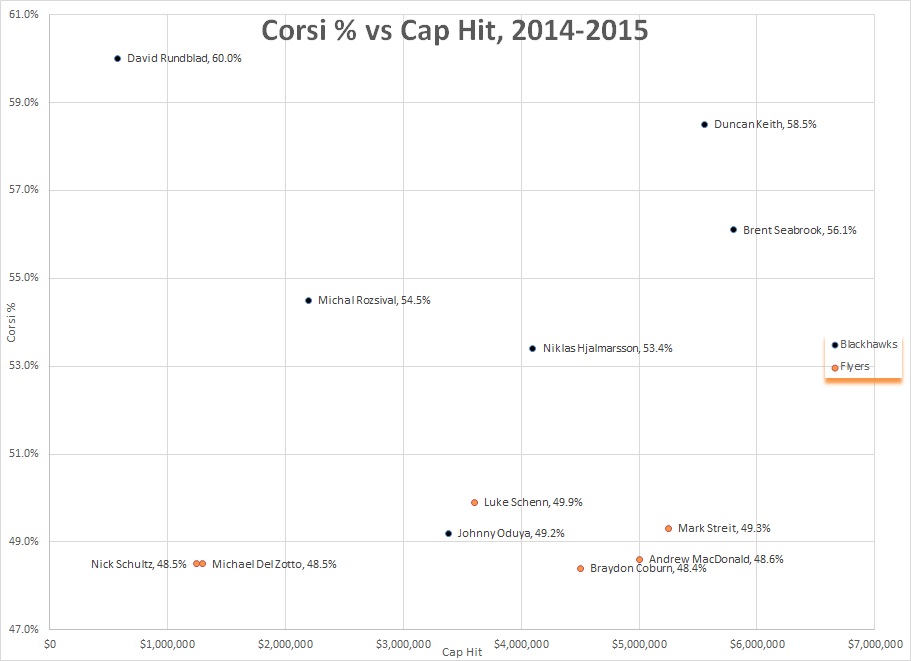 This graph follows the same criteria as the last, only this time it is Corsi percentage against cap hits and it's for the defensemen.
Corsi percentage is a pretty good indicator of how much time is spent in either zone when a player is on the ice. A Corsi below 50% likely means that a player is spending more time in his defensive zone, a Corsi above 50% means that a player is probably spending more time in his offensive zone. Corsi is a very important stat, the top teams frequently make the postseason, and win the Cup (the article describes Fenwick %, which is a close relative of Corsi).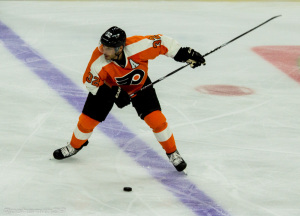 As you can see, not one Flyer defenseman cracked the 50% mark. To make matters even worse, there is no distinction between the higher paid defensemen and the lower. Nicklas Grossmann was cutoff on the graph, his Corsi percentage is hovering around 44%.
Even more concerning is that Andrew MacDonald is under contract until 2017-18 at a whopping $5 million ABV. Coburn, Schenn, and Grossmann are under contract until 2016-17. Del Zotto and Schultz are the only contracts that expire after this season, and that is the least of the Flyers' problems. They are low-paying contracts. But it gets worse.
If there is one bright spot for the Flyers, it's been the draft. The Flyers have been slowly rebuilding their defense through the draft, and it looks pretty promising. So yet another question. With all of these under performing defensemen who have huge contracts, where do you make room for the young guys? Shayne Gostisbehere, Robert Hagg, and Samuel Morin could very well crack the big roster next fall. Would Flyers management be able to swallow their pride and bench the overpaid defensemen for a new, younger look? That remains to be seen, but it's entirely possible these young guys will outperform the vets. They're quick, and when you look at Gostisbehere, he brings a set of offensive skills that no Flyer defenseman has been able to demonstrate.
The Future
These are all tough decisions, but ones that the Flyers will have to make. Looking at the graphs above really gives you an idea of how far away the Flyers still are from understanding the notion that you can't just hand out huge contracts to players who have a streak of decent games, or who were good 3 years ago.
The rest of the NHL has moved on from the early 2000's. Teams realized that to win in this league, you would need to build through the draft. Just ask Chicago, Pittsburgh, or even Detroit or Montreal. The days of short-term fixes and rental players are long past.
Paul Holmgren sat in his office under the impression that the Flyers always needed to spend every last dollar up to the Cap. But in today's NHL, when the talent isn't out on the market, it's wise to be patient, save the money and wait for it. Ilya Bryzgalov was a prime example of that. He was touted as the high-priced free agent, and the Flyers suffered the previous year from shaky goaltending. $51 million later, and the Flyers found themselves a short-term fix. A goalie with average numbers who had made a name for himself by being the only legitimate goalie on the market. What did that do? Got them one playoff series win and ultimately lost them a future Vezina-trophy winner, all because there was no patience, a short-term fix.
The optimistic fan will point to the fact that Paul Holmgren is no longer in the front office, Ron Hextall, who helped engineer a cup in Los Angeles, is. I believe that Hextall will right this ship, but with the ample amount of terrible contracts he was handed, that won't happen for a few years. He has preached being patient with prospects, and that is something the Flyers need and haven't seen in years (Just ask Patrick Sharp, James vanRiemsdyk, Sergei Bobrovsky, Justin Williams, etc..).
The bottom line. You saw it above. The defense, especially, is littered with horrible contracts, and underperforming players. Until you see these expire, Ron Hextall pretty much has his hands tied. It's awful to say, but the "new NHL" has finally claimed the Flyers.
Matt is a contributor for the Philadelphia Flyers at The Hockey Writers. He has previously covered the Flyers for GrandstandU. He enjoys playing hockey and making music in his spare time.