In Greek plays 'hubris' is a character flaw usually punishable by the Gods. In the past few seasons, the Flyers management have been prideful in signing free agents to outrageous contracts only to have them backfire on the team with everyone pointing fingers.
You don't need advanced statistics to figure out the Flyers are bad. All you have to do is look at their record and watch their games to realize something just isn't right. Fans are calling for Berube's head. Some are looking for Ron Hextall to implode the team and make some trades.
Those are relatively easy fixes that might not necessarily be good for the team in the short-term or long-term. However, if you want to light a fire under some player's behinds, the best way to do it is to show you aren't afraid to bench them despite how much they're getting paid. A few games in the press box should be more than enough to get a few players going.
As I'm writing this, Andrew MacDonald has already been confirmed as a healthy scratch in the afternoon matinee against the Rangers, so they're starting to do the right thing. Paul Holmgren signed MacDonald to a 6-year, $30M contract last season. He's getting paid like a 1st pairing defenseman, but is playing like a 3rd pairing blueliner. If you can believe it, there are players who deserve to be scratched more than Andrew MacDonald.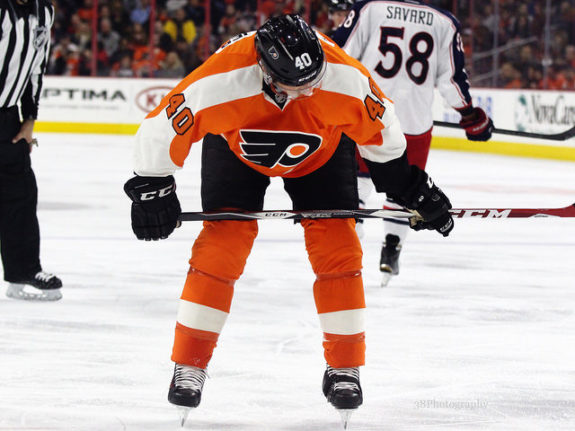 You would have thought RJ Umberger would produce
some
offensive numbers after Hextall traded fan-favorite Scott Hartnell for him. He's been shuffled around the lineup more times than a deck of Vegas playing cards. Umberger has no points in the last 15 games of the season. What's worse is he carries with him a $4.6M salary cap hit.
Vinny Lecavalier isn't much better. With his $4.5M dollar hit, Lecavalier only has six points this season. By watching his game you can tell he still has the skill and finesse that made him such a great player years ago, however he just doesn't mesh with this lineup. He hasn't found linemates with which he can contribute like he's done in years past. That not only hurts him, but the rest of the team, as well. They've tried him on the 2nd line, 3rd line, and 4th line to no avail.
There are plenty of young, eager players on the Phantoms that have waited to earn a spot on this team and it might be time to give them a chance. Petr Straka, Robert Hagg, Taylor Leier, and Nick Cousins have been putting together nice season in Lehigh Valley. Wouldn't be a bad idea to bring a few of them up and see what they can do for this struggling Flyers team.
A few months ago the Buffalo Sabres President said the following about his atrocious 3rd jersey invention: "If it's a turd burger I'll have to put it on a bun and eat it".
Well the Flyers currently have a few turd burgers under contract and they're going to have to start eating them (benching them) sooner rather than later.