According to Capgeek.com, the Leafs have $1.84 million dollars in cap space currently available.  This puts the team in a hard position if their goal is to improve the current roster. Furthermore, the Leafs need to re-sign Franson, Kadri and Bernier for next season and the only contracts coming off the books after this year are guys like Santorelli and Winnik – guys who make near the minimum and have to be re-upped or replaced with similar players at similar deals regardless.
What this means is that from a team building perspective, the Leafs have to move out some of their current players and restructure their payroll so that they don't end up losing what are arguably, outside Kessel and Rielly, the three most important players on the team going forward.
Here then, is a list of players the Leafs almost have to trade.
1. James Reimer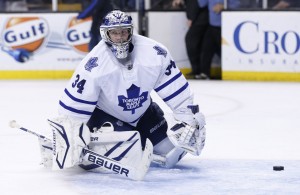 $2.3 million for a back-up is unacceptable. If the Leafs want to consider paying Bernier like an elite goalie, it makes sense that they would want to see how he does when playing 60+ games. If I am the Leafs, getting Bernier that many games is one of my priorities this season because I really need to be comfortable with the five year $30 million dollar deal he is (at the very least ) going to want after this season and knowing he can play near elite level for 60 games is essential to learning if that is an acceptable contract to offer.
Trading Reimer also accomplishes the task of showing you have confidence in Bernier, stops him from looking over his shoulder after every bad game, and clears up cap-space. At this point it's a no brainer to move Reimer.
In fact, just to save the money he's owed, I'd waive him if a deal wasn't available after calling all 29 other teams.
2. Tyler Bozak
There was a time when I was sold on the point production and argued earnestly that he was one of the most underrated players in the NHL. But then I spent an entire week trying to understand the other side of the argument – that he is riding the coattails of two elite wingers, that Kadri actually produces more when paired with them, that they do better away from Bozak, that other players playing with him do worse than they do with Kadri, that faceoffs aren't nearly as important as once thought, that Bozak is actually – statistically – bad at defense etc. etc. etc.
Basically, while trying to understand why my opinions of Bozak weren't universally agreed upon, I came to buy into the argument that he is actually not very good. Clearly the old eye-test shows that Kadri is a better skater, stick-handler, passer and shooter, the stats show it definitively and the only one who doesn't seem to care is Randy Carlyle.
By trading Bozak the Leafs save $4 million next year, which is money that when added to the $3.3 Franson currently makes,will be enough to re-sign the defenseman to the long-term contract the Leafs would be foolish not to sign him to. It also does an end-around on the coach who knows he is fired after this season and seems to be stubbornly sticking to something nearly everyone around him knows is wrong.
Also consider that you can move Kadri up to the Kessel line, partner JVR with Holland and instantly be a better team. The argument for splitting up the teams two best wingers makes itself, and it's unfathomable that they continue to be paired together.  
3. Joffrey Lupul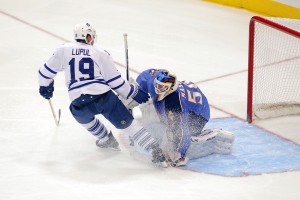 Rumours have been circulating for weeks that the Leafs are interested in trading Lupul, and it makes sense that they would be. He is singed for three more years after this one at $5.3 million. He is a great player and  one of my favorites of the last few years, but with Nylander coming, Kadri or Holland capable of moving over to the wing (if a better centre is acquired) and the likes of Carter, Panik or Kozun really untested in a top six roll but potentially capable, the Leafs would be smart to get his contract off the books.
Trading Lupul won't be as hard as some people think. He is more unlucky that he is injury prone, and when  healthy he can improve the top six of virtually any team in the NHL.
4. Gardiner or Phaneuf 
Let me very clear here: Gardiner is my favorite up and coming player and Dion Phaneuf is my favorite player. I want the Leafs to be successful with these two guys more than I want anything else, hockey wise.
I have, however, come to the point where I think that it's quite obvious that Rielly, Franson, Percy are half of the future of this team's defensive group. That means that if Gardiner and Phaneuf are also on it, only one spot remains open long term. I do not see the Leafs getting the kind of internal improvement from this group (or being patient enough to wait for it at the least) that makes that a viable option.
I still think that barring Rielly's development into a total stud #1 all-star, the team is short that player from competing. So that means that someone needs to be acquired and someone needs to go. By trading Phanuef, the Leafs sort of rid themselves of a lot of baggage. Fair or not, he's the lightning rod for the last four years of collapses, starting with the famous "eighteen-wheeler going over the cliff," and culminating with the debacle that ended last season's run to the playoffs.
It is obvious that Dion is better than his reputation among the Leafs' fans suggests, and he has clearly been given too many jobs and responsibilities during his time in Toronto. I would like to see them win with him, but moving his $7 million when you are in a salary cap bind, combined with the fresh start that would come from his departure and comparing that to what he brings to a team vs. what you'd get back for him, moving him has to at least be on the table.
As for Gardiner, you hate to give up on him, he is probably just  a new coach away from turning it around (and he was the Leafs best player for the last 20 pathetic games of last season) and it would really hurt to trade him. But, depending on the viability of moving everyone else, he also must be considered because he'd bring the biggest return of the players listed here, would be the easiest to trade and keeping him isn't worth losing Bernier, Kadri or Franson.
To conclude, the Leafs simply can't move through the season getting happy results and thinking their team is trending upwards. The peripheral stats just do not support that notion and a salary cap problem of epic proportions looms. The team must be proactive and make moves before they end up burning assets just to meet the requirements of the cap.
Thanks for reading.
Covering the Leafs for the Hockey Writers.