Here's a question for Hurricanes fans: Do you want Khudobin or Cam in the pipes? As the 2014-15 NHL season approaches, have you thought about who you'd like to see in goal for the Carolina Hurricanes? All indications are that the two goal-tenders will be competing for the starting job – although Khudobin may have the edge based on his performance last season. If you were Coach Bill Peters, who would you have on the ice?
Let's Look at Anton Khudobin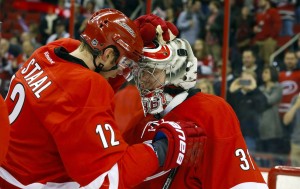 Anton Khudobin is 28 years old. He finished the 2013-14 season with 19 wins. He notched a save percentage of .926 and a goals against average of 2.30. He is still young by NHL standards and could arguable have his best hockey ahead of him. He only played in 36 games last year, so he does not have a complete body of work with the Canes up to this point. Could this season see him break out and establish himself as a premier starting goalie in the NHL?  Our colleague with The Hockey Writers,  Alessandro Seren Rosso recently did a great interview with Anton:
Interview With Hurricanes Goalie Anton Khudobin http://t.co/U4cvh2MKjl #THW

— The Hockey Writers (@TheHockeyWriter) August 12, 2014
Let's Look at Cam Ward
Cam Ward is 30 years old – not ancient by any means. However, his injury-ridden past two seasons have caused many to wonder physically and mentally he is capable of going the distance once again as a full-time goalie. He played in 30 games last year and had a less than spectacular 3.06 goals against average and a save percentage of .898. Cam does have a Stanley Cup win under his belt. His rookie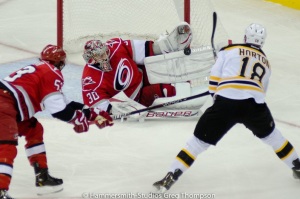 performance in 2006 led many to believe that he was to be the future of the franchise in-goal – in fact he has been the starting goalie ever since. But, his injuries have seemingly kept him from rising up to the consistent level of play that fans in Raleigh expected, or hoped for, and even his future with the team has been questioned of late. He has a huge contract that might have GM Ron Francis scratching his head late at night wondering if keeping Cam is in the team's best interest. Interestingly enough, no other NHL teams are beating down the PNC Arena doors to grab Cam and his contract.
Hurricanes Fans, Who Do You Want?
Do you want to see Cam Ward back in goal – after all he did bring you a Stanley Cup? Or do you want to see Anton geared-up and ready come October? (I still like Justin Peters, but he's gone, so he's no longer an option.) Leave your comments below and say who you want to be in goal for the Hurricanes and why. In reality, it's not a bad thing for the 'Canes to have two good goalies on board – even with Cam's contract. But, if you were filling out the roster, who would you start?