Carolina Hurricanes head coach Bill Peters made a point-blank plea to team general manager Ron Francis at their end-of-season joint press conference on April 12. Frankly, it was of such a direct nature that I was surprised.
ICYMI, you can watch the full end-of-season press conference with Ron Francis and Bill Peters here → https://t.co/XKDVa7fQAu #Canes

— Carolina Hurricanes (@Canes) April 17, 2017
The Plea
Peters said, "I think we have specific needs, very specific needs." It was an unusual posture for Peters to take in that setting with the media, as in similar settings over his first two years he spoke much more in generalities as opposed to specifics. I perked up from my spot on the front row to listen closely to how far Peters would go in explaining what he meant by "very specific needs."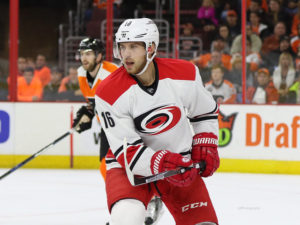 Peters continued, "So as a coach, I'm going to give very specific names, and put them in a situation where they're going to help a person on a line, in theory."
Peters' candor, to me anyway, was bold,  and spoke of someone who was feeling comfortable in his position. In the NHL, it is somewhat rare for a coach to give his opinion as to what his team needs, especially with the team's GM sitting a foot away from him.
Peters then went on to explain what he thinks his team needs by talking about Elias Lindholm and Sebastian Aho. Peters said, "I think we have obvious needs, specific needs that have to be filled. I see Lindy [Lindholm] as a winger, moving forward, full-time. Can he play center? Yes. If we played him at center would he be a wonderful centerman over the course of his career? Yeah, he would."
Peters has been on the Lindholm bandwagon all season, although Lindholm's numbers were well below expectations. His numbers were down early in the season as I wrote about in, "Elias Lindholm, Where are You?" on Nov. 8, 2016. Although his 45 total points in 72 games played this season were his career best, in both this season and last he has only notched 11 goals.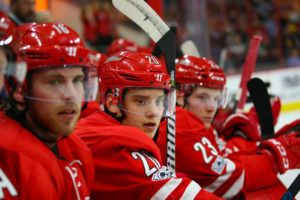 Most of us who cover the Hurricanes see Lindholm as having the talent to be at least a 20-goal scorer consistently, if not more. Peters went on to add, "At some point in his career he will be a dominant center. But, I don't want to put guys in situations before they are ready." His point-blank plea to Francis was basically, "Get me a center."
In Case I Wasn't Clear
Peters then mentioned Aho, the young rookie who has already staked a claim in the NHL as a force to be recognized. Peters said, "Sea Bass can play center right now. It wouldn't be fair to him, but he could. But, at some point in his career, sooner rather than later, he will be a dominant center. But, I don't want to put guys in situations before they're ready."
"So, those are the conversations we have to have. We might agree, we might disagree. But, I don't want to put a guy in a situation hoping without knowing. I want to know that when a person plays a position, that he's capable of playing that position." Translation: the point-blank plea to Francis, for a second time, was, "Get me a center."
Aho had a fantastic season. His 24 goals and 25 assists would be outstanding for any rookie in the NHL, but in his case, even more so. He was called upon to be a leading scorer almost by default at times, when others on the team could not rise to the occasion. But, Peters is correct in that Aho does not need to be playing center right now. He needs to bulk up more and be able to grow into the position.
And Ronnie Said…
Francis did not appear to visibly react to the not-so-subtle statements by Peters that essentially were saying to Francis, "Hey Ronnie, get a center in here…now." It wasn't that brazen, but the point was clear from Peters. If this team wants to break past the ceiling of "almost" and get into the playoffs, they need to fill in some of the areas of need.
One of those glaring areas is at the center position. The Hurricanes need a center who can score and also play with physicality. Francis said, "I think obviously Bill and I are on the same page in that."
Hopefully they are and hopefully Francis will be able to make some moves in the offseason to bring in a center or two, preferably who can score. Peters is a winner who wants to win. He's made known what he thinks needs. We'll know in a few months if his point-blank plea was taken seriously.