Death, taxes and Erik Karlsson in the running for the Norris Trophy.
There aren't many guarantees in life, but it's a pretty safe bet you'll find Karlsson's name in the top-three, if he doesn't indeed win, when the Norris is handed out. This season has been no exception for the Ottawa Senators' superstar, who could receive the honour of being the league's best defenceman for a third time thanks to another terrific season.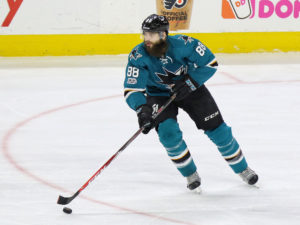 But threatening to take that title from him is the bearded wonder that is Brent Burns of the San Jose Sharks. The 32-year-old has received considerable buzz for the award thanks to an unprecedented 27 goals in 73 games – the most by a defenceman since Mike Green potted 31 in 2008-09 with the Washington Capitals (he still lost the Norris to Zdeno Chara) – and a league-leading 287 shots.
But while many people are (rightfully) heaping enormous amounts of praise on Burns for his incredible offensive season, the widespread support he is receiving from members of the media in his bid for the award is a bit surprising and no less confusing given the way last year's race shaped up.
Shrouded in Controversy
Much like it is this season, the race for the Norris last season was of the two-horse variety, with Drew Doughty taking the place of Burns in the battle with Karlsson. But you wouldn't know it from the abundance of headlines throughout the season that painted the award as Doughty's to lose from opening night, with Karlsson apparently lucky just to be included in the conversation.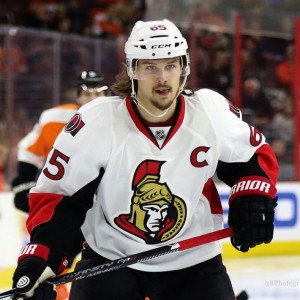 But the fact is, Karlsson's season was the kind not seen in decades, and it didn't generate near the kind of praise it should have. He put up an incredible 82 points in 82 games to finish tied for fourth in league scoring (the first defenceman to rank that high since Paul Coffey in 1985-86) and led the league in assists with 66 (Bobby Orr being the last blueliner to accomplish that feat in 1974-75).
Sure, the best parts of his game were on display on the offensive end – something that doesn't bode well in a competition involving defencemen – but to paint Karlsson into a corner as simply a one-dimensional d-man capable only of carrying the offence is to underestimate and undervalue him as a player.
His Corsi, which has increased in its prominence as a criterion in award voting, was 51.53 (second-best on the team), and relative to his teammates was a Senators-best 7.06. He also blocked 175 shots to finish just outside top-10 in the league, while averaging 28:58 of ice time per game (easily the most in the league).
Let's give credit where it's due – Doughty, despite not matching Karlsson in some aspects, did have another solid season in what has been a career full of them. His offence wasn't among the best of the best, but he logged a lot of minutes and put up modest totals in most other categories: 105 blocks, 125 hits, a plus-24 rating and 58.89 Corsi.
But it should be noted that while he did enjoy a good season, nothing he did was overly spectacular. Yet it didn't seem to matter, as many voters used the award's ambiguous definition to justify their decision to pick Doughty while punishing the player they deemed too offensive for his position – a mindset they've done a complete 180 on in 2016-17.
Emergence of Burns
Heading into the season, few could have predicted Burns – known more for his beard and his eccentric personality than for his play on the ice – would be one of the NHL's best defensive scorers. As mentioned, though, Burns is making waves with his play as he is close to eclipsing the 30-goal plateau and is on a near point-per-game pace with 70 points in 73 games.
It's that scoring touch and the aforementioned shot totals that have garnered so much attention this season and put Burns at the forefront of the Norris conversation. Voters have applauded Burns for being a special talent capable of doing things this generation hasn't seen – well, except for last season, which apparently doesn't count – and have used that as the basis for his candidacy.
Burns goal pic.twitter.com/f94X81YXXa

— steph (@myregularface) February 16, 2017
How soon the voters forget the standard they set last season, when having a historically significant offensive season apparently didn't qualify as Norris-worthy. Or perhaps it was just a matter of Doughty being due that clouded voters' judgement, and with no such circumstances existent this season the slate is wiped clean and offence is once again considered an asset, not a downfall.
That's great news for Burns who, despite being mired in a seven-game point drought and 14-game goalless skid, hasn't seen his support waver in the slightest. Unfortunately for him, his skid has coincided with a recent jump in Karlsson's play that could prove costly, although it might already be too late for the latter to make up any kind of ground.
Karlsson's Improvement
With 66 points in 72 games, including the third-most assists (52), the offence is still there for Karlsson – albeit not to the extent that it was in 2015-16 – but it's elsewhere that he has shown his true worth. And yet despite these marked advancements and growth in his overall game, Karlsson doesn't appear any closer to winning the Norris this season than he was last season.
Karlsson. pic.twitter.com/ad2GrxI77a

— Travis Yost (@travisyost) March 5, 2017
Critics used Karlsson's minus-two rating last season as one of his biggest drawbacks (while simultaneously critiquing the stat's antiquated nature) but he has improved to a plus-six this season. They also said a truly great defenceman should kill penalties and that Karlsson's 1:19 shorthanded ice time per game wasn't enough, so this season he's averaging 2:10 per game (for reference, Burns is at plus-22 and 1:46 respectively).
His giveaways, another constant source of criticism, have seen a slight uptick from 96 last season to a projected 109, but his takeaways have also gone up from 61 to a projected 64 this season. In comparison, Burns is already at 137 giveaways (giving him around 154 in a full season) and is on pace for roughly 55 takeaways. Though these stats would seem to contradict as much, there's no doubt Karlsson's backchecking and play in his own zone are miles better than in previous seasons.
His shot blocking, an aspect of his game that surprised many fans and media last season, has actually seen an improvement this year – at 196 blocks, Karlsson is the league-leader in the category. (Ironically, Paul Coffey, one of Karlsson's biggest supporters for the award, doesn't think blocked shots should even factor into the conversation, calling it a "dumb stat.")
And let's not forget, Karlsson is doing all of the above while playing fewer minutes (down to 26:50 from 28:58), though he is playing about five more shifts than he did last season (up to 31.7 per game).
Consistency Is Key
The debate as to how the NHL should handle the question of who is the league's best defenceman has raged on for years. Some intriguing suggestions have been put forward in that time, including the idea of creating an entirely new award to go to the defenceman with the most points and keeping the Norris for the best defensive defenceman.
Perhaps that could turn into a viable solution some day, but in the interim, the league should consider implementing clearer parameters as to what defines "all-around ability" as it relates to the position. Because right now, there's too much room for interpretation and personal bias to influence the decision when in reality it should be cut and dry.
Let's face it – there really isn't much difference between what Karlsson did in 2015-16 and what Burns is doing in 2016-17, but by the time the NHL awards are handed out there's a good chance the end result will be drastically different.
Advanced stats courtesy of Puckalytics