Four.
This is how many starters are out of the San Jose Sharks' lineup due to injury. Most of them aren't bottom-group skaters either; they are players that the team depends on night in and night out to help put points on the board. The four injured Sharks are as follows:
Logan Couture
Paul Martin
Ben Smith
Melker Karlsson
Last season, these four players combined for 289 games played and 122 points, while averaging over 17:30 of ice time. Every one of them was also a positive possession player.
The Sharks have struggled since Couture, Martin and Smith went down with injuries last week, and some may say that this exposes a depth issue in San Jose's roster. But, as my friends at Fear the Fin have mentioned, no team has that kind of depth.
There isn't a single club in the NHL that would be well-off without one of their top-two defenseman and their No. 2 center. Combine this with the loss of two depth players in Smith and Karlsson, and the Sharks are in a position where they will have difficulty being a threat.
San Jose is officially in survival mode.
Damage Control
It is unknown how long Martin, Smith and Karlsson will be out, though it seems they may be back within the next 10 days or so given the tone of the media. Couture, however, is scheduled to be on the shelf for four to six weeks.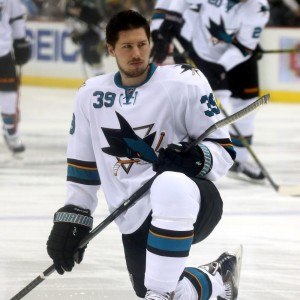 It is difficult to think of the Sharks as a competitive team without two of their best players. This is why they need to be satisfied with any points they earn in the standings, even if it's the overtime loser point. It's all about surviving until they are at 100 percent.
San Jose's goal during this time is likely to stay near or around .500 until Couture gets back. This team dominated the first three games of the year when they were healthy, so as long as they don't tank during this time frame, the club should be in good shape. They just need to stay alive.
A "Lucky" Break
Luckily, the injuries are coming during a relatively light section of the schedule.

From now until the end of November—when Couture is scheduled to return—there are nine instances where the Sharks will have at least two days off between contests. In this same period, they only have two back-to-backs. This means that San Jose will play a fewer amount of games than they typically would in that time span.
In addition to this, the club will play quite a few struggling organizations. Some of the teams the Sharks will face before the end of life without Couture include Carolina, Colorado, Columbus, Anaheim, Buffalo and Boston, all of which are in the bottom third of the league in points.
The season may still be young, but Sharks fans are looking for any evidence pointing to their team having a chance without their star center and his supporting cast.
Do Not Panic
The bottom line is that this team is still good enough to win games and earn points in the standings. There may be a few bad nights here and there, and the team won't look as good as they did, but they should be able to stay near the .500 mark given the low schedule difficulty.
The next six weeks will be difficult, but the following five months will be beautiful.