Coming into its first round playoff series with the bruising St. Louis Blues, the Minnesota Wild knew the adversary would try to play a punishing, physical style of game. The Blues are the type of team that tries to run their opposition out of the building, or rather, hit them out of it. Through two games however, the Blues have failed to do so and its becoming clear now that Minnesota isn't going away.
In managing to take one game on the road, the Wild has proved that its a team that is very much for real. On top of that, they've stuck to their strategy.
Dubnyk effect
It's well known that the Minnesota Wild has been a completely different team since Devan Dubnyk arrived in mid-January and basically saved the season. He brought solid goaltending the likes of which was absent for most of the year, plaguing an otherwise strong team. He came in with a positive, "can-do" attitude that was lacking after Minnesota had lost 11 of 12 games and seemingly couldn't do anything right. He even managed to steal a couple of games the team perhaps shouldn't have won early on in his Wild career. These things have been talked about so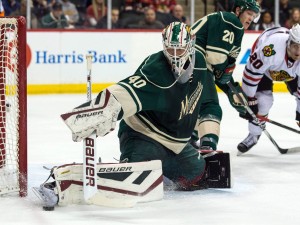 much that it's equivalent of beating a dead horse at this point, but the bigger picture of what the 6-foot-6 netminder has meant to his team is less heralded.
Dubnyk not only brought a calm to the Minnesota net, he completely changed the psyche of the team. Before Dubnyk's arrival, even team leaders like Ryan Suter were saying that everyday was a bad day for the Wild. Having lost 17 of 24 games, the team was down in the dumps with no light to be seen at the end of the tunnel. Dubnyk turned that all around with one word: unflappable.
Under what I imagine is extremely large goaltender's gear, Dubnyk sports a shirt that bears that exact word on the back. The word unflappable is defined by Webster as "having or showing calmness in a crisis". That's exactly what he's been since he's gotten to the State of Hockey, and it's rubbed off on his teammates.
No pushovers
The Wild has hardly been a team that one would call 'physical', but that doesn't mean it's not a tough bunch. Minnesota had to come back from being double-digit points out of the playoffs to put itself in a position to even play for a Stanley Cup. Now that Minnesota is in, it's continued that same unique brand of toughness into the first round series with the division rival Blues.
Despite what many thought would be a series dominated by St. Louis' brute physicality, the Wild has proven effective against the Central Division Champions by using its speed and smarts and staying away from the post-whistle non-sense that some of the Blues' players like to employ. In other words, remaining unflappable has allowed Minnesota to play its game and not St. Louis'. After winning game 1 in surprisingly dominating fashion for a road game, the Wild was in a position to win game 2 as well, despite a rather poor first period that saw the Blues score twice.
It wasn't to be though, as Spring Lake Park native David Backes saved a sure Charlie Coyle goal before Patrik Berglund sealed the deal for the Blues late. However, nearly winning both road games in St. Louis is an impressive feat against a team that has been nearly unbeatable at home for a number of years. Now Minnesota gets to come home to one of the loudest buildings in the NHL with a raucous crowd behind them; a building the Wild went 5-1 in during last year's playoffs.
It's an enviable position for most any NHL team to be able to steal a game on the road and now Minnesota has an excellent opportunity to take a commanding series lead if it can take care of both games at home, a place where they've shown plenty of toughness. Don't be fooled though, the remainder of this series will be a fight until the very end; the Blues are very capable of winning on the road and Mike Yeo knows nothing will be given to the Wild.
Still though, the Wild has to feel good about the way it's played against a team many picked to basically run over everyone. It's now a best of 5 series and the Wild has a great chance to take charge of it with more strong play at the Xcel Energy Center. They've done it by matching St. Louis' hitting, but also by being mentally tough. Blues agitators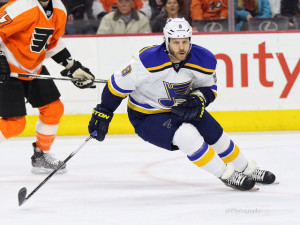 Steve Ott and Ryan Reeves have done their best to get under the skin of Wild players with Ott even going as far as literally poking fun at Jason Zucker's previously broken collarbone.
To Minnesota's credit though, the Wild hasn't allowed those antics to take them out of their game. They haven't taken any undisciplined post-whistle penalties when the Blues get in their face. Rather, the Wild has simply remained unflappable just like Dubnyk's shirt says. They've made the game between whistles the focus of the series, which is exactly what the Wild need to do if they want to win this series.
Final thoughts
The Blues are undoubtedly a worth adversary and will be a tough out for the Wild no matter what. The team, however, is on the same page right now with regard to the way the games must be played if they are to win. And with the series tied at one game a piece, little is decidedly clear as it shifts to Minnesota. One thing is very clear though; the Wild is a tough team. Maybe not in the way that St. Louis tries to be, but tough nonetheless. Minnesota has been resilient, strong, mentally tough, and most importantly… Unflappable.
Nate has been a Minnesota Wild contributor at The Hockey Writers since 2014 and previously spent time covering the University of Minnesota Duluth men's hockey team. For everything Minnesota Wild related, follow him on Twitter @natebauer.