On August, 25th 2015, former Los Angeles Kings forward and two-time Stanley Cup victor Mike Richards was formally charged with possession of a controlled substance while entering Canada. The Royal Canadian Mounted Police issued a short statement saying just that, but their stark public words meant a whole lot more to the hockey world than just the reprimanding of Richards himself.
Richards' coming legal battle is just one of many issues that NHL players have had with the law this season but this one stands a bit taller. In June of 2015 the Los Angeles Kings terminated their contract with Richards due to "material breach of contract". Something that the NHL has seen little use of in the past. The league is still investigating that situation in Los Angeles but this recent news may put a new perspective on issues between players, teams and lifestyle choices.
The NHL is Behind the Curve
Hockey still hasn't been put on the map as a legally troubled professional sports circuit. But that doesn't mean they shouldn't be there. In the summer of 2014 during the National Football League's offseason there were 28 arrests made of NFL players. In any given NFL season there are roughly 1,700 players in the league (based off of 32 teams and 58 players including practice squads who adhere to the same NFL policies as first team members). That means that 28/1700 players were arrested in the offseason of 2014. So 1.65% of NFL players were arrested in the offseason of 2014.
The difference between the culture of the National Football League, NCAA Sports or the National Basketball Association and that of the National Hockey League is that the formers have been incredibly diligent in making information about legal scenarios available to the public. Because of those leagues and their determination to make themselves socially transparent, they have more awareness of the reality of issues surrounding their player populations. Something the NHL can't say.
In the 2015 NHL offseason some big problems, which have been prevalent for quite some time, have seemed to unearth themselves of their invisibility, at least a little bit. There have been three arrests of NHL players (two drug related and one serious DUI) this summer along with a pending rape investigation of another player. To assume that these four issues are the only problems impacting the NHL could be damagingly naïve. It's already been made more than clear by a handful of testimonies from ex and current NHL players that drug and alcohol abuse along with a trending pattern of partying is a problem that poisons the league's veins but has yet to see its light of day.
The Countless Testimonials of NHL Players
The publication called The Players Tribune which offers first person perspectives on sports subjects that don't often get highlighted has spent some recent time displaying the words of players like Richard Clune who in his article writes "[t]here are players in the NHL right now who are suffering and you would never know…[e]very hockey team has one. Or 10.". Clune discusses the obvious impact that the underground NHL culture has on players and lists the drug and mental health related deaths of Rick Rypien, Steven Montador, Wade Belak and Derek Boogaard as evidence of the problem. But the problem doesn't stop there. Using narcotics for pleasure isn't the only drug issue tainting the NHL.
In 2011 after long time NHL enforcer George Laraque had hung up his skates and moved on to other pursuits in his life, he published a book – George Laraque: The Story of the NHL's Unlikeliest Enforcer – that surveyed in detail his personal recollections of his time with professional hockey, including those experiences that involved drug usage.
In his book Laraque often blasts the NHL for its serious drug problems, both for leisure and business. "I have to say that tough guys were not the only players using steroids in the NHL…other, more talented players did too…". Laraque's claims were met with immediate argument, disbelief and claims that "it's safe to say that this is a sport where [PEDs] aren't a part of the culture" as NHL commissioner Bill Daly stated in August of 2013. But even some of the NHL's most respectable personalities have endorsed the notion that the league needs to crackdown. In the same article that Daly dismissed any problem in the NHL with performance enhancing drugs, Canada's golden boy, Jonathan Toews said "I think it would be naïve to say that there's no one in the NHL that is trying to get the edge in that fashion".
To the mass population of NHL fans, staff and analysts that continue to turn their heads to the NHL's glaring drug problem Laraque developed a simple hypothesis regarding how to identify a player that was doping, "First, you just have to notice how some talented players will experience an efficiency loss as well as a weight loss every four years, those years being the ones the Winter Olympics are held…[i]n the following season they make a strong comeback; they manage a mysterious return to form," he states in his book.
Blind Refusal: A Saddening Reality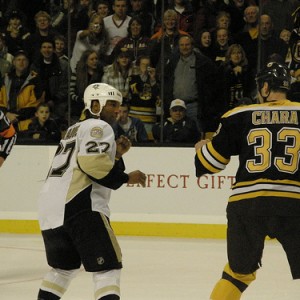 Regardless of the irrefutable evidence that has been brought to light over the years, people in the hockey world have continued to blindly dismiss any such problems. Globe and Mail writer Jeff Blair wrote in response to Laraque's book debut in 2011, "[y]ou will hear the puck-heads dismiss [Laraque] and attempt to paint him as a cartoon figure looking for a little post-career fame". It seems he was right as no significant changes have been made to the NHL's "random drug testing policy". Blair went on to finish his piece by saying "we know that hockey is no better than any other sport when it comes to being perfect. There are so many things we need to talk about when it comes to hockey".
After the arrest and charging of Mike Richards on possession of controlled narcotics claims, it's finally time for this league to get serious about accepting that it has issues like any other physically demanding professional sport, making those issues transparent in order to raise league wide awareness and finally putting a real policy in place to control those issues and keep hockey a fair and honorable game.