As the Edmonton Oilers inch closer to the regular season, they've made some critical decisions and created clear distinction in goal. Cam Talbot will be Edmonton's starter, Jonas Gustavsson will backup, and Laurent Brossoit will start in Bakersfield. There's a clear pecking order but is the guy in the two spot the right guy for the Oilers?
The Oilers signed Gustavsson, 31, to a one-year $800,000 deal adding some much-needed veteran experience behind Talbot, something the Oilers got burned on when they didn't play their starter last year. The 31-year-old Swedish goaltender comes to Edmonton with a career 2.87 GAA and 0.902 SV% in 172 NHL games over seven seasons. He's a big bodied netminder that fills the goal with his 6'4″ 200-pound frame.
The quick scouting report on Gustavsson is that he's a butterfly goaltender with a decent amount of flexibility and athleticism for such a big goaltender. He's extremely competitive and can battle through heavy traffic to stop pucks. He's also got a good reputation for being a locker room guy and is well liked by his teammates.
The flip side, he's injury-prone and has a reputation for poor rebound control at the NHL level. Gustavsson sometimes has a habit to overcommit to shooters, go down early in his butterfly and allows some ill-advised soft goals. All in all the Oilers have a veteran backup with a history of being an injury-prone inconsistent NHL backup.
Backups Are a Surprisingly Valuable Commodity in Today's NHL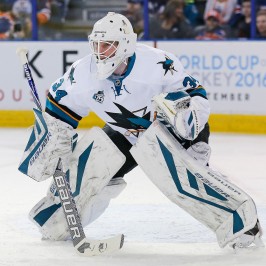 Oilers GM Peter Chiarelli received criticism for signing Gustavsson when other goaltenders signed on Jul. 1 included; James Reimer (Florida), Chad Johnson (Calgary), Carter Hutton (St. Louis), Anton Khudobin (Boston), Jeff Zatkoff (Los Angeles) and Al Montoya (Montreal). Sure some of the options are sexier, but the market dried quickly.
The next backup goaltender wasn't taken until August 22nd (53 days later) when the Toronto Maple Leafs signed Jhonas Enroth. If that tells you anything about the NHL marketplace, it says if Chiarelli didn't jump on the July 1st train, he wouldn't have been able to upgrade his backup position at all.
Related: The Problem with Oilers Signing Gustavsson
Related: Gustavsson Ready to be Oilers Backup
Goaltenders are a viable commodity because the days of a bonafide NHL starting goalie playing 70-plus games per year are over. According to NHL.com, no goalie hit the 70-game mark in 2015-16, and just three played 65-games or more. The previous year in 2014-15 three goalies did hit the 70-game mark, but all three goaltenders and their respective teams were eliminated by the end of the second round.
The two goalies in the finals that year; Ben Bishop (62) and Corey Crawford (57) had their backups dress in 20-25 games respectively. Last year the average number of games played by an NHL starting goalie fell to 54.2, that means backups are averaging 27.8 regular season games or roughly 33% of the schedule.
With the margin for error becoming so fine between making or missing the playoffs, you can see GM's are looking at the value of quality backup goaltenders in a whole new light.
Did Edmonton Get the Right Backup This Summer?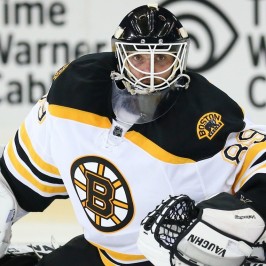 There were better options available if we're talking from a pure talent perspective. Chad Johnson has arguably the biggest upside, and he's going to be playing in Calgary. James Reimer was by far the best goaltender but his situation is a little different. Reimer is going to "backup" Luongo who is on the tail end of his front-loaded contract and no one reasonably expects the 37-year-old to play the remaining six seasons on his deal.
The rest have some question marks and the average price for the backups on the UFA market, excluding the Reimer deal, the price was $1.3 million. The Oilers got Gustavsson $500,000 under the average market price on Jul. 1, a day they had to sign a goaltender because the market was drying up quickly.
Contractually this is a greatly beneficial deal for the Oilers. The one-year term allows the Oilers to naturally bridge the gap until Brossoit is ready for full-time NHL backup duties. The 23-year-old pushed the envelope in training camp and even made it questionable if Gustavsson would even make the team, a testament to how much Brossoit has improved in a years time, not a shot at Gustavsson.
Edmonton is desperate to move up the standings and climb out of the NHL basement, to do that they can't take a chance on 33% of their NHL schedule on an unproven rookie backup who struggled down the stretch with 3.60 GAA and 0.873 SV% in five contests last year.
Related: Oilers Trim Roster, Major Decisions Loom
It would've been a huge coup for the Oilers to not only land arguably the biggest free-agent forward on the market (Milan Lucic) but to add one of the better backup goaltenders on the market like Johnson or Hutton. Chiarelli had a spectacular summer in an effort to round out the roster. This team has balance and with balance comes improvement. Gustavsson played 24 games for the Boston Bruins last season and that translated to 23 points in the standings. Edmonton backups (Anders Nilsson, Brossoit) started 29 games, appeared in 31 and recorded a 10-16-3 record (23 points).
So if you're looking strictly at goaltending in terms of wins and points in the standings, Gustavsson improves the Oilers from a 0.74 points-per-game to a 0.96 points-per-game. Edmonton needs to have a chance to win, game in and game out, regardless of who is in net, and, for 33% of the schedule they've done right by grabbing Gustavsson with what was left on the market. You can break it down any way you want, but in this breakdown, the Oilers might not have got the best backup on the market but they've definitely improved upon the position in comparison to their 2015-16 counterpart.
Edmonton Oilers regular contributor providing insight on all things Oilers including club history, prospect profiles, trade breakdowns, and everything else in between. Check back regularly for new and exciting content. Follow on Twitter @SanderTHW.