In need of a third-line center, the Washington Capitals turned to the trade market and acquired Lars Eller in an off-season deal during the 2016 NHL Entry Draft. That same night, head coach Barry Trotz spoke with the newest Capital to discuss where he would slot into the lineup.
#Caps coach Trotz talked to Lars Eller last night: "I see him in our 3rd hole at centre, he's very smart, good on penalty-kill & faceoffs…

— Dave Stubbs (@Dave_Stubbs) June 25, 2016
Since joining the team, the Danish forward has slotted into his preordained position on the checking line and has brought a lot to the Capitals' defensive game. However, he has lacked offensive prowess so far this season. We take a look at whether or not he is living up to expectations.
Eller Specializes in Special Teams
Perhaps the strongest part of Eller's play comes on the penalty kill. He leads all Washington forwards in shorthanded time on ice per game and works with T.J. Oshie on the PK.
While he's not primarily a defensive player, his acumen when it comes to the back check is probably his biggest strength.
On the ice, Eller displays great defensive awareness. He is great when it comes to protecting the puck, and is an excellent skater. Eller can follow the play and knows how to take away the puck, which leads to great possession metrics for the 27-year-old center.
In addition, Eller can throw hard hits and gives a solid effort each night. He positions himself well and is able to win battles along the boards and in the corner, leading to success when they're short-handed. Overall, he is a proven two-way player who plays a strong game in the defensive zone.
Lacks Offensive Firepower
Eller is a forward first but given his offensive numbers, that may be hard to believe. Through 20 games so far this season, Eller has just two goals and a single assist to his name. By the same token, he is an inconsistent player throughout his career when it comes to offense.
Because he is an outstanding skater that knows how to jumpstart the rush from the defensive zone, there is a lot of room for Eller to improve his offensive game. He knows that this is a key to success, especially for the team as a whole.
[miptheme_quote author="Lars Eller, Washington Times" style="text-center"]I think the best teams in the league, to compete for a Cup, you need good depth down the middle, you need good depth down the lineup. You need to have three, maybe four scoring lines.[/miptheme_quote]
First off, Eller needs to improve when it comes to playmaking. Though he's able to start the play from the defensive zone and carry the puck, he can't seem to make the right passes and struggles to create scoring opportunities.
Also, he needs to work on shooting the puck. Accuracy is the main offensive concern for Eller so far this season; out of 51 shot attempts this season, only 24 of those have made it to the net. He will often get perfect passes from his teammates or be in the perfect shooting lane, yet his shot will be off target.
If he wants to improve his numbers and bring offense to the ice, he's going to have to start working on his passes and maybe finding the net with his shots.
Smart Hockey is Good Hockey
Another flaw in Eller's play is that while he's excellent when it comes to killing penalties, he takes too many. He is one of the leaders on the team when it comes to minor penalties, and because of this, Washington is forced to spend more time in their own zone, fighting off power-plays without their top penalty-killer on the ice.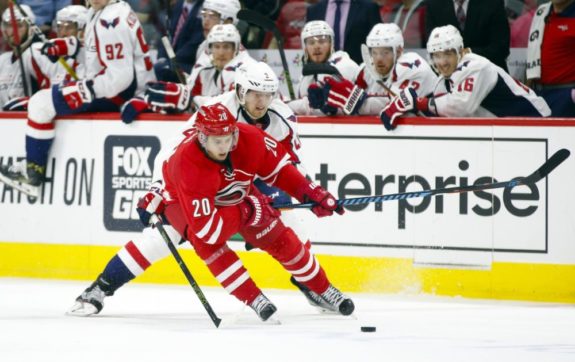 A majority of his penalties, as the Washington Post pointed out, are "stick penalties," which include hooking, tripping and slashing calls. He's also been called for interference often, and many of his calls are unnecessary.
"Sometimes, you just want to really get the puck back as quick as you can," Eller told the Post in an attempt to explain his high penalty minutes. "Sometimes, you may play it too overaggressively. That's the nature of things when you keep battling and you don't give up on plays. It's just got to be a little smarter sometimes."
The reason he accumulates a lot of penalty minutes is because many times he can't keep up with the play, and in an overeagerness to regain control of the puck, he overuses his stick, which in the end leads him to the sin bin.
Right Place at the Right Time
In regards to improving his offensive game, simply being in the right place at the right time is a key to Eller's success. He possesses an ideal frame for positioning himself in front of the net.
The 6-foot-2, 207-pound forward brings physicality to the ice and is able to win battles, meaning he can win fights in front, get more pucks on net and act as a screen. This could lead to more goals and shots on net for Eller and has proven to spark some of his offensive ability this season.
On this goal, Eller gets his hand on the rebound after acting as a screen in front. By simply being in the right spot, he got his stick on the puck and ripped home a rebound, giving the Capitals a solid two-goal cushion late in the third.
Bottom Line
I believe Eller has yet to completely hit his stride with Washington. While he's outstanding on the backcheck, he needs to find consistency and rhythm in his offensive game soon. He is a forward first, and his priorities should be in creating scoring chances.
As previously stated, Washington needs four scoring lines if they want to become serious Cup contenders this time around. Adding Eller brings more stability to the bottom six, but it should also bring more firepower with it.
Fortunately for Eller, he is almost the perfect two-way player. He has the defensive side to his game covered, but if just works on completing his passes and getting pucks on net, he will flourish into a complete all-around player who will truly be an asset in the end.