LEAFS DAILY:
You'll probably hear this a lot this year: Results Don't Matter. It's true, they don't. Cliche or not, that is the current situation when a team is rebuilding, when two of their three most talented forwards play in leagues other than the NHL and losing is in itself a win.
Last night's game was the perfect game for a rebuilding team: play well enough to feel good about it, but don't get any points. It's October 25th and only the Blue Jackets are officially eliminated from the playoffs, but for all practical purposes, the Leafs are too. And we don't want to make them either. A high draft pick is in itself its own reward and winning now will only hurt later.
Sure, it would have been nice to beat the Habs, but in a way we did. (A way that doesn't count, but moral victories are arguably all we need this year anyways). If you're keeping track, the Canadiens have now won nine straight games to start the season, but two of those were against the Leafs in games the Leafs deserved to win.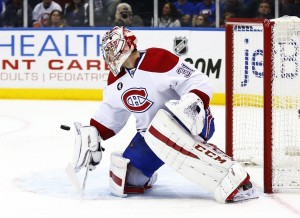 But that is why goaltending is the most important position. If your goalie is good  you can win when you should lose, like the Canadiens have. Nothing against them though, they are more then just a goalie, but the reason teams don't generally win nine games in a row is because it's impossible to be the best team every night in a league like the NHL where parity is so pronounced.
Jonathan Bernier? He ain't no Carey Price. He is barely a Mark Laforest or a Peter Ing. You get a lot of rope if you're picked tenth overall and while a superior goalie rots on the bench, the Leafs keep going back to the guy who costs them games, over and over. My advice? Ship him out for whatever you can get and see if Reimer can't run with the job he's more than earned.
Last night, on the back of several gifts from Bernier, the Canadiens overcame being outshot 52-27 overall. At even-strength the Leafs made 57 shot attempts vs 34 for Montreal. And if the Leafs play like that all the time, they will win more games then they lose, assuming even  league average goaltending.  Something it isn't clear Bernier can provide.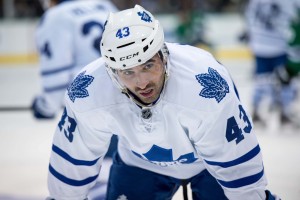 Unrealistic Reviews Unfair
If there is one player that gets a bad rap, it's Nazem Kadri. He's been snake-bitten when it comes to racking up points so far this season, but that doesn't change the fact that he is the Leafs best forward and has been in nearly every game so far this year.  But he doesn't get the credit, and this morning the most popular sports writer in Toronto was back to taking shots at him.
Steve Simmons wrote: In the hottest streak of Nazem Kadri's NHL career, he scored 15 points in 10 games, including five multi-point games and looked like he was starting to be a great NHL player. That didn't last long. Since then, in the past 103 games, he has scored 51 points: Which is just 41-point pace over an 82-game season. Which is really average.
The problem I have with such a cheap shot is that it's just bad analysis. Kadri has played on par with superstars like Steve Stamkos, Tyler Seguin and Patrick Kane so far this year. But since the points aren't there, no one even talks about it. The city should be abuzz about the fact that Kadri has overcome adversity to establish himself as a legit #1 NHL centre. I expect a hockey-mad city like Toronto to be able to analyze the quality of a player's game beyond the luck-based counting stats that are goals and assists.
Kadri is shooting 3%, his two most common linemates are James Van Riemsdyk (three goals, one of which went off his foot) and Brad Boyes (zero goals 0% shooting). That is bad luck.  If Kadri was shooting a still unlucky 6%, Boyes had two-goals and JVR had two more – all of which there was a better chance of happening than what really has – then Kadri would currently have more than a point-per-game and we'd all be talking about how amazing he's done.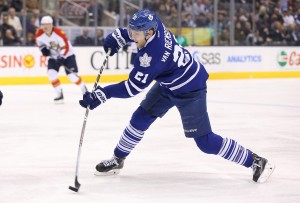 Even in the seasons since his near point-per-game breakout, Kadri has been a player who drives possession, who makes those he plays with better and who scores at a fair pace considering his ice-time, line=mates and lack of power-play time under a succession of bad to incompetent coaches.
Take last night. The ignorant observer might say that if Kadri had any points, the Leafs would have won the game. But if you watched or paid attention, you'd see that Kadri was on the ice for two of Leafs goals, and even though he didn't get an assist on either of them, he still helped the team get them.  You could look at his three shots, his team leading (among forwards) 21 minutes of ice-time and his 66% possession rating against the league's top team and conclude he had an excellent game.
This is because points are a bad way to evaluate a player. Especially in a short sample size.
The player Kadri has spent the most time playing with – JVR – has just three goals. One of them was last night (already discussed) and one of them went in off his skate. Kadri can't get assists when his winger isn't scoring.  And, like I said but am repeating for emphasis,  Kadri himself is shooting just 3% , something he has no control of and which will dramatically rise as the season progresses.  He is among the league leaders in both shots and high-quality scoring chances.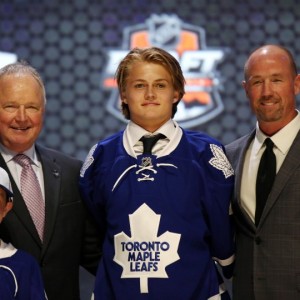 Keep in mind that low shooting percentage, the low PDO and the fact that Boyes and Van Riemsdyk aren't scoring for him. The even-possession rating while playing the most minutes on a 1-6 team.
Nazem Kadri is having a hell of a year so far.  He just doesn't have the points to show it. It would really make the city of Toronto look less ridiculous if we actually started appreciating our best player.
The Week Ahead
The Leafs are at home tomorrow night against the Coyotes, in New York to face the Rangers on Friday and then back home Saturday night for a match against the Penguins, so get read for lots of annoying Phil Kessel talk.