Peter Chiarelli watched Monday's Bruins game in almost the exact same spot that he has for the last nine years. It was his first game at the TD Garden this season.
There was little fanfare. Okay, there was no fanfare. If you were at the game, there wasn't a mention of anything Chiarelli accomplished in his time with the Bruins. If you weren't paying attention, you wouldn't have any idea that Chiarelli's new team was facing his old team on Monday night. You definitely wouldn't know he was in the building.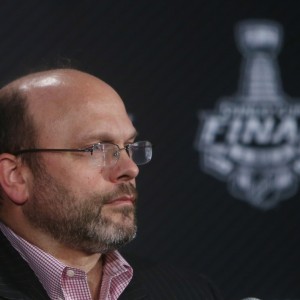 Whether that's right or wrong is debatable and irrelevant. Both parties have clearly moved on and rarely cross paths now. It shouldn't merit much of a discussion to wonder what went wrong or what could've been but with two very different teams, sometimes, it just does.
Chiarelli is in charge of an Oilers team he didn't build. The Oilers made minor changes to their team this offseason, with the exception of drafting Connor McDavid. The Bruins, on the other hand, look entirely different from how Chiarelli last left them.
But what if Chiarelli was still in Boston? The team would have looked a lot different than it does now. Reilly Smith would probably still be here. Milan Lucic, too, maybe. Who knows what would have happened with Dougie Hamilton. The Bruins' and Oilers' situations were vastly differently to begin with, but is Chiarelli better off where he is now?
Chiarelli walked into an organization that was sort of the antithesis of the Boston Bruins. His former club's strengths were his new team's weaknesses. The Oilers lacked clear leadership, allowed the most goals in the NHL for the past two seasons, and last played in the postseason on June 19, 2006. And yet, there were still bright spots.
The Oilers' offense
The offensive tools—once limited in their availability—that could have so badly helped the Bruins in Chiarelli's final season were now at a surplus. And six days before his hire, the Oilers stumbled upon the chance of a generational talent skating in an Edmonton uniform for the foreseeable future.
In a way, this was Chiarelli's bizarro second chance—a given designation that reads awkwardly considering what he has accomplished with the Bruins.
Chiarelli was in charge of a Bruins team that won a Stanley Cup, a President's Trophy, four division titles, and made seven straight postseason appearances, including two trips to the Stanley Cup Finals. But in April, when the Bruins fell short of the playoffs, Chiarelli was fired. He was hired by the Oilers nine days later.
But hindsight shouldn't be confused with nostalgia. Chiarelli made some curious moves that hindered the Bruins, closing their championship window sooner than it should have been. He gets that real second chance to make something out of an Oilers club that looked way different than the Bruins did in his first year in Boston.
Building a Chiarelli team
As a GM, Chiarelli is a builder. In his first year in Boston, the pieces weren't there yet. Sure, he didn't draft Patrice Bergeron or trade for Tuukka Rask, but he played a large role in the Zdeno Chara and Marc Savard signings that paved the way to the Bruins' successful run.
The pieces in Edmonton, at least on the offensive side of things, are there. Chiarelli's strengths play to building a team that's hard to play against and believes in each other. And right now, it's starting to happen.
The Oilers have won six straight games, the latest against the Bruins on Monday night. Cam Talbot made a career high 47 saves against a team that has the third-highest goal total in the league. And in an otherwise weak Pacific Division, the Oilers are in a playoff spot.
Peter Chiarelli didn't get a video montage in his first game back in Boston. He got the second and final win of the season over his old club. He'll take it.
Follow Mike on Twitter for more Bruins news, updates, and commentary.