By Mike Miccoli, Boston Bruins correspondent
It's officially Tuukka's team–for now, anyways.
The Boston Bruins re-signed Tuukka Rask to a one-year, $3.5 million deal making him, officially, the team's starting goaltender for the 2012-13 season. Rask, a restricted free agent, gets a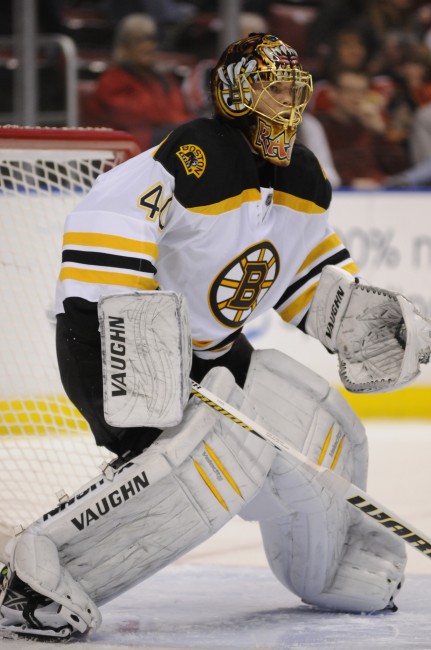 significant raise from last season's $1.5 million salary.
It's a curious agreement, at first glance. Rask has been aptly-named the goaltender of the future for the Bruins since he was acquired from the Toronto Maple Leafs for Andrew Raycroft back on June 24, 2006. The once-highly touted prospect has had to deal with Tim Thomas' brilliance in net as well as injuries over the past two seasons. Now that he's healthy and Thomas is out of the picture, it seems as if the starter's role is Rask's to lose.
So, why the short-term deal?
Rask, the former 2005 1st round pick, got his chance to start for Boston in the 2009-10 season and posted a league-best goals-against-average (1.97) and save percentage (.931) while picking up 22 wins and five shutouts in 39 starts. The following season, Thomas stole back the starter's role and ran with it for the next two seasons. Instead of being the Bruins' sole starting netminder, Rask became a part of one the best goaltending tandems in the NHL.
Successful? Yes. But the team was far from Rask's.
Peter Chiarelli is giving the keys to a Boston Bruins team a year removed from a Stanley Cup Championship to a 25-year old goalie who hasn't played more than 45 games in one season. The Bruins are taking a chance on Rask even though he's proved two seasons ago that he can be a starting goaltender in the NHL. The 2012-13 season will be an audition for Rask; a chance for the Finnish netminder to earn a long-term contract as THE goalie for Boston.
In a sense, Rask's situation is shaping up to be a bit like Thomas' earlier years in Boston. Each season, a new obstacle was placed in front of Thomas preventing him from solely claiming the starter goaltending role. While Rask had to deal with Thomas' success the past two years in the wake of his stellar rookie season, Thomas dealt with constantly backing-up guys he was better than. Guys like Raycroft, Hannu Toivonen and Manny Fernandez…seriously. What motivated Thomas was the sense that he had to compete for his spot.
Rask will have to deal with a surge of young goaltending prospects behind him. The Bruins drafted Malcolm Subban 24th overall in the 2012 NHL Entry Draft, signed Swedish prospect Niklas Svedberg early in May and will have Anton Khudobin as Rask's supposed back-up who has been quite impressive. Rask will no doubt feel the heat if he's not on his game early on.
The Bruins should hope that the same type of motivation that worked so well for Thomas transitions over to Rask. Not only will Rask be playing for his starting position, he's playing for next season's contract.
Follow Mike on Twitter for more Bruins updates, news and commentary.