Over the course of the off-season, I'll be examining the essential questions facing the Anaheim Ducks in the 2012-13 season, as they look to regain elite standing in the league. Stay tuned as the pieces start to role out!
Management vs. Coaching vs. The Core
Earlier in the Summer I started out on a series of pieces that would examine the three key elements tied to the Anaheim Ducks' fortunes. The first two pieces dealt with Anaheim's management and coaching respectively (to read these pieces, click here and here). The question of whether Anaheim's core group of players as currently assembled have what it takes to win is a much deeper question, however, and I'll be dividing the pieces into individual spotlights on the following six players: Ryan Getzlaf, Corey Perry, Bobby Ryan, Cam Fowler, Luca Sbisa, and Jonas Hiller.
First up: The Captain.
Ryan Getzlaf Is Much Maligned – Is This Deserved?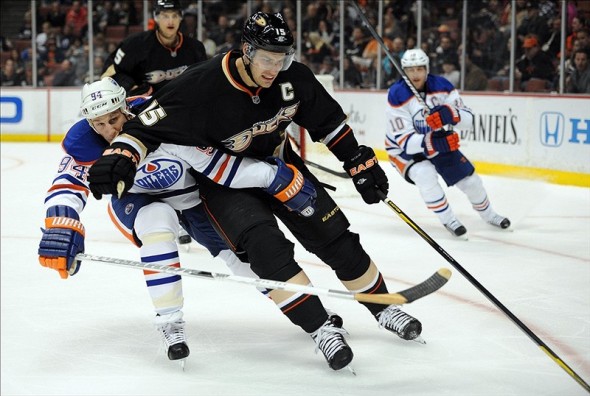 In theory, the Anaheim Ducks have one of the best young core group of players in the National Hockey League. In practice, however, they've collectively struggled to assume the responsibilities left to them by the vacated Scott Niedermayer, Chris Pronger, and the aging ageless wonder Teemu Selanne (who, if you'll remember, actually led the entire team in points during the 2011-12 season, which, if you think about it, is kind of embarrassing for the rest of the group.)
Much of the blame for these hiccups has been placed, fair or not, squarely on the shoulders of the easiest target, big center Ryan Getzlaf. Anaheim's fans and media have painted Getzlaf as a lazy player with questionable work ethic, prone to taking bad penalties, and who sometimes appears uninterested. No few amount of Anaheim fans have even questioned whether or not Getzlaf is deserving of the Anaheim captaincy.
Does this have any basis in fact? Well, yes and no.
A Career Retrospective (Thus Far)
It's fitting that perhaps the most frustratingly inconsistent player on Anaheim's roster should lead off this examination parade. Ryan Getzlaf is a big (6'4″, 224 lbs.), talented center who many people feel has the skill set to be one of the top players in the League, but over the past few years has been plagued by inconsistency and injury issues. There was a time in which it appeared Getzlaf was on the verge of becoming one of the top three or four centers in the game. In 2008-09, the fourth-year man established career highs in assists (66) and points (91), while matching his previous career high for goals (25), and finishing the season with a 1.123 Point Per Game average, good for tenth in the League.
Getzlaf's real coming out party, however, was in the 2009 playoffs, where he and Jonas Hiller led the 8th-seeded Ducks past the President's trophy winning San Jose Sharks in six games. In that series Getzlaf dominated Joe Thornton on the score sheet (Getzlaf tallied two goals and six assists, while Thornton only put up one goal and four assists) and, in an effort to set the tone early in Game 6, went toe-to-toe with Big Joe off of the opening face-off.
The hockey world took notice and many started labeling Getzlaf as a superstar in the making. Entering the 2009-10 season, TSN had Getzlaf ranked 4th in the League in their Fantasy rankings behind only Evgeni Malkin, Sidney Crosby, and Pavel Datsyuk. He was 24-years-old, entering the second year of a five-year contract extension, and was widely thought of as "the next big thing." How did he respond?
In fits and starts.
After playing in 81 games the previous year, Getzlaf played in only 66 during 2009-10 while nursing a left ankle injury that almost ruined his chances at Canada's Olympic squad. While Canadian nationalists celebrated Getzlaf for 'gutting it out' for his country, there were many fans in Anaheim who frowned upon his decision.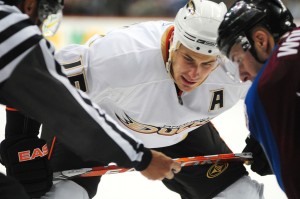 To wit: when the 2010 Olympics began, the Ducks were in the middle of a dog fight in the Western conference, with only nine points separating the 7th and 11th placed teams (Anaheim sat in 11th).When the season ended a few months later, they had barely made any ground. The Ducks still sat in 11th place, though now six points separated 7th and 11th. The thought that many Ducks fans couldn't help but to have is that the Ducks would have been able to rally with a healthy and rested Getzlaf who, missed-time aside, was in the midst of another fine season that saw him finish with nineteen goals and 50 assists for a 1.045 PPG average. Perhaps he had taken a small step back, but he was still a point-per-game player.
Statistically the 2010-11 season was another strong one for Getzlaf, but injuries plagued him again, limiting his effectiveness. On December 28, 2010 during a game in Phoenix, Coyotes captain Shane Doan took a slap shot that ramped up off the stick of Cam Fowler and straight into the face of Getzlaf who, to that point had shied away from wearing a protective shield. That hubris would prove costly, as Getzlaf sat out the next fourteen games with multiple sinus fractures. Despite missing a total of fifteen games over the course of the season, Getzlaf was still able to put up nineteen goals and 57 assists, for 76 points and a 1.134 PPG average (his highest PPG average in his career thus far, and good for 6th in the League).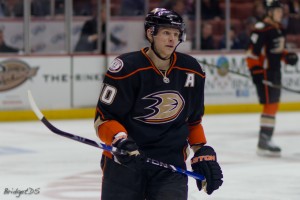 That said, as statistics and media-driven narrative reminds us, Corey Perry was the engine driving Anaheim's success in 2010-11. After all, while Perry had long been considered a passenger on Getzlaf's bus, the 2010-11 season demonstrated that Corey Perry was just fine without Ryan Getzlaf, thank you very much, on his way to a Rocket Richard and Hart Trophy winning season that saw the feisty winger tally 50 goals, 48 assists, and 98 points (and a 1.195 PPG average, good for 4th in the League).
Many in the hockey world openly questioned how Getzlaf would respond coming out of the gate in the 2011-12 season. Would his running mate's dynamite play inspire him to greater heights? The answer, as it turns out, would be, 'not so much.'
Getzlaf's 2011-12 season proved to be somewhat of a house of horrors. He played in all 82 games, which is a definite positive after two injury-riddled campaigns, but he struggled mightily throughout the season and only barely surpassed ten goals for the year. His final stat line for 2011-12 looks like this:
GP: 82  G: 11  A: 46  P: 57  PIM: 75
His PPG average, which for the most part has trended upwards during his previous five full seasons in the League, was a ghastly 0.655 – his lowest total in his six full professional seasons. This is the most telling sign of something being amiss for a player who has been a consistent point-per-game player at the NHL level. Ducks fans and management are hoping that this past season was a mere aberration and that Getzlaf will return to form in 2012-13 and re-assume his place among the NHL's elite. His past body of work suggests that he will rebound, but what's even more disconcerting are the things that can't necessarily be represented by neat and tidy statistics.
"He Can Be As Good As He Wants To Be."
To hear most Ducks fans tell it, Getzlaf's most glaring deficiency is that he sometimes seems to be uninterested and unengaged. Brian Burke once said of Getzlaf, "[he] can be as good as he wants to be." In saying so, Burke claimed to be paying Getzlaf a compliment, but it's difficult to not also see the flip-side of that coin. That "as-good-as-he-wants-to-be" label becomes abundantly clear in Getzlaf's at-times lazy back checking, mediocre face-off abilities (last season he won 47.2% of his draws), and his maddening insistence on making 'the cute play.' The rebuttals are obvious, in this case. All it takes to back check is will and persistence. Face-offs are a skill that can be improved through practice (see: Sidney Crosby). No-look passes can be easily remedied: don't do it.
Then, of course, there are the steady refrains imploring Getzlaf to "Shooooootttttt!!!!" that consistently rain down from the seats at Honda Center. Yes, Getzlaf has an overpowering shot that, if he would use it, could see him scoring 30-40 goals on the regular. However, he's also a gifted playmaker and has gone so far as to admit that he prefers to dish the puck than to let it rip. If that's the way he's always played (and it is), then it's a tall task to ask him to change now. He should consider shooting more, if only to make defenders think twice before giving away the shot lane to defend against the pass, but as his PPG average over the four seasons prior to 2011-12 would indicate, he must be doing something right, as he somehow manages to find his way onto the score sheet and contribute offensively – which is exactly what he's paid to do.
That fans should be frustrated with Getzlaf is understandable. He is, after all, supposed to be the best player on the team, and yet time and time again makes the kinds of mistakes that you just don't see the best players on other teams making. To compound this, Getzlaf has historically been a slow starter and streaky player, which unfortunately mirrors Anaheim's penchant for slow starts. As an example, for the second consecutive season, Getzlaf opened the year with three straight games in which he didn't register a single point, and he twice went 14-games without finding the back of the net. Getzlaf's penchant for slow starts and streaky play are obviously related to Anaheim's historically slow starts and bumpy middles, though it's unfair to pin blame solely on Getzlaf. Indeed, support in the Anaheim dressing room appears to be strong.
Bruce Boudreau on Getzlaf following the 2012-13 season:
"He's the best captain I've had in the NHL. He does a lot of good things. We can all be better. But he's got a good support system of leadership that he's learned from. He's still young in the captaincy world. If you know him, you know how much pride he has…I look for great things from him."
For his part, Getzlaf had this to say:
"I've never been part of a team that struggled the way we did at the start of the season. I learned a lot from it and hopefully how not to duplicate it. It was as frustrating as it's ever been in my life. It's been a tough year. It's just one of those learning experiences. I have to learn from it and move forward and I have."
Time will tell whether or not Getzlaf has indeed learned from his experiences, but if the Ducks are to have any success in the coming season, it will be imperative that he come out of the gate with something to prove. He is in a contract year, so there will be added motivation to do well, but this coming season will be the most important of Getzlaf's young career. He's at a cross-roads and he's in complete control of whichever path he'll take. He has all the tools. All he has to do is use them (and consistently).
A Coda
To me, the signature moment of Ryan Getzlaf's 2011-12 season came in the dying seconds of a tie game against Calgary in early March. The game seemed to be destined for overtime, but then Getzlaf, who was in the middle of one of his lengthy goal-less droughts, did this:
I was in the building that night, and the video doesn't do justice to the elation of the Honda Center crowd and intense emotional release felt by everyone on the Ducks roster, perhaps Getzlaf most of all. He does care. It would be easier for fans to stomach his inconsistency were he to be more vocal about his feelings, but maybe that's the way that he knows how to lead. The fact of the matter is, Ryan Getzlaf is still a young player. He's got time to figure it out. Hopefully he'll do just that, starting next season.