Over the course of the off-season, I'll be examining the essential questions facing the Anaheim Ducks in the 2012-13 season, as they look to regain elite standing in the league. Stay tuned as the pieces start to role out!
Management vs. Coaching vs. The Core
This is part 2 in a three part mini-series examining the three key elements directly tied to the Anaheim Ducks' fortunes. To read part 1, which explored the job done thus far by Anaheim GM Bob Murray, and whether he will be able to withstand yet another slow start, click here.
Goodbye, Grumpy; Greetings, Gabby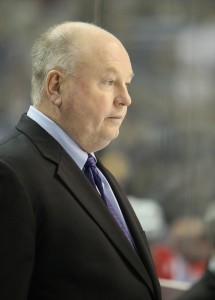 On December 1st, 2011, less than an hour after defeating the Montreal Canadiens for their first win in eight games, the free-falling Anaheim Ducks cleaned house and fired head coach Randy Carlyle, his assistants Dave Farrish and Mike Foligno, and video coach Joe Trotta and replaced them with freshly-fired-himself former Washington Capitals head coach Bruce Boudreau, as well as assistants Bob Woods and Brad Lauer and video coach Joe Piscotty. Thus ended a six and a half year run that saw Carlyle become the winningest coach in Anaheim history, and lead the franchise to their first Stanley Cup.
At the time of the Carlyle firing, the Ducks were owners of an embarrassing 7-13-4 record that saw them sitting 10 points behind the 8th place Los Angeles Kings. Anaheim had had slow starts in every year but one (the 2006-07 Cup year) of Carlyle's previous six seasons as bench boss, but this was a particularly ugly stumble off of the starting blocks. A change was necessary, and as is so often the case, the coach took the fall before the players.
But that's not to say that canning Carlyle and nabbing Boudreau wasn't the right decision. It absolutely was. Carlyle, notoriously gruff and prickly, was a demanding coach who, at least according to former Ducks d-man Aaron Ward, "sucked the life" out of the game. Carlyle was known for his grueling practices, and particularly trying training camps, two sometimes over-looked key subjects when trying to explain Anaheim's penchant for slow starts. Regardless, coming to work every morning dreading having to deal with your boss is no way to get the best out of anyone, let alone professional athletes being paid to play a game. It may be hard work, but it should also still be fun. Cue Boudreau.
In hiring the jovial Boudreau, Bob Murray was hoping that a complete 180-degree turn in coaching personalities would be just the medicine his team needed, and while the Ducks initially showed little improvement, finishing their December having won only 3 of 13 contests, Boudreau's positive reinforcement and attempts at a culture change began to take affect, and the Ducks finally turned that corner, cruising to a 9-2-1 mark in January, and a 27-23-8 record overall, under Boudreau.
Indeed, Anaheim was one of the hottest teams in the league in the final months of the season, before finally running out of gas and ultimately failing to make the playoffs (Boudreau's first time missing the post-season in his NHL coaching career). That's all in the past, though. Coming into the 2012-13 season, Anaheim's ownership, management, and fans are expecting a quick start. Can Boudreau deliver the goods? Perhaps more importantly, should the mid-season turn-around be attributed to Boudreau, or was it simply a case of Anaheim being Anaheim?
Get Up And Go
History and statistics seem to be on Boudreau's side. In the four seasons in which he was Washington's head coach to start the season, Boudreau had a 27-11-4 record in the month of October, including a ridiculous 7-2 start in 2011-12, before the wheels fell off and he found himself without a job. By contrast, Carlyle's Octobers were more middling, with the Ducks skating to a 38-35-11 record in his seven starts with Anaheim (and this is heavily padded by a 9-0-3 October in 2006-07).
And because percentages are more telling than raw numbers – for those of you playing along at home, Boudreau's teams have an October point percentage of .690, whereas Carlyle's sport a significantly less impressive .518. It's a cliche, but it's true: a win in October is worth just as much as a win in March or April, and although a team can't make the playoffs in the first month of the season, a team sure can hammer a few nails into their own coffin with a poor start.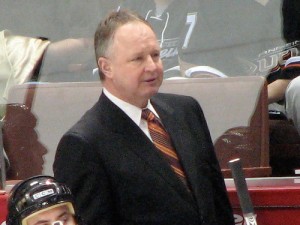 Now, obviously applying statistics such as these to a coach, in an attempt to divine some sort of over-arching theme, is a tricky proposition. There exist simply too many variables from year to year to arrive at a concrete conclusion. Team make-up, injuries, schedule, even concepts as nebulous as "breaks" and "bounces," all factor in to the evaluation of a season, but the basic idea is a solid one: a good coach tends to win more often than not. Although their individual point percentages stretched out over their NHL coaching careers wind up drawing closer together, with Boudreau weighing in at .672 and Carlyle at .588, statistically speaking, Boudreau is still clearly the superior coach, and he'll need to be in order for Anaheim to flourish.
What It All Means
Under Carlyle, the Ducks seemingly always had to play catch up late in the season, just in order to get into a position to maybe make the playoffs, but playing that kind of hockey is exhausting, and often left Anaheim bereft of energy once the playoffs rolled around. With Boudreau now at the helm, he'll look to start hot and stay hot. If both his October and all-time points percentage suggests anything, it's that he knows how to get a team to do just that, and it will be imperative that Boudreau find a way to continue this trend in his first full season as Anaheim's bench boss.
If he isn't able to? Well, chances are, even if he stumbles, he's safe after having signed a two-year contract extension that will have him in Anaheim through 2015. Boudreau's no doubt got the resume to be given at least a couple of chances, should he not initially succeed. He's the fastest coach to get to 200-career wins in the modern NHL era, and his Capitals teams won four straight Southeast Division titles between 2007-08 and 2010-11. It's easy to argue that Boudreau was blessed with an embarrassment of riches in a not-so-strong division, but Anaheim, in theory, has a similar amount of wealth in their core group of players (although the Pacific Division is undoubtedly tougher than the Southeast). At the very least, it should be exciting to see how Boudreau's high octane offensive attack agrees with Anaheim's stars when given a chance to instill his tactics from the start of training camp.
With GM Bob Murray also recently getting a contract extension, his for four more years, putting him in Anaheim through 2016, it appears as if Ducks owners Henry and Susan Samueli trust in the direction that both men are leading this franchise. But will Anaheim's core group of players support this trust and deliver on their end of the bargain? Check back later this week for Part 3, in which I take a look at Anaheim's core, and whether or not they can 'get it done,' as currently constructed.