Follow @DavidOConnor95

There are many question marks surrounding the name of Alexander Semin, and most of them seem to revolve around the word risk. Now, the problem with this risk – unlike many of the other top free agents available – is that it has absolutely nothing to do with age or ability, and everything to do with whether he actually wants to play in the National Hockey League.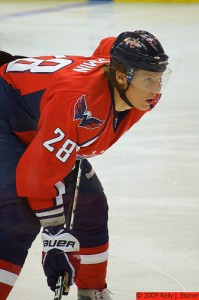 Oh, how the Russian Factor follows around hockey players like lonely puppies follow around their careless owners. Every year, there's always somebody who, just because they're Russian, has a target placed upon their back that can not be shed. Speaking of Alexander Radulov, where does Semin fit into all of this?
An excellent question was raised by Harrison Mooney of Yahoo! Sports just a little over a week ago. Mooney asked, "If Alex Semin doesn't want to be here, why hasn't he left for Russia yet?" It's actually a fascinating question, mostly due to the fact there's no good answer to it.
It's obvious to anyone who has watched the Washington Capitals play less than five times over the last few seasons that Semin is a very talented player. That much is clear whenever Semin flies down the wing at top speed. Yet, it's the middle of July, and he hasn't left for Russia yet. Does that mean anything? You know what, it probably does.
In recent years, Russian players have been leaving the NHL like nobody's business. From Maxim Afinogenov, to Evgeni Nabokov, Alexander Radulov, and even Alexei Yashin, the KHL's cash is on the table for many of the NHL's Russian stars. Sometimes, the temptations are just too high to resist.
Let's look at a player such as Radulov, who left the Nashville Predators only months after returning to the team. A first-round pick of the Predators in 2004, Radulov has the skill and talent to be an All-Star in the NHL. However, in 2008 he decided to leap towards the Kontinental Hockey League, and it's now clear where his heart really is – it's not in Tennessee.
Credit should be given to Radulov for returning to the NHL this past season to fulfill his entry-level contract, but seeing how he left for CSKA Moscow just days after Nashville's Cup run came to an end, Semin has had a shadow cast on him that leads to suggestions he could follow Radulov's path. Is it fair? No, of course not. But it's reality, and Semin now has to prove to the doubters that his loyalty lies with the National Hockey League.
Everything from Semin's commitment to work ethic has been questioned in recent months. In fact, he's been labelled as a player Russian's should strive to not be like. For a guy who hasn't even left yet, the label isn't at all moderately fair.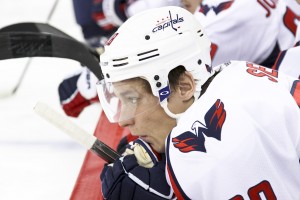 Former Capitals' head coach Dale Hunter, who led to the team to the playoffs this past season after replacing Bruce Boudreau, has nothing against Semin, and doesn't appear to buy into all the concerns.
"Since I was there, he bought into what I was trying to preach," Hunter said in a National Post article. "We even had him blocking shots. I had no problem there whatsoever. He's got great skill. Someone will sign him."
For a player with such skill, it's somewhat stunning he's still for sale on the free-agent market. It's not like there isn't a single team in the NHL who could use a forward of his calibre.
As The Hockey Writers' own Charlie Crespo points out, he could fit well with the Florida Panthers. And Jeff Stone believes the Detroit Red Wings need a player just like Semin, that he would be an ideal fit in the Motor City.
While he won't likely pull in figures similar to the $6.7 million he pulled in with Washington last season, he still has the potential to be an elite member of the NHL. A chance to prove himself is all he's likely looking for at this point.
Second chances don't come along very often, but when they do, there's usually a good reason for them. One could make a valid argument that Semin blew his first one. Now, he's looking for redemption and just a little bit of support to go with it.
Right wingers with Semin's capabilities are typically hot commodities in the NHL. But this isn't an average situation, and Semin isn't an average player. Joining forces with fellow Russian star Alexander Ovechkin was one of the best possible scenarios for Semin. However, those days are probably over in the American capital, and it's time for Semin to move on.
Enough has been said in recent months to suggest Semin is better off leaving for the Kontinental Hockey League. Across the Internet, fans have berated his name to no end. A parody Twitter account has emassed nearly fifteen-thousand followers using his name, and many are raring to see him go.
At this point, Semin should be given enough respect for what he's trying to do. For a player who was nearly a forty-goal scorer not long ago, if he hasn't already, Semin should be able to find a good contract offer in the coming weeks.
If he didn't want to play in the NHL, he would have left by now.
________________________________________________
Follow me on Twitter: @DavidOConnor95    "Like" my page on Facebook: David O'Connor
David O'Connor is a managing editor with the Sunbelt Hockey Journal. His writing has been on the Los Angeles Times' website, among other places. O'Connor also does some scouting work for the local Junior B hockey club. Please feel free to contact him at davidoconnorhockey@gmail.com.