Last Monday Alexander Semin's agent, Mark Gandler, told ESPN his client will almost certainly play for a new team next season. The Washington Capitals are one of the NHL's most intriguing teams because of the uncertainty about the head coach (at the moment they do not have one), style of hockey they'll play, and how the stars on the team will respond after a year of having their commitment levels criticized. For all his talent, Semin is a player many teams would be unsure about tendering a long contract because he seems to personify the issues that have plagued the Caps for the past few seasons. While other teams are in the conversation, the most natural fit would be the Detroit Red Wings.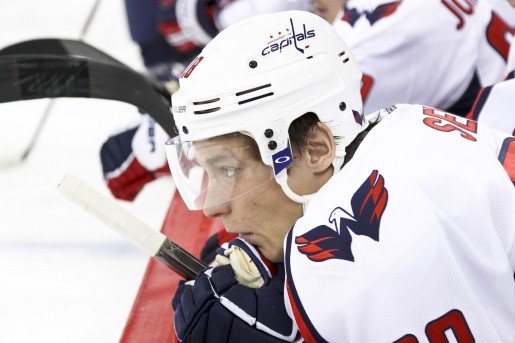 He's been criticized for not working hard enough on the ice, failing to back check, and in 2011-12 produced his worst point per game ratio in four seasons. But at 28, Semin is a player that's entering his prime. In his career so far he's never benefited from a quality leader in the locker room. He and Alex Ovechkin were given the team after the lockout and expected to raise their play to other stars, with only a bit of guidance from Sergei Fedorov. Enter Pavel Datsyuk. Datsyuk is the type of player Capitals brass would've hoped Semin would be. Datsyuk has three Selke trophies on his mantle, four consecutive Lady Bying trophies, not to mention a couple Stanley Cup rings. He also doesn't have the infamous bongo incident attached to his name.
One of the most respected players in the game, Datsyuk (along with Henrik Zetterberg) play the type of hard working, two way hockey Semin needs to incorporate into his game to regain his 40-goal touch. Detroit also has a glaring need for another top six forward. With all due respect to Jiri Hudler, players like Duncan Keith would have a lot more to worry about if they knew they might have to line up against Semin, Datsyuk, and Franzen with Zetterberg and Bertuzzi waiting to hop off the bench. A more even distribution of talent would certainly improve Semin's game and relieve some of the pressure he's been under in the nation's capital.
Detroit also has the cap room for Semin. With Nicklas Lidstrom and Tomas Holmstrom commanding relatively low salaries and potentially retiring, GM Ken Holland is looking at upwards of $20 million in space to work with this summer. Behind only New Jersey, Detroit is the second oldest team in the NHL and a young sniper entering his prime could give the locker room a much needed shot in the arm, especially one that could get a few pucks past Pekka Rinne next spring.
The Wings need a talent scoring winger and Semin needs somewhere new to call home where he can mature and turn into the player Washington though they were drafting. It's a great match.
Jeff Stone is the disgraced former captain of his JV hockey team and a reporter at the International Business Times. He has a signed rookie card of Martin Brodeur and a blog at WhenYouPutItThatWay.wordpress.com.