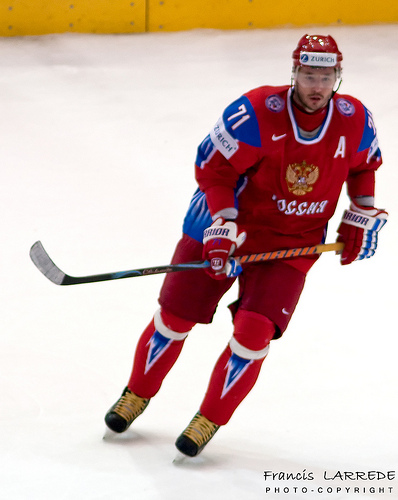 So Russia looks poised to capture another World Championship later today as they face Slovakia in the final. Now they have been tested at times in the tournament but it seems every time a team gets close, the Russians find a way to close with a hard finishing kick. Russia was tied with Sweden in the prelims at three and then scored four straight in the third. In the quarterfinals, Russia and Norway were deadlocked at two after forty minutes and then they proceeded to score three straight in the final stanza to seal a semifinal berth.
Now there is the matter of Slovakia and that will not be an easy task as Slovakia plays a style that could cause Russia some trouble at times. This leads us of course to the part where we ask, how did they get here? It is time to proceed onward.
===========================================
Slovakia (5-0-0-2, 2-0 in medal round)
Here was a team that gave the Americans fits in the prelims then shocked Canada and managed to pull out a gutty win against the Czech Republic on Saturday. Slovakia did not have a single power play yet took one of the three Czech man advantages and converted it into a game winning shorthanded goal by Miroslav Satan. Satan had two goals today and has been an amazing presence in this tournament. The real surprise may have been Jan Laco, who made 36 saves on 37 shots. There was a feeling at times that the Czechs were all over the Slovaks but Laco was a brick wall at crucial times especially in the second period where Slovakia could have cracked.
However, they did not do so. The two third period goals in the 3-1 win do not happen without Laco's stand. Slovakia has this ability to pop in three or four goals on a consistent basis. They also have kept every single game in the tournament close, except for the 5-1 blowout of Belarus. There are some nice depth scorers on this squad. When you look at the Tomas Kopecky's of the world and Tomas Tatar's, you realize that Slovakia has some talent and of course Zdeno Chara. Chara has been good even on the international ice surface with his ability to shut opposing power plays down. Tatar could be a real "X Factor" as his ability to break defenses down could come in handy against a Russian team that can be scored on at times.
Looking ahead to Russia, can Slovakia keep the score reasonable? That is the biggest question of all. Chara is going to have to play very close to 30:00, Slovakia will have to score a few early to get Russia thinking, and Slovakia will have to play a top to bottom physical game to combat Russia's play-makers. Ultimately, time will tell how this all plays out.
======================================
Russia (7-0-0-0, 2-0 in medal round)
So Russia has not lost a single game in this tournament and yet they have been quite well tested. Today was a bit different as the Russians went down one early then scored six unanswered goals including three on the man advantage. When you can pair Alex Ovechkin, Alex Semin, Pavel Datsyuk, and Evgeni Malkin on the power play, that is just unfair. Do not forget that Semyon Varlamov had a very good last couple months for the Colorado Avalanche as he wrestled the starting job back. Finland was outmatched as it seemed like every Russia scoring chances went in the net or nearly did so. The reality was Finland probably never should have escaped the quarterfinals and considering there was no Kari Lehtonen, the semifinal had to be almost too easy for Russia. Scoring chances were actually 16-12 Russia for what it was worth.
Russia was more tested in the quarters against Norway who had them on the ropes after forty minutes. However, you can only keep talent like that curtailed for so long before it unleashes itself. The three goals in a row were testament to that similar to the four goal outburst against Sweden in the prelims where that game went from 3-3 to 7-3 in the blink of an eye.
Another key factor is that Russia dresses seven defensemen and none of them average 20:00 of ATOI a night.Russia plays at the max roster level for a reason so that their players are all fresh for the third period. How often do you see Evgeni Malkin plays 12:12 in any game? Yes, he had a hat trick in the semifinals but still the shift times are right around :40 for the star Russian players which is an excellent rate for international ice.
Simply Russia is built for competition at the World Championship and Olympic level because their players not only buy in but their chemistry is probably even greater than Team Canada's was in their heyday. These players are always so fresh when their lines are called out and that counts for something in international competition. It is what makes Russia so tough to play against and a reason why they are now ranked #1 in the World according to the IIHF.
======================================
The Prediction:
Most of the tournament had been kind to us except for the 1-3 quarterfinal round. The question has to be asked. Can Slovakia actually keep up with Russia? That answer is actually yes. There are enough scorers and defense that can at least slow down the Russian onslaught. However will they entirely slow down the Russians? It is something that is hard to say. The Slovaks will have to play a more counter intrusive game to bear Russia. Even then, there are no guarantees that it will work.
The Slovaks have been among the top teams when it comes to the penalty kill all tournament but they are facing the best power play unit and Russia can spread anyone out. Expect this to be a close game for most of the duration but in the end, Russia just has too much firepower to be contained for an entire sixty minutes.
Prediction:  Russia 5  Slovakia 3
Simply a hockey writer who is a jack of all trades. No question is too big or too small and in fantasy hockey there is no such thing as a stupid question. Now a proud, accredited member of the FSWA. I am also a New Jersey Devils lead writer, prospects writer, humorist, and so much more. You can find me on Twitter at @ChrisWasselDFS