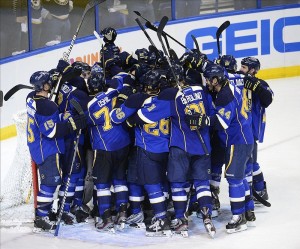 So what do the St. Louis Blues need to do?
The St. Louis Blues entered the 2012 Stanley Cup playoffs as one of the favorites to win the silver chalice.  Several days later, the Blues' season was done, the victims of a sweep at the hands of the Los Angeles Kings in the second round.  The Kings exposed several weaknesses, the most glaring being the lack of scoring against a Kings team that did a masterful job of playing keep-away with the puck.  The Kings are one win away from the Stanley Cup finals.
The most glaring weakness found in the Blues' lineup is the lack of scoring, and this will be something that will need to be addressed in the months leading up to the 2012-13 season.  Whether this can be done via trade or free agency remains to be seen, but it is painfully obvious the Blues cannot continue to go without a legitimate scoring threat on its roster.
Should the Blues make a play for Columbus forward Rick Nash?  Young, big, strong, with a silky set of hands, Nash could be a potential answer.  Put on a line with Andy McDonald, the McDonald/Nash combo could strike fear in the hearts of opposing netminders.  But the question still remains…what would the Blues have to give up to get a scoring forward like Nash?  Could they keep the chemistry together while obtaining such a huge piece to their puzzle?
With Ken Hitchcock at the helm, chemistry could be the least of the Blues' worries.  Hitchcock brought together a rag-tag group of players and molded them into a formidable team, a feat he could repeat as he has shown success the first time around.
Perhaps Nash is the answer.  Perhaps he is not.  One thing remains certain…the Blues cannot rest on their laurels if they hope to mount a challenge for the Cup.  With a new owner who may be willing to spend some money, the Blues could have some options available to them.  Time will tell, but one thing is very obvious…the 2012-13 Blues' roster will have a decidedly different look to it.