On the surface of another 3-0 loss to the New York Rangers in the Eastern Conference Finals, there doesn't appear to be much good news for the New Jersey Devils. But in breaking down the game, they outplayed the visitors pretty decisively for the first two periods, and according to their players, they didn't score because they didn't bury their chances; it wasn't anything that their opponents did that was so radical.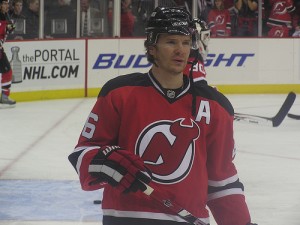 That's the way the longest-active Devil not named Martin Brodeur (Patrik Elias) saw it, and his coach Pete DeBoer agreed too. "It wasn't anything really that they did better (than us)," said Elias sitting back in his locker with his arms crossed. "I thought it was a pretty good hockey game; even though they had 12 shots or whatever at the end of the second period, they had some quality opportunities. Marty was great and we had our chances. Plenty of them. We didn't put them in, they put one in on their power play. Right away, a couple of shifts after that, they got second one; we tried to make a push (at the end) and they got an empty-netter."
The Rangers tallied two goals in a span of 1:58, stunning the home team and it's fans for a bit, before a late Devils surge almost broke the shutout. Just like in Game 1, defenseman Dan Girardi got the first goal of the game (and game-winner) with a long shot that unlike in Game 1, Brodeur saw. "Yeah I saw it all the way," admitted Brodeur, "it beat me clean."
But Elias (a two-time Champion and 14-year veteran)  also admitted that his team's confidence has not faltered, at all. "It's not a big deal. It's not like we got outplayed or something; we just have to find a way to put the puck in. Obviously both teams — when they are playing with the lead, it's tough to come back, to get back in the game."
New Jersey registered double-digit shot totals in each period, New York didn't reach double-digit shots in any period, but still won the game with three, third period goals — the same formula they used in winning Game 1. Three of Henrik Lundqvist's biggest saves came on breakaways while the game was still scoreless, and he finished with 36 saves for his second shutout of the series and third of these playoffs. "We had two breakaways, a two-on-one, we have to find a way to score a goal," said the Devils coach afterwards. "We're not the first team Lundqvist has done this to, we have to battle through. It's a little frustrating, but we're creating chances, we carried the play, we did a lot of good things; we're gonna stick with it."
"If we find a way to score one in the first two periods, it's a different game," said DeBoer at his post-game press conference. "We didn't. Can't feel sorry for yourself." When asked about his team's struggles to score in the series the coach admitted that he will only look to make minor tweaks and not change his team's philosophy going forward. "The momentum shifts, when you lose a game like where you out-chance, outplay the other team for long stretches — it's easy to look at it under a microscope and say 'oh boy they played two great shifts here and that was the difference in the game.' We strung together six or seven great shifts and we didn't capitalize on it, that's the story of the game."
The Rangers were also able to kill off five Devil power plays, including two huge chances in the third period while they were up 2-0. "We just have to put the puck in," Elias said when asked of his team's struggles on the man-advantage. "We had a couple of them where we didn't really get anything going, and we didn't move the puck well at all. Then we had a couple of them where we moved the puck great and we had some quality opportunities that just didn't go in for us." It was about as simple as an explanation gets for why a team is struggling, but Elias was dead-on in his assessments — the Devils played a solid game, but they just didn't score. "When you're playing a team that is so tight five-on-five, you have to take advantage of those opportunities on the PP, no question."
When asked how does he feel going into Game 4 on Monday night, Elias smiled, looked up and said, "It's good, thanks. We'll be fine, we had energy here (in the building), we created a lot of good chances, a lot of good plays. We made some mistakes, but it's a matter of staying patient; and try to get a goal first."
Dan Rice can be reached via Twitter: @DRdiablo321 or via email: drdiablo321@yahoo.com
Dan Rice is in his 9th year of reporting for THW & has covered NJ Devils home games for 15+ years at various websites. He began his journey working for legendary broadcaster/writer Stan Fischler from 2002-04 & completed an internship at the ECHL; he also has been writing features for the NWHL (nwhl.zone) website since 2016.