While the Bamboozle Music festival rages on the Jersey Shore, New Jersey Devils fans are also raging at the Prudential Center in Newark.  What was supposed to be a 2-0 lead for the New York Rangers became an uncertain turn heading into Game 3 of the Eastern Conference Finals. The question has become what's wrong with the Rangers? Apparently, they're just moody.
In  Game 2, Coach John Tortorella said he didn't see many positives to take away from their performance. In other words, homework and discipline were in order to win Game 3, or take more drastic measures.
Benching Marian Gaborik in Game 2 roused the media to question Torts and his tactics:
"You guys like calling them benchings and all that stuff, but as coaches we're trying to find a way to win a hockey game, and we make decisions accordingly."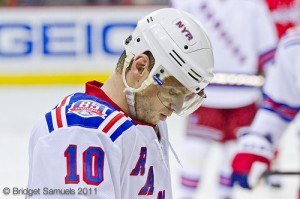 Just winning games is what the Eastern Conference Champs are supposed to do, but now desperate to do. If the Rangers want to compete at the level of Stanley Cup Champs, then they need to learn how to close the door on a series as confidently as the Los Angeles Kings.
New York's leading playoff scorer, Brad Richards, has just one point and three shots on goal this series through Game 2. It would be doubtful if Torts would bench Richards to send a message, but if it happens, the Rangers would become transparent in their desperation. Richards did rebound in Game 3 with an assist, so he's safe for now.
Tortorella also griped about how the media spends "too much time talking about streaks." From Torts' perspective, "We just spend time trying to make corrections in our game, trying to be better in the things we think we need to be better for our next game, and go about our business."
That's exactly what the Devils are doing. Devils captain Zach Parise is working on hockey business as usual aside from "more media coverage than we've ever seen." New Jersey doesn't seem to have the same level of concern as the New York Rangers have displayed.
What General Manager Lou Lamoriello and Coach Peter DeBoer have done in Newark is impressive. New Jersey came into the Eastern Conference with hope, not necessarily expectations. New York expects to win. And they should based on what they can accomplish in blocking, hits and the mastery of goaltender Henrik Lundqvist. John Tortorella hates the excuses, and refuses to succumb to giving them in press conferences.
New York feels the heat of not advancing. The Rangers are aware they should be cleaning up right now, but refuse to get that cocky.  Defenders of Coach Tortorella are correct in their assessment of his stylist approach to avoid his team becoming the scapegoat. The guys are doing what Torts and Callahan are directing. All this blood, sweat and high gear is exhausting the tough New York team.
Last year's rock stars, the Vancouver Canucks were in a sweet spot last season, but lost at the last possible moment. Now, Roberto Luongo is looking for a new home. If the Rangers advance on to the Stanley Cup Finals, whether they win or lose, expect the band to break up. It always happens.
With a spirited Game 3 shutout, 3-0, the rock stars in the Rangers are alive and kicking. The chances for the Rangers to advance are good if they continue the dominance. If the Blueshirts flip-flop throughout the series, their opportunity to advance is good, but not great.