Yogi Berra put it best: "It's deja vu all over again."
The New Jersey Devils dominated for most of the first two periods of Game 3 of their Eastern Conference Finals matchup vs. the New York Rangers, peppering Henrik Lundqvist with shots that were summarily turned away by the superb goaltender. Martin Brodeur was terrific for most of the tilt, making several key saves, but in the end, it was the New Jersey offense's failure to get anything past Lundqvist that proved to be the difference.
It was eerily similar to Game 1 when New Jersey was in the driver's seat for most of the game but unable to score thanks to the brilliance of Lundqvist. Game 3, however, featured less of the team shot blocking that the Rangers exhibited in Game 1, as Lundqvist virtually carried the team through a lackluster first two periods.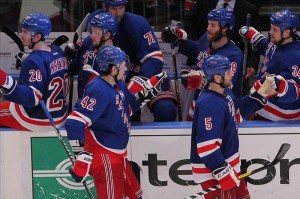 "It was almost a copy of Game 1," said Brodeur after the game. "It's unfortunate. We played well, we had a lot of jump, a lot of chances, but Lundqvist played well."
New Jersey certainly had good chances to score, as they were again tough on the forecheck, but were unable to convert on those chances. Lundqvist made a key save on a Zach Parise shot off a two-on-one rush and a huge breakaway save of an Ilya Kovalchuk shot in the opening minute of the second period.
"I got a good chance, I just didn't lift the puck. I beat him and he just left his arm there. I should have put it up," Kovalchuk said of the save, which seemed to galvanize the Rangers. "He made a great save. We have to score on our chances."
Their special teams also failed the Devils, as their power play unit went 0-for-5 on the day managing a pitiful six shots in those ten minutes with the man advantage.
The penalty kill, a strength of the team all regular season, surrendered a Dan Girardi power play goal 3:19 into the third that proved to be the game winner. It was the fourth power play goal surrendered by New Jersey in the series, a troubling  trend. Their penalty kill sits at a mediocre 71.4% for the playoffs.
"We had a couple that weren't really good at all," Patrik Elias said of the power play. "We had three or four that we moved the puck real well, we just didn't find the back of the net. When you have two teams playing each other tight defensively, you have to take advantage of those opportunities."
Devils head coach Pete DeBoer, showing a bit of frustration in the post-game press conference, summed up his team's performance perhaps better than anyone.
"We're not the first team that Lundqvist has done this to," DeBoer said. "You have to battle through. It's a little frustrating. We gave up 20 shots, maybe five scoring chances. The tendency when you lose a game like this is to microscope everything to death. We played a real good hockey game. We lost. We have to find a way to score goals."
The Devils will take on the Rangers in Game 4 of the Eastern Conference Final Monday night at Prudential Center.