Coming as far as they had for the first time in franchise history, surely the Phoenix Coyotes weren't going to exit the Stanley Cup Playoffs with a whimper.  In Game Four of the Western Conference Final, they slugged out a victory over the Los Angeles Kings, staving off elimination.  In the process, they got contributions from two of their most important players, Shane Doan and Mike Smith.  Hence, the Kings will have to wait another day to advance and celebrate.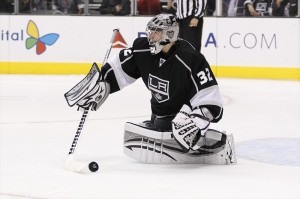 Despite out shooting the Coyotes, 36-21, it wasn't a pretty day on the power-play for the Kings.  Overall, Los Angeles posted an 0-for-6 with the extra attacker.
That wasn't the case for the Coyotes.  In the first it was Doan from behind the net, lifting a backhand shot over Jonathan Quick, for a 1-0 advantage.  The tally was significant, not only because it meant a rare lead for a Kings opponent, but it was the first time following 30 successive kills, that L.A. had allowed a power-play goal.  A streak that dates all the way back to the first round against Vancouver.
Midway through the second, it was Doan again lighting the lamp.  Right off a draw won by Antoine Vermette, Doan ripped one right off the goal cam and out of the back of the net, for his second marker of the game and fifth of the post-season.
From there it was the Coyotes out hitting and blocking more shots than the Kings.  Not to mention Smith being a key penalty killer, smothering all 36 shots sent his way.  The 2-0 score also marked the first time in these playoffs that the Kings have been blanked.
It was a textbook case of a team up against elimination, playing grind it out hockey and it paid off in the end for Phoenix.  So now the series shifts back to Phoenix for Game Five, as the Kings attempt to advance and the Coyotes try to hand them their first road defeat of these playoffs.  In order for the Kings to move forward, they're going to need to get their special teams back on track, especially on the power-play.
Game Four Three Stars: 1.) Shane Doan (2-0-2), 2.) Mike Smith (36 SVS), 3.) Ray Whitney (0-1-1).