When the Florida Panthers season came to an end,  General Manager Dale Tallon made it clear that once free agency began on July 1st he would be looking for goal scorers to improve the Panthers' offense, which was ranked 27th in goals scored.
Mr. Tallon needs to look no further than Alexander Semin.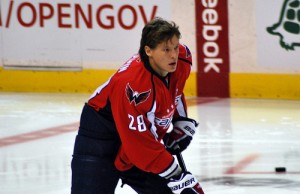 Recently, Semin's agent Mark Gandler stated that his client no longer fit in with the Caps and would be hitting the open market, telling ESPN The Magazine, "Alex doesn't fit into that system obviously. It just doesn't make any sense to him. He plays, he did the best he could under the circumstances and he earned his right to be a free agent."
Gandler also made it clear that Semin desires to play in all situations and was disappointed in the role the Capitals had placed him in. During the season, Semin only averaged 16:47 of ice time, which was his lowest since his rookie campaign.
However, Semin wasn't willing to confirm his agent's comments. As he arrived at the World Championships to play for Team Russia, the Capitals' winger was reluctant to make a statement either way, but made it clear it wasn't something he wanted to discuss.
No matter whom you choose to believe, Semin will be an unrestricted free agent this offseason and the Panthers shouldn't shy away from offering him a deal.
With the Florida Panthers, Semin can finally find the role he is looking for. If he were to sign with the Cats, the enigmatic Russian would instantly become the most gifted offensive player on the team. Semin would no doubt find himself on the top line, likely with Stephen Weiss and Kris Versteeg.
By Semin's standards, he had a down year this season, "only" scoring 54 points. On the Panthers, however, that point total would've tied him for third on the team with Versteeg. With his increased role, there's no doubt his point totals would increase.
For those that would argue this point, let's look at the cases of Tomas Fleischmann and Sean Bergenheim. Both players were finally given the opportunity to play top six forward minutes for the first time in their careers with the Panthers. As a result, both set career highs; Bergenheim in goals (17) and Fleischmann in goals (27), assists (34), and points (61). There's no reason to think that a player like Semin, who is more talented than either Bergenheim or Fleischmann, would be unable to get similar results.
If he bought into Kevin Dineen's system, Semin could certainly play in all situations. He would more than likely play on the top line and the top power play unit. Whether or not he would play on the penalty kill, as his agent wishes, remains to be seen. Semin has always been criticized for his lack of commitment on defense, but he clearly has the skill set to do so if he puts his mind to it.
While it would be a risk to sign the notoriously moody Semin, adding a player of his caliber might just be worth it. Semin could be the superstar the franchise has lacked since another mercurial Russian, Pavel Bure, put on the Florida Panthers sweater. Number 28 would fill so many needs for the Panthers: a natural goal scorer, a top line winger, a possible superstar, that it will be hard for Dale Tallon to pass on, at the very least, making an offer once the free agent period starts.
Tallon has a chance to turn the Panthers into a serious contender this offseason. If Tallon were able to sign Semin, he should then turn his attention to the addition of a possible power forward, another area the Panthers need to address. Both Dustin Penner and Jaromir Jagr will be free agents this offseason. If the Cats could somehow convince either of those two to sign, the Panthers would suddenly have an extremely formidable lineup.
Realistically, though, signing both Semin and Jagr or Penner is a pipe dream. However, adding Semin really isn't that far-fetched.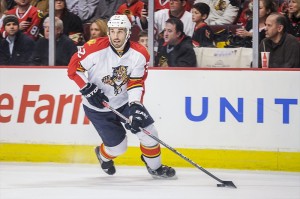 As hard as it will be to do so, the Panthers need to let Jason Garrison go. Other teams will be able to offer much more money and the Cats will simply be unable to match those offers. While it will be difficult to lose Garrison, the Panthers have a number of talented defensive prospects coming up through the system that will soon be ready to play in the NHL. Room must be made for them sooner or later.
Even if the Panthers had the excess money, it would be a risky decision to commit so much of it to Garrison. No one knows yet whether Garrison is simply a late bloomer or if he benefited significantly from having Brian Campbell around. This columnist is willing to bet that Garrison won't have the same success without Campbell dishing him the puck. The Panthers can't afford to find out.
Instead of spending money on an area that was a strength of the team, Tallon must use it to address a weakness, which, for the Panthers, is their goal scoring.
Semin is looking to land somewhere where he can have an increased role. Florida needs a top six forward that is a threat to score every night.
It will certainly be a risk, but that hasn't stopped Tallon before.
It shouldn't stop him now.