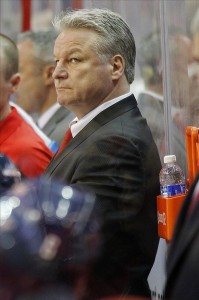 The Washington Capitals parted ways with Bruce Boudreau during the 2011-12 season. Luckily for Boudreau, the Anaheim Ducks came calling.The Capitals however, felt just as fortunate to be able to hire a coach they had sought after for quite some time in long time former Capitals forward Dale Hunter. When Hunter arrived, the atmosphere changed immediately. A new voice, a new challenge and plenty of work to do to salvage a season that seemed at the time, a road to somewhere outside the elite eight in the Eastern Conference.
Less then six months on the job though, Dale Hunter has opted to leave the Washington Capitals to return to his family, after leading the team to game seven against the New York Rangers in the Eastern Conference Semi-Finals.
As shocking as it is to some, the Capitals brass had a feeling this situation would come about. Better yet, there were no promises made by Hunter, that a long term stay was in his sights.
"Id rather have him for six months than not at all, because he had quite the impact on this club,"General Manager George McPhee said. "He really taught this club the "how" of how to win. They all wanted to win. They just didn't know how. They "how" is being a team and sacrificing, and he sure got that out of this club."
Any doubts in the players minds about how the initial coaching move would pan out, are simply washed away. Evident by the player reactions following Monday's disappointing news for the Washington Capitals.
"I just had a little short chat with him and shook his hand and said thank you. I asked him if there was anything I can do to convince him to stay," forward Brooks Laich said when addressing the media.
When Dale Hunter arrived in DC, his style of coaching took some time to sink in. Players took some time to not only get to know their new bench boss, but understand that cutting back their ice time was a way of improving the on ice performance by the entire team and not singling out any one player.
"For me, personally, it was pretty hard, to be honest with you," Alexander Ovechkin said.
Ovechkin witnessed his ice time cut back significantly and in one post-season game skated nearly 14 minutes.
Dale Hunter agreed to coach the Washington Capitals and promised management one thing, he was going to not only make them believe in themselves, but ultimately show them what was needed to be done to win a post season hockey game. He was successful in his first stint in doing that, but will now embrace his family and forever be remembered as the coach who taught and demanded the Capitals to compete to win hockey games, especially the big ones.
Follow me on Twitter @ DarrenCoslov
Darren is the Washington Capitals correspondent. He spent the 2010-11 season covering the Atlanta Thrashers and the 2011-12 season covering the Columbus Blue Jackets. Feel free to contact him @ DKoz256@yahoo.com. You can also follow him on Twitter. DarrenCoslov