Matt Finn THW Close-up:
Date of Birth: February 24, 1994 Place of Birth: Etobicoke, Ontario Height: 6'0″  Weight: 197 lbs Shoots: Left Position: Defence NHL Draft Eligibility: 2012  
Click here for the live updated 2012 NHL Draft Preview Guide – "The Next Ones"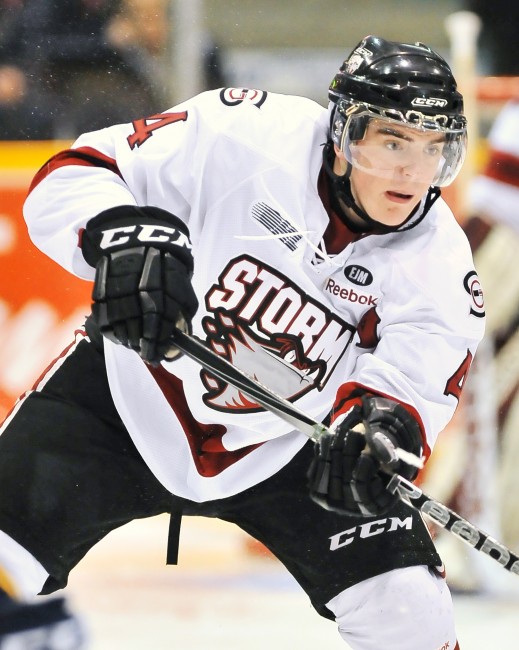 Matt Finn is one of the bigger surprises and fastest risers of the 2012 draft class.  Coming into the season he was ranked very low or not at all on many early draft rankings.  He now ranks as a bona fide top end first round talent and sits somewhere in the mid first round on most rankings.
The "Fail for Nail" campaign aside, this year's draft is seen by most as the year of the defenceman.  With prominent names like Murray, Dumba, Trouba, Reinhart, Reilly, Maata and Ceci gracing the top 10 at some point this season, Matt Finn has added his name to that list.  While he may not have a top 10 ranking he's not far behind.
The biggest knock on Finn entering the season was his conditioning, that he was out of shape and he had trouble handling fatigue at the OHL level.  It also was a factor in being left off last summer's Canadian U18 squad, which in hindsight could have been a blessing as it provided the motivation to make the necessary adjustments in his training.
"It kind of lit a fire under me," the graduate of the Toronto Marlboros minor hockey program says. "I obviously wanted to make the team and I obviously want to be the best player that I can. When you're told, 'sorry, not this time' that really gets me going. I always want to be that guy, the one who gets picked. It sucked for a couple of days, but then I said, 'forget about it, I'm going to do what I want to do' and I used that extra time to keep pushing to get ready for the season."
A solid two way defenceman, Finn has worked hard in all aspects of his game, and they've paid off, as he has consistently lead his team in ice time all year long.  While he doesn't possess elite size or strength, Finn plays a sound positional game and rarely gets beat out of position.  He shows great on-ice awareness and a very high hockey IQ.
Although not an offensive defenceman by trade, Finn has also shown the ability to provide some offence, finishing the season with 47 points in 61 games.  He shows a knack for picking his spots and jumping into the rush or pinching in the offensive zone at the right time.  Not only does he play a key shutdown role for the storm but he also quarterbacks their powerplay.
International Tournaments:
Represented Canada, playing for Team Ontario in the 2011 U17 World Hockey Challenge, winning a gold medal.  He had 1 point in 5 tournament games.
Scouts Honour:
Finn ranks #16 on the last ISS rankings as well as #16 among North American skaters in the final NHL Central Scouting rankings.
"His conditioning is 100 times better this season…..If you can imagine a 16-year-old being out of shape, he was. I had my year-end meeting with him and I said, 'you can be a top 10 player or in the top seven rounds, you got to decide.' That's really ultimately on the player and, man, he went home and came back in phenomenal shape. I give full credit to him." -Storm head coach Scott Walker
"Matt Finn is 17 (turned 18 on February 24) going on 27…..He is well above the maturity level of any kid that I have ever come across.
"He came here at 16 years old, and has been our #1 defenseman from day one." –
Storm GM Mike Kelly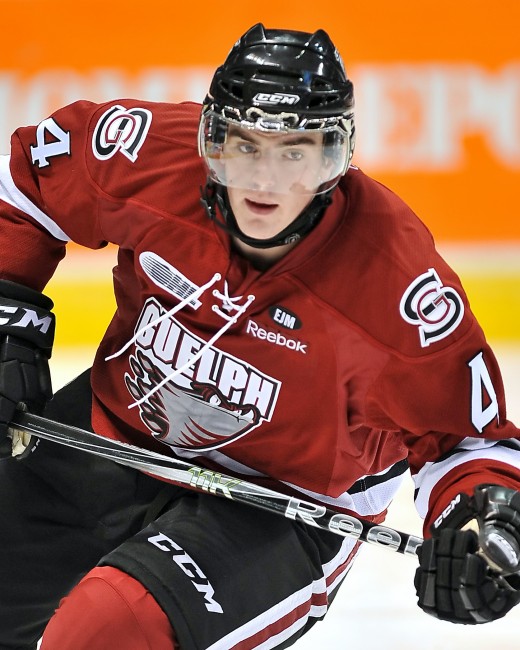 Statistics:

Bio/Interview Links:
NHL ETA: 2-3 years
Risk/Reward Analysis:
Risk: 2/5  Reward: 4/5
NHL Potential:
Top pairing, intelligent 2 way defenceman
Strengths (See THW Close-up):
Hockey IQ (Intelligence)
Poise
Maturity
Positional play
Gap control
Good outlet passer
Aspects He Needs to Work On:
Mobility
Strength – to be able to handle players at the next level
Physical play
Fantasy Hockey Potential:
Offensive: 6/10  Defensive: 8.5/10
NHL Player Comparison(s):
Finn states that he models his game after former Storm defenceman Drew Doughty, but a more apt comparison is to another Storm alumni and the Rangers Dan Girardi
Video:
THW The Next Ones prospect profile template design architect: Chris Ralph
Carl covers the Edmonton Oilers for THW as well as providing additional prospect coverage. Follow him on twitter @carlTHW, connect on Facebook or contact at carl.maloney@hotmail.com for questions, comments or if you're interested in him writing for you.