For most of the first two periods on Monday night at Madison Square Garden, the New Jersey Devils played their game: hard on the forecheck, swarming the puck and never giving up on a play. There was a sense that, just like in their Round 2 series against the Philadelphia Flyers, it was just a matter of time before someone on the team would find a way to get a puck past the Rangers pesky, shot-blocking defenders and their brick-wall goalie.
Unfortunately for New Jersey, the third period was all New York, as the Devils appeared to deflate after Dan Girardi netted a point shot at :53 of the third period. The Rangers added a power play goal by Chris Kreider at the 12:00 mark and an empty net score by Artem Anisimovin the waning minutes to secure the victory. Despite the loss and the apparent frustration that the Devils shooters must have felt at their inability at times to get a shot past the Rangers defenders, they collectively shrugged off the loss as the first game of a potentially long series.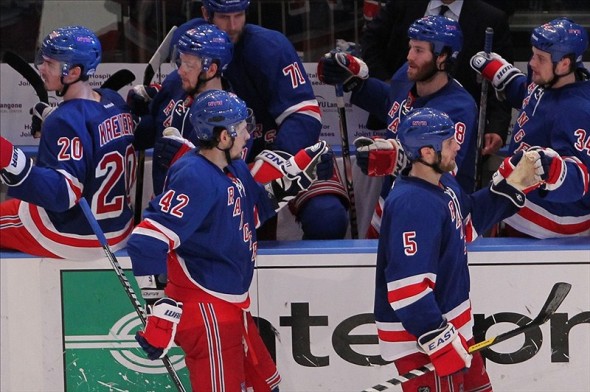 "It wasn't anything we weren't prepared for," Devils captain Zach Parise said of the Ranger defenders willingness to block shots. "We knew it was coming. We just have to do a better job of getting the point shots through, getting it past the first guy."
New Jersey's Ilya Kovalchuk, who had a quiet game despite logging 23:14 of ice time, echoed Parise's assessment of Game 1.
"They were blocking a lot of shots, but that's the way they play. We have to find a lane somewhere. We'll see what we didn't do right tomorrow morning and we'll be better next game," said Kovalchuk, who managed just three shots in the contest. "We expect that from them, they've been doing it all season long, so it's nothing new."
Devils goaltender Martin Brodeur, who was solid for the majority of the game, including a spectacular save of a Marc Staal rebound, displayed the calm that one would expect from a veteran that has been through it all.
"When you start on the road, you need to win one game, and we've got one game in front of us. We've played well in our building, it would be nice to get back home tied 1-1," Brodeur said after Game 1. "We've got to stay focused and believe in what we do. We're playing a different team defensively than the Flyers. They're a lot more in our shooting lanes so we just have to find ways to expose them a little more. We've done it in the regular season."
The Devils are a veteran team that won't panic, but adjustments will need to be made before Game 2 to somehow get shots off cleanly at Rangers goaltender Henrik Lundqvist. It will fall on New Jersey's scorers, mainly Kovalchuk, Parise and Patrik Elias, to get that formidable job done.