When the Pittsburgh Penguins wrapped up their 2011-12 regular season with a 4-2 win over the Philadelphia Flyers, they capped off their finest offensive campaign since the goal-happy seasons of the 1990s.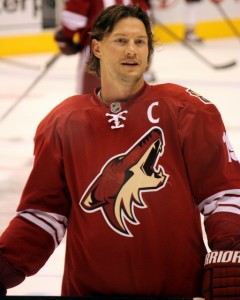 An NHL-best 273 goals and a top-five power play led Pittsburgh to its third consecutive 100-point season. Their roster included the Art Ross Trophy winner, two of the top-five scorers in the NHL and the top-two point-per-game producers in the league, all while their single-deadliest offensive threat spent three-quarters of the year on injured reserve.
Sounds like a team in need of a top-six forward, no?
For as effective as Pittsburgh's offense was a year ago, its defense was proportionally ineffective. The Pens finished 15th in goals-against in 2011-12, then followed that up by allowing a disastrous 5.00 goals per game in the Eastern Conference Quarterfinals.
And the penalty kill? Woof.
So while Jordan Staal has taken his 248 career points to Carolina for the next decade and the top line has a decided void on its flank, Pittsburgh should be in no hurry to replace Staal's offense or to acquire the long-sought-after winger for Sid.
Goal prevention is a far bigger concern.
Ugly Numbers
The Penguins fielded an above-average defense for most of last year, but the wheels fell off in the home stretch of the regular season.
In six playoff games against the Flyers, the whole operation was driven straight off the edge of a cliff.
The Penguins finished 15th in goals against in the regular season and delivered an encore performance by allowing 30 goals in six playoff games, including a pair of eight-goal shellackings at the hands of the Flyers. For reference, the Los Angeles Kings won the Cup after allowing 30 goals in 20 games. Of the 16 playoff teams last year, only Vancouver, Detroit and San Jose played fewer games than Pittsburgh. Philadelphia, New York, Phoenix and New Jersey were the only teams to allow more goals than the Pens' 30, each having played at least 11 games.
All this is secondary to the dumpster fire that was their penalty kill. We analyzed the team's penalty kill shortly after their playoff exit:
The Penguins have traditionally been a very good penalty-killing team under Bylsma. They've finished in the top-ten of the NHL in regular season PK percentage in each full season under his direction, landing the 9th-best kill in 2009-10 and 3rd-best in 2011-12. They also finished first overall in 2010-11 at 86.1 percent, the first time in franchise history they've led the league in that statistic.

2009-10: 84.1 percent (9th in NHL)
2010-11: 86.1 percent (1st in NHL)
2011-12: 87.7 percent (3rd in NHL, franchise-record)

…

However, each postseason appearance since the Cup has also coincided with a precipitous drop in penalty killing percentage from the regular season.

Despite finishing in the top-ten of PK percentage in each of the last three seasons, the Pens have finished worst or second-worst in postseason PK percentage in those same seasons. No other team experienced such drastic differences between regular and post-season special teams play.

2009-10: 72.1 percent (15th of 16 teams, 12 percent drop from RS)
2010-11: 70.4 percent (15th, 15.7 percent drop)
2011-12: 47.8 percent (16th, 39.9 percent drop)
Such precipitous drops have to be attributed to a number of things, and systemic deficiencies may have been an even bigger culprit than personnel problems. Whatever the explanation, Pittsburgh's combined penalty kill percentage and goals against average were horrific.
As many noted at the end of last regular season, there's a difference between beating teams and outscoring them. An Alex Semin or Bobby Ryan would help Pittsburgh outscore the Oilers of the 80's, but the team's focus has to be pointed elsewhere if that defense is going to beat anyone in a playoff series.
Room to Improve
Pittsburgh currently has a little less than $10 million to spend under the salary cap ceiling of $70.2 million, for however long that number stands. With 22 players signed to the NHL roster (the maximum is 23) and restricted free agents Eric Tangradi, Robert Bortuzzo and Alex Grant still waiting to sign their qualifying offers, the NHL roster is already a little tight.
Even if Tangradi signs and becomes the 23rd player for the upcoming season, the Penguins will still want to fill two sizable vacancies left by the departures of Staal and D Zbynek Michalek.
The hole in the top-six figures to remain in place for some time. Unless free agent forward Shane Doan finds Pittsburgh's undisclosed offer to be somehow more promising than a reported offer of 4 years and $30 million from an unnamed Eastern Conference team, the vacancy at forward will likely be filled from within—at least until the trade deadline.
Pittsburgh's real problem is on the blue line, where Matt Niskanen's promotion has left the team without a true number-five defenseman.
Last season, Niskanen filled that role, following the pairings of Brooks Orpik-Kris Letang and Michalek-Paul Martin. Niskanen proved versatile enough to step into top-four and even top-two minutes when injuries demanded, and figures to earn a regular top-four role after signing a two-year contract extension this summer.
That leaves Deryk Engelland, Ben Lovejoy and Brian Strait to fill the 5-6 pairing.
Engelland earned regular time as the team's sixth defenseman last season. Lovejoy has spent parts of the last two seasons in the third defensive pairing, and Strait earned some time along the blue line while Letang, Orpik, Michalek, Martin and Lovejoy all missed parts of the 2011-12 season with injuries.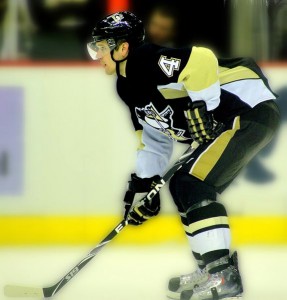 These three are serviceable NHL defensemen with number-seven and number-six potential, to be sure. But none are the kind of number-five defenseman the team needs, or are at least able to replace Niskanen's steady presence in that role.
Options
Having missed out on Zach Parise and never coming close to signing Ryan Suter, General Manager Ray Shero has otherwise been able to avoid handing $20-30 million deals to marginal players. Since orchestrating the blockbuster trades on draft day, Shero has otherwise made a living of signing low-cost role players.
The biggest contract the Pens have handed out since June (not counting the extensions for current Penguins Niskanen and Crosby) were two-year deals handed to NHL regulars Tomas Vokoun and Tanner Glass. The Pens have signed eight players who figure to be AHL mainstays, as well as qualifying offers made to former-RFAs who had previously been with the team.
Those hoping for a big free agent splash to replace Staal and Michalek probably aren't going to get it in this market. If Shero finds a number-five defenseman through free agency, they'll likely receive a contract in order with the short-term, low-cost deals that Shero has handed out this summer.
Free agency isn't the only option, as there's the belief that Pittsburgh can turn to its own prospect pool to fill out the top-seven this year. Simon Despres, Joe Morrow, Robert Bortuzzo and others have been mentioned as potential NHL material, with Strait, Bortuzzo and Despres having already earned some NHL experience last year.
Despres, in particular, looked impressive in his NHL time last season, posting four points and a plus-5 rating in 18 regular season games and a plus-two rating in three postseason games in place of the injured Paul Martin.
From Meredith Qualls at the Pittsburgh Tribune-Review,
As for NHL readiness, Wilkes-Barre/Scranton coach John Hynes said Tuesday that Despres is in the same category as AHL defensemen Brian Strait and Robert Bortuzzo

"I think those guys are right there ready," he said. "Those guys are knocking right on the door, and they're ready to prove themselves through their experiences that they're ready to take the next step."
It will be hard for the Penguins to keep Despres out of the lineup all year. However high his ceiling, though, Despres will be just 21 when the season begins. It wouldn't be unlike Shero to add another veteran to his blue line, especially one who can contribute solid third-pairing minutes at a reasonable cap hit and who may turn into a trade chip near the deadline.
Three weeks into free agency, such players are still available.
One potential piece would be blue liner Carlo Colaiacovo of the St. Louis Blues. The 29-year-old defenseman appeared in 64 games for the Blues last season, posting 19 points and a plus-7 rating. Injuries are a concern with the defenseman, as he hasn't appeared in more than 67 games in each of his four seasons with St. Louis. However, he could provide a steady presence as the fifth member of Pittsburgh's blue line.
From stltoday.com, on Colaiacovo as a free agent,
Colaiacovo is a good, sound, serviceable player when healthy. At this point, if the Blues are really ready to get to the next level, especially when it comes to the postseason, then they will have to upgrade the areas of serviceable players. Coliacovo made a good contribution to the Blues. It can hopefully enhance his worth on the open market to other teams.
If his injury history scares away the Penguins, so might the injury history of former Penguin Mark Eaton, who is also an unsigned UFA. Eaton appeared in 62 games for the Islanders last season. At 35, his durability may be a bit of a concern, but Shero's Nashville connection has brought a number of former Predators products to the Penguins since he took over as GM in 2006. Adding a player already familiar with Bylsma's defensive systems wouldn't hurt.
As Eric Majeski of LetsGoPens.com points out, the Penguins are already close to the contract limit of 50, and could touch that upper limit by signing or re-signing enough of their own prospects and RFAs.
If they don't consider moving one or two of those players to be out of the question, acquiring a sure-shot NHL defenseman to help round out their top-five shouldn't be out of the question, either.
James was a Penguins contributor at THW and SB Nation Pensburgh and owns the Pittsburgh sports blog Slew Footers.