Pittsburgh's run is over. For the third straight postseason, that's due largely to poor special teams play. It's an old refrain. By talking much more about it, we risk beating the dead horse even further into the ground.
But because the topic deserves a comfortable spot in the dirt next to Pittsburgh's too-short 2011-12 campaign, let's take one more look.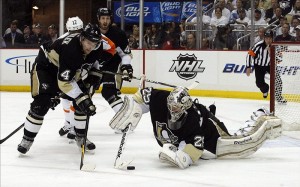 Postseason Free-Fall
"The disappointing part is, 10 days ago you would have asked me, 'How [good of] a penalty kill team we are,' I would have said we are a very good one, confident in that area and a very good group. We've shown that."
Penguins' Head Coach Dan Bylsma had reason to believe in his penalty killers before the Flyers series. The Pens finished with the best single-season kill percentage in franchise history. Pittsburgh had a top-five unit in both power play and penalty killing for the first time since the lockout.
Poof.
Penalty killing is going to be a point of intense scrutiny next season, specifically in the six games against the division rival Flyers, whose power play managed to go 12-23 in six playoff games and scored 18 power play goals in 12 total meetings.
This season, the Pens allowed three power play goals in every two games against Philadelphia, part of what made it the worst first-round draw Pittsburgh could have asked for. A single win during the April home-and-home with the Islanders would have had the Pens facing the Senators in the first round, and perhaps playing into May.
That's over, and the numbers tell a pretty clear tale as to why.
The Penguins have traditionally been a very good penalty-killing team under Bylsma. They've finished in the top-ten of the NHL in regular season PK percentage in each full season under his direction, landing the 9th-best kill in 2009-10 and 3rd-best in 2011-12. They also finished first overall in 2010-11 at 86.1 percent, the first time in franchise history they've led the league in that statistic.
2009-10: 84.1 percent (9th in NHL)
2010-11: 86.1 percent (1st in NHL)
2011-12: 87.7 percent (3rd in NHL, franchise-record)
These numbers coincided with the implementation of Bylsma's puck retrieval system and the specific work of assistant coach Tony Granato, as well as the big-money acquisitions of Paul Martin and Zbynek Michalek in summer 2010. Pittsburgh jumped from 20th to 4th in regular season goals against after their arrival.
However, each postseason appearance since the Cup has also coincided with a precipitous drop in penalty killing percentage from the regular season.
Despite finishing in the top-ten of PK percentage in each of the last three seasons, the Pens have finished worst or second-worst in postseason PK percentage in those same seasons. No other team experienced such drastic differences between regular and post-season special teams play.
2009-10: 72.1 percent (15th of 16 teams, 12 percent drop from RS)
2010-11: 70.4 percent (15th, 15.7 percent drop)
2011-12: 47.8 percent (16th, 39.9 percent drop)

Pittsburgh's penalty killers were turned into pylons by the Flyers in the first round of this year's playoffs, turning their franchise-best regular season kill into what has to be a franchise-worst for the postseason. The Penguins lost the Flyers series solely based on their special teams numbers. The penalty kill finished 11-23, the worst such mark for any penalty killing unit since the 2000 playoffs.
The record for futility might extend even further. ESPN stats only go back as far as 12 years.
It's not just that the Pens lost a series thanks to the worst postseason PK in over a decade. It might be all-time bad. Only four teams have fielded units that killed less than 70 percent of chances against in the last 12 playoff years. Three of which finished no worse than 66 percent. The 2012 Penguins failed to kill even half of their chances, a difference of some 19 percent from the unit closest to them.
The percentages can be skewed by the small sample size of just six games. But watching the unit work, it's little stretch to say the numbers were indicative of the play on the ice.
Had the kill been any better, there may have been more than just six games to draw from.