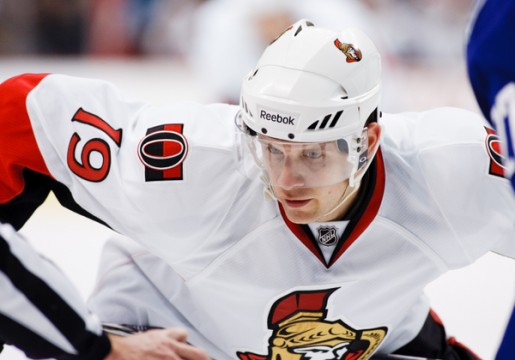 Jason Spezza has been among the top players in the National Hockey League for some time now and as he and his game have changed, so has his role in Ottawa.  The former second-overall pick in 2001 has had a successful tenure with the Ottawa Senators to this point, although it hasn't been without its' share of criticism and debate.  His offensive talents have never been in question, however the now veteran center has worked hard to shed the label of an offense only type player by improving his all-around game and becoming much more of a two-way pivot.  The 6'3″ 215lbs Spezza has an extensive skill set consisting of a long skating stride making him deceptively quick and shifty, great hands and puck skills and a powerful shot. His intelligence and ability to read plays have also made him one of the better set up men in the league as well.  Combining these skills with his awareness and commitment to detail in all zones in recent times has set him apart as an elite player.
Since the start of the 2006-2007 season Jason Spezza has been not only a top level scorer, but one of the premiere centers in the game.  He has averaged well over a point per game, but is also a plus player and has won over 50 percent of his face-offs each year placing him among the league's best in that category.  He posted a career high 92 points with 34 goals and 58 assists while playing in all 82 games during the 2007-2008 season.  This was following his outstanding performance of 7 goals and 15 assists for 22 points in the 2006-2007 playoffs, tying him for the team lead in scoring and helping guide the Senators to their first Stanley Cup Final since the franchise was re-introduced.   His lowest output during that time frame were two back to back injury shortened seasons where he still managed to produce 57 points in 60 and 62 games respectfully during the 2009-2010 and 2010-2011 seasons.
He was the center and catalyst for one of if not the most dominant line in hockey during a four season stretch playing alongside Daniel Alfredsson and Dany Heatley.  The three amassed a total of 1,057 points primarily playing together from 05-06 to the end of the 08-09 campaign and treated fans in the Nation's Capital and around the league to stellar play.  When Dany Heatley was traded following the 08-09 season it broke up the trio and marked a significant moment for the franchise.  The team only two seasons removed from a Stanley Cup Finals appearance was on the decline and due for a makeover, and many were interested to see what would happen with Spezza.
The trade rumors began to swirl as it seemed not only the fans but some in the front office had begun to wonder if it was time for the All-Star center to be moved. He had signed a new 7-year deal beginning in the 08-09 season at a cap hit of 7million dollars per year and it was clear both Sens fans and the organization wanted another level from Spezza. The offensive numbers were great, however the subject of debate in Ottawa was whether he had or would reach his full potential and whether or not he would truly embrace a leadership role so many wanted to see him fill.
That debate and those questions were quieted significantly late in the 2010-2011 season when he was given the priviledge of wearing the "A" on his sweater by the organization for the remainder of the year.  New head coach Paul MacLean saw no reason to change that when he took over for the 2011-2012 season, as Spezza was one of the leaders he looked to and leaned on heavily right away.  He announced Spezza would serve as a full time alternate captain and part of his leadership group with fellow alternate captain Chris Phillips and captain Daniel Alfredsson.  The new leadership role was yet another step in the development of Spezza as the complete player many had been waiting to see.  To his credit Spezza continued to work hard and improve his game knowing all along that he would develop into a leader in Ottawa.
"It's kind of a natural progression.  I think the longer you are around, the more responsibility you have," Spezza said when asked about wearing the "A."  With the "youth movement" in full swing in Ottawa right now there may be no better mentor for the young and talented group than Spezza, knowing exactly what it's like to be a high profile player with expectations in a hockey driven city.  The Sens young star and now Norris Trophy winner Erik Karlsson has always looked to Spezza as a leader and was pleased to see him officially in the new role. "Since I came here, he's been a top player and someone to rely on.  Both on and off the ice, he's a really great guy and he's really taken responsibility for everything, and making sure everything is good with everyone," he said.
The Toronto native lead by example this past season posting 84 points while playing in all but two games and leading the young Senators team to a surprise eighth place finish in the Eastern Conference.  He continued his strong play with three goals and two assists in a tough seven game series with the top seeded New York Rangers before the Sens were knocked out.  Although Spezza was already an established player and highly respected member of the Sens it was clear listening to him going into the 2011-2012 season that he had grown and truly embraced his new title saying, "I know I have to be good every night for our team to do well.  With the young guys around, I know I have to make a good impression off the ice.  I have to be able to help out other guys."  The fans in Ottawa watched a talented young team take a big step last year and with a strong group of players like Spezza leading with their actions, they can expect continued success this season as well.