Jesper Pettersson is a diminutive defenseman from Stockholm, Sweden. Nicknamed the "Pitbull", Petterson plays his game tough and ferocious whilst standing a mere 5'9" and at 190 pounds he throws his body around like a freight train.
Small defenders are a rarity in today's NHL and get the short end of the stick in most cases, but Pettersson has dealt with that his whole life and is now an NHL draft pick of the Philadelphia Flyers.
Having been passed over in the draft twice (2012 and 2013), the young Swede made his mark playing for Linkoping where he established himself as a hard-nosed, relentless defenseman who played much larger than his small frame indicated. He also played for Team Sweden in the World Junior Championships where he was most famous for this incident against the Russians in the semi-final match:
Pettersson was suspended for the gold medal match and many hockey pundits believe that if he'd have been in the lineup, Sweden would've ended up victorious.
"I don't know," Pettersson began. "One player doesn't do everything. I actually left the penalty box to celebrate the win with my teammates, but when I saw the Russians fighting them there was no hesitation. I will always stick up for my teammates."
His play in Sweden and the World Juniors had scouts talking, but it was the Flyers who would take him in the 7th round of the 2014 NHL Draft with the 198th overall selection.
"On the day of the draft, me, my brother and father were visiting my cousins in Kalmar, Sweden," said Pettersson. "We were out at the shooting ramp (hockey) while following the draft online and all of sudden my brother yelled 'Congratulations Jeppe! You've been drafted by the Philadelphia Flyers!' and everybody went crazy and it was just a fantastic feeling."
As it turns out, while teams may have been watching Pettersson closely, only Philadelphia came to him with an offer prior to the draft.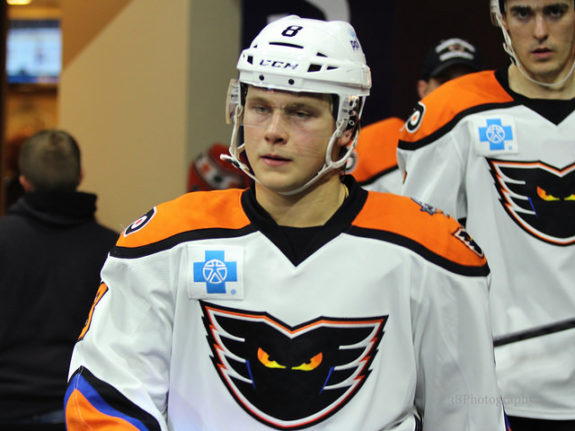 "I kinda knew Flyers were interested in me because they called a couple of days earlier asking what I would say if I got drafted by them and if I would like to move to the States and play hockey," Pettersson said. "It was a very easy decision to make. This is a dream come true."
The jump across the pond isn't easy for European players. With Sweden having a larger ice surface, the pace is slowed down and there is more room to maneuver. Pettersson has adjusted well to the physical style of play in the AHL with the Lehigh Valley Phantoms.
"The biggest difference is the pace. It's much faster over here," Pettersson said about the contrast between North America hockey and European hockey. "The smaller rink makes the game more aggressive and that is what I like about hockey. I do like the American style of hockey more."
Aggressive is the style of play that Pettersson thrives on. In his first 25 games with the Phantoms he has two points and 17 penalty minutes. What's better yet is he's being coached from a former defenseman in Terry Murray.
"[Murray] is a good coach. He gives you constructive feedback. Tells you what you are good at and what you need to practice."
And Murray is fond of his new tenacious blueliner:
"He's played pretty good over the course of the year," said Murray. "We like him. He's a young kid and he's learning along the way. I think he's doing a good job. He's very competitive. He gets in your face. He'll get his hits. He does a nice job around the net – conscientious of his defensive responsibilities."
https://twitter.com/ShawnTHW/status/528952193614086146
As for what Jesper is focusing on this season: "To play stable in defense zone, have a fast transition game, make great passes, play tough, play solid, and follow the play up into the offensive zone."
The chances of making the NHL as a 7th round pick are slim to begin with – much less a 7th round pick under 6-feet tall. Jesper Petterson has shown a willingness to listen, learn, and perform on the ice. During development camp he was one of the most solid all-around defensemen that excelled in skating, reading plays, and winning puck battles in the corners. The NHL is still the ultimate goal, however it still might be a year or two away. Rest assured when Ron Hextall comes calling, Pettersson will be there to answer.
"It's hard to say," when asked about how far he thinks he is from the NHL. "I always give 100% if it's game or if it's at practice. You just have to wait and see when they think you are ready. It's tough competition, but when the opportunity comes, I'm ready for it."
A big thank you to Josefine Pettersson, Jesper's aunt, who translated the interview questions and answers for this article.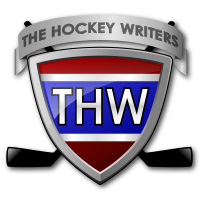 The archives of THW contain over 40,000 posts on all things hockey. We aim to share with you some of the gems we've published over the years.