By now, it's common knowledge that San Jose Sharks' center, Joe Thornton, was playing through injuries this postseason. The obvious one can be traced back to a collision with Michael Chaput of the Vancouver Canucks late in the season.
The extent of his injury – a torn MCL and ACL – finally came from head coach Peter DeBoer after the Sharks were eliminated by the Oilers.
Upon learning the news, some fans called him gritty and courageous. Some called him a beast. Yet others just shook their head and called Jumbo Joe a prototypical hockey player. They wouldn't expect anything less from him.
Joe Thornton's Beard Trouble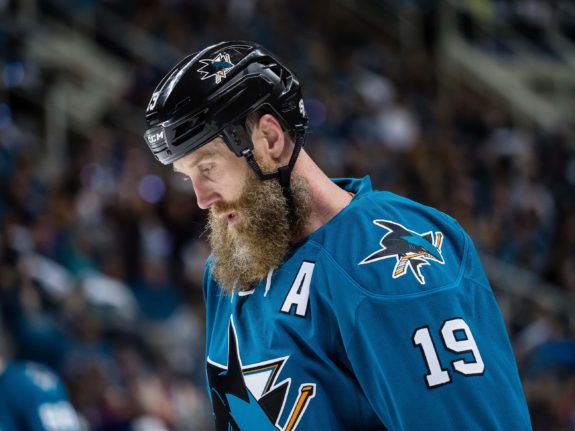 However, what people don't know is Joe Thornton's trademark beard has been suffering severe follicle damage all year. He mistakenly used soap on his shag patch one day and it stripped all of the natural oils.
As a result, Joe Thornton's beard, or chin curtain, has been undergoing bi-weekly Moroccan oil treatments since the preseason. The moisturizer with Vitamin E and Omega-6 fatty acids treats skin conditions and acts as a hair conditioner.
Joe fell victim to a dreaded case of Obsessive Compulsive Face Blanket Strokage; one of the most addictive diseases known to man. He just couldn't help himself. Sometimes fatal, OCFBS sufferers have been known to cause themselves acute urticaria that leads to madness. Only experimental treatment with a human version of an adapted dog-moon collar worn for months has shown any signs of relief. Over time though, Thornton has proven himself up to the extreme therapy; his grass grin is on the mend. Team doctors have been attentive to Joe's extra appendage, having developed a comprehensive follow-up rehabilitation program.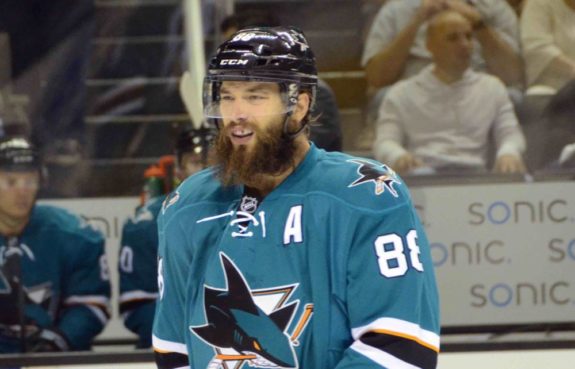 Gifted on the ice and on the face, Thornton, points to teammate Brent Burns, for inspiration as he's travelled the rocky road through rehab. The two have been the face of beard-dom since going to the Stanley Cup Finals last year. They've rocked their thick, unwieldy facial mullets with pride all year-long.
General Manager Doug Wilson wants both star players to take some time to reflect on the growth of their soup strainers. They both need some down time to fully heal.
Looking Ahead
Thornton, in the twilight of his career, is not worried about possible major knee surgery this off-season. However, he's considering the idea of foregoing the operation and using his wonder twine to wrap around his knee for support instead. His special medical panel of world-renown dermatologists and barber-school graduates have completed testing that shows his hirsute mug contains fibers that have the tensile strength of carbon fiber.
Should Jumbo not survive the ordeal, many have asked him to consider donating his beard to science.
Whatever he chooses, fans will be focusing on him healing his bristly beard and being rested and ready for next season. He's now an unrestricted free agent, and the fate of his furry facial pet may influence his next contract.
Editor's Note: The writer of this article would need 37 lifetimes to grow a beard. And at that, it'd be more pathetic than Sidney Crosby's.