There are myriad trade rumors as the 2014 NHL Draft approaches and there is a possibility if one of said rumors becomes a reality, it could be disastrous for the Florida Panthers. GM Dale Tallon has no made no secret of the fact that he's considering offers for their first overall pick, and blogger Howard Berger had an interesting idea when he posted his thoughts on June 2nd: The  Panthers could trade team Captain and HUGE home town favorite Ed Jovanovski as well as their first round pick for Toronto's 8th overall pick, defenseman Dion Phaneuf and the young but talented Nazem Kadri.
A knee-jerk reaction on both sides might be an incredulous, WHAT?! Why would Toronto want an almost 38-year-old player rife with injuries, even in exchange for a first overall pick? And why would Florida even consider yet another young player along with a defenseman that's more of a bruiser than a scorer? No matter how you look at it, it's abundantly clear that this is probably just not the right move. For anyone.  And the reasons for the Panthers are actually pretty straight-forward.
A Simple Solution
The team's needs are somewhat obvious but they can be spelled out: a veteran who can give the young players leadership (which is covered right now in Jovanovski–who does it well when he's not hurt–along with 35-year-old Brian Campbell who put up the team's second-highest number of points and goalie Roberto Luongo) and one or two solid forwards who can put points on the board. It's actually a very, very simple formula.
In a nutshell, 29-year-old Dion Phaneuf does not fulfill either of those needs. He's more of a hard-hitting bruiser than a scorer. With a mere 8 goals and 23 assists, he's just not what the Panthers need in the line-up. Despite Florida's poor performance this season, their defense was solid. Between Jovanovski, Campbell, Tom Gilbert, rising star Dmitri Kulikov and the unmistakable presence of a 6'5″ Erik Gudbranson, the Panthers have more than enough defense.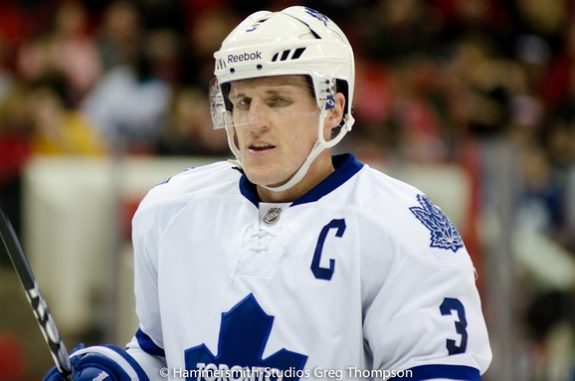 Not to mention, Phaneuf comes with the stigma of being a hard hitter who borders on dirty. First was the 2009 hit on Kyle Okposo, where he all but vaulted at him as his teammates nudged Okposo right into the path of his elbow. Then there was the 2011 hit that essentially ended Michael Sauer's promising career with the New York Rangers, causing a concussion he never recovered from. There was no penalty called and it may not have been intentional, but the Panthers are already floundering, so a player with baggage is most likely not leader material for a team this young, especially if his presence includes the loss of Jovanovski.
As for Kadri, the truth is that the Panthers already have more than enough young, raw talent. Kadri's production (20 goals and 30 assists for the season) simply isn't quite up to the level the Panthers need to get those numbers on the score board. At 23, he's got a bright future, but the Panthers have been in something of a holding pattern with the young players they already have. Though he tallied 50 points , Kadri wasn't even one of the top 75 scorers in the league this year (he's actually listed as 90th), and the Cats need to reach a little higher a little sooner, because no one wants to follow a team that continues to lose.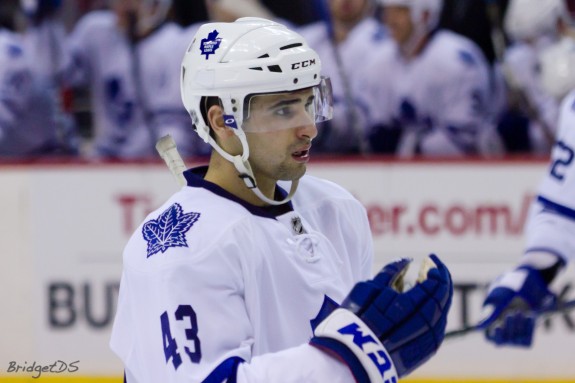 No More Words
The time for behind-the-scenes wheeling and dealing is rapidly coming to a close. Approximately a month since the regular season ended, this is a team without a coach, without a definitive plan and, if they don't start thinking about the present, they're not going to have much of a future. The time for five-year plans is over. They've been compiling talent and longevity for too long, with no results and a waning fan base. It's time to break out the check book, use the leverage of a first-round draft pick and get this team its missing pieces. The need is simple, but the follow through appears to be decidedly more complicated.
One thing that isn't complicated, though, is this potential trade with the Maple Leafs: Just. Say. No.