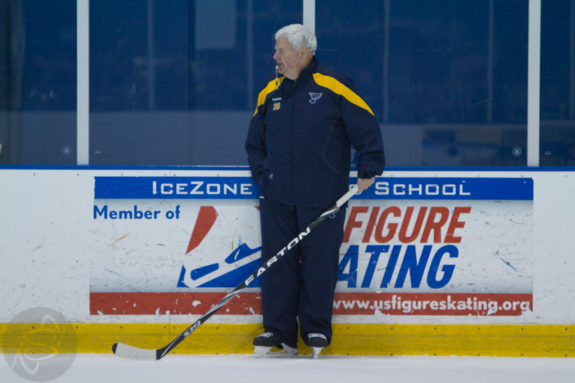 Resiliency and Relentlessness — that's what sums up the St. Louis Blues' play so far this season. They have been able to overcome adversities that, in the past, have been nails in the coffin of seasons and playoff dreams. This Blues team has been nothing short of awesome to watch as they continue their stellar team play and shutdown opposing teams night in and night out. What gives this Blues club their heart, and can they keep it up all season? Ken Hitchcock does, and if he has anything to say about it yes, yes they will [keep it up all season].
The Secret to Ken Hitchcock/Blues Success
The Blues have been able to play an amazing team game up to this point in the season, one which has seen them get off to one of their best starts in history, and one which has them atop many power ranking lists for a second straight week. Here are the main reasons why:
Resiliency:
The definition of resiliency is the ability to bounce back from adversity and the Blues have definitely been chock full of that so far this season. The team has made the most of every situation on the ice and has become one of the most feared teams in the league to date. The main source of this resiliency comes from coach Ken Hitchcock's leadership and his stalwart systems the team has had ingrained in their minds since the beginning of training camp. For those who may have forgotten, this was Ken Hitchcock's first full training camp with the club and the difference shows through in the team's play every game. He has been able to round up a bunch of talented players and hone their skills as individuals to get exactly what he needs from them as a team out on the ice. This puzzle piece style of coaching is reminiscent of Herb Brook's Miracle on Ice 1980 USA Olympic team, something that gets Blues fans very excited.
Throughout this season the Blues, led by Ken Hitchcock, have been able to pummel opposing netminders while protecting their own and have done so in some seriously dangerous situations. Hitchcock has led the team to a 6th best penalty kill percentage at 85.4%, and has shown them how to be successful by staying active in the defensive zone to make sure that no matter how long the other team has control of the puck, players can stay in position and work the puck back out.
The above video is not the best example of the Blues defensive coverage in adverse situations in terms of positional play, but it does illustrate how much they overcome difficulties in their own zone and the range at which they do so. In this clip from the Nov. 1 game against the Florida Panthers, Blues forward TJ Oshie is left without a stick on a penalty kill, thus creating a 5-on-'3.5' situation for Florida. However unpleasant the play may look from the Notes, the team retains their composure and makes sure the puck doesn't end up in their net. That is something that was lacking before Ken Hitchcock took over the reins.
Relentlessness:
Ken Hitchcock has definitely created a style of play that wears down the opposition throughout the game in a big way. This season, the Blues have been, to fans delight, overwhelmingly swarming of the puck and its carrier. They have been able to keep up with every team regardless of their style of play and each Blues line has created offensive zone turmoil almost every shift.
The below video will illustrate this point very well. In the Blues' last game against Colorado they were able to create offensive opportunities from numerous turnovers by the Avalanche. They forecheck ridiculously hard and keep their sticks active and in passing lanes to break up plays preemptively and now, they finish them. This is very exciting for any Blues fan as it is something the team and organization have struggled with for years. Not capitalizing on opportunities has been a problem in the past, but thank goodness Ken Hitchcock has found a way to coach this team to success.
Come Together, Right Now, Under Hitch
The team has been a joy to watch this year and everyone on the ice has been pulling their weight (with a few minor exceptions). Seeing this group of very talented players develop has been great, but seeing how coach Ken Hitchcock has molded each of them into a cohesive unit is something that gets each and every fan very excited for what's to come. While the season is far from over, the Blues have been making waves across the league this year, something that under Hitch, should continue through the playoffs.
In It For The Long Haul
Ken Hitchcock is running this team the way fans have always hoped and the players' response to his coaching style is awesome. This Blues team is exactly what St. Louis hockey is all about; watching them through the end of this year should be a ton of fun. As long as the players can stay motivated and healthy under Hitch, look for the Blues to make a long playoff run and be a team to be reckoned with for years to come.
Like what you've just read? Follow me on Twitter: @pep30
Mike has covered the St. Louis Blues and Tampa Bay Lightning in depth for The Hockey Writers since 2013. He is also a contributing writer for KSDK News Channel 5, the St. Louis area NBC affiliate, and has been a credentialed media member of the Blues since 2014. Follow him on Twitter @pep30.